Negan may have just announced All Out War on "The Walking Dead," but fans and the show's crew are already looking forward at the next Big Bad: The Whisperers.
Warning: Potential spoilers below!
Without giving away what happens with Jeffrey Dean Morgan's bat-wielding psychopath in the comics, a group of survivors called The Whisperers are the next to wreak havoc on Rick and his followers. Their arrival means the shocking deaths of a few main characters and a new, female adversary named Alpha.
TooFab spoke with one of the show's costume designers, Elaine Montalvo, ahead of the Eastern Talent Agency's "In What Universe" panel at WonderCon, where she revealed why she hopes to tackle the group soon.
"I can't wait to get to the Whisperers. I think that will be very haunting and very challenging," she explained. "I love working with Greg Nicotero and his team and I know there would be intense collaboration to bring those characters to life."
When asked if the wheels were already spinning in her head when it comes to their design, Montalvo said "Yes, definitely."
That being said, don't hold your breath for Alpha and her followers to pop up right away. "Greg and I have not yet sat down to discuss those creative elements, but I can't wait," she added.
Montalvo is already back in Atlanta for pre-production on Season 8. "We start shooting in about a month," she explained. "We don't have a script yet and I probably won't for a couple weeks."
According to Montalvo, she gets the scripts about eight days before filming and is only given one at a time. To help prepare, she also avidly follows the comics.
"I read ahead, I stay up to date with the comic books because it is the foundation. It doesn't hurt to understand where Robert Kirkman is heading with these characters, knowing that our show is its own lifetime and has its own path," she added. "Out of the blue, Scott Gimple might jump ahead a little bit and might want to stay very true to the panels in the comic book and sometimes intentionally go in another direction. It's always good to be informed."
While we may be living in 2017, the people in this post-apocalyptic landscape haven't had their local shopping malls restocked with new styles since 2010.
"Fashion stopped in October 10, 2010, officially when the apocalypse hit," explained Montalvo. "So some of these comic books that were written and artwork done 5,6, 7 or more years ago, time is held in this capsule. I understand that I'm presenting this entertainment for a modern audience, so while trying to avoid some of the current trends and styles I also have to realize that we're watching now, today. That's an interesting challenge, trying to work looks from the past and modernize them just enough that they're still cool."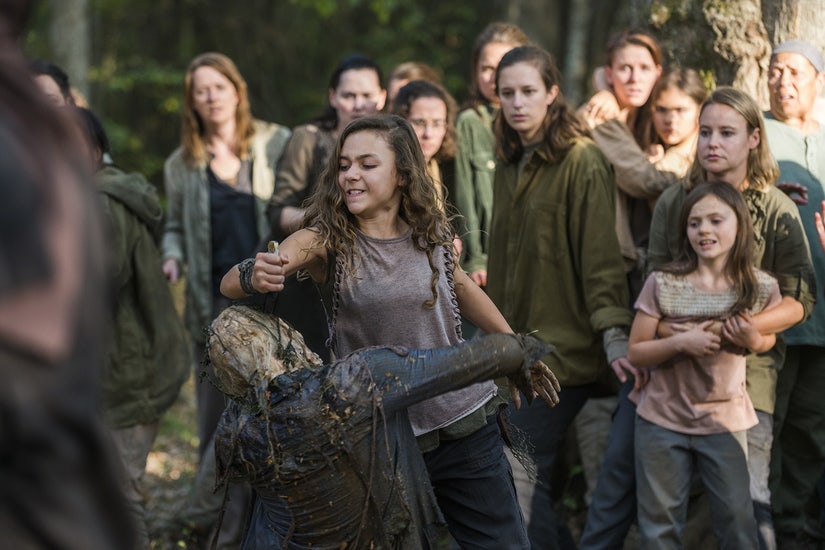 AMC
Montalvo came onto the show for Season 7, which saw the arrival of both Oceanside and the Scavengers, neither of whom have been seen in the source material. That presented a new, fun challenge for those in the costume department.
"All the characters have their own arc and look in the comic books and that is a foundation that we build upon," she explained. "Oceanside was mentioned in the comic book but not depicted, so that was a really fun blank slate to start with. Scott Gimple set a premise and direction for that and we just collaborated and we were very happy with being able to see this community emerge through their look and their character traits. That was especially fun."
"The Walking Dead" will return this fall, likely in October.