"Scandal" fans finally know why Darby Stanchfield's Abby has been such a wreck these days. After last Thursday's episode, we found out that she was the one who led the assassination of Jennifer Fields, and she might even be behind what happened to Huck.
However, the one person who doesn't know why Abby is acting this way is Tony Goldwyn's President Fitzgerald. But what "Scandal" Gladiators do know is the seemingly ideal relationship between President Fitz and Abby Whelan could be in jeopardy with this latest shocking revelation.
During an interview for "Scandal's" upcoming 100th episode, Tony Goldwyn told TooFab why he thought Abby was the one level-headed person on his staff, but now Fitz isn't so sure.
"Other than Olivia, she was. I thought that, up until last week's episode." Goldwyn said.
"Abby until these past two episodes was the only person who wore the white hat. She's been the irreproachable moral character on the show, who is the one person who has not been morally compromised. Abby has the courage of her convictions and speaks her mind. Though it took time for Fitz to trust her, I think he can rely on her particularly in Olivia's absence in his inner circle."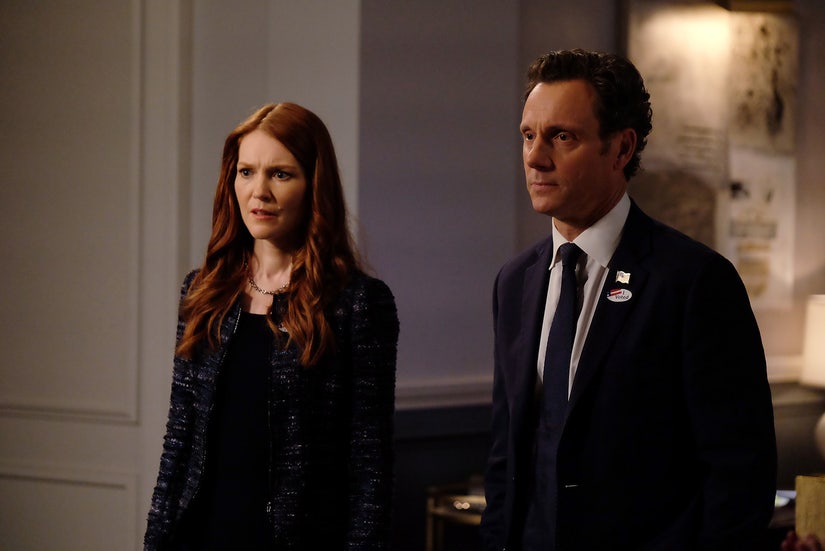 ABC
After six seasons of corrupt White House decisions and a storyline that pits Fitz at the center of most of the mess, Abby's addition to his White House staff was an essential part of keeping Fitz well aware of his not-so-logical decisions.
Goldwyn admitted he has done some questionable things throughout his time as President, and Abby is the one person he really relied on.
"Abby is someone he really trusts. She will speak the truth to him, but that's all changed now because Abby is corrupt. So it's going to become tough for Fitz."
Last week's episode ended in a dramatic rift between Fitz and Abby when she said, "Olivia is never going to Vermont with you." This clearly does not sit well with Fitz, and he let's her know that she has no say in what is and isn't going to happen.
Goldwyn said that his character was obviously just confused by Abby's declaration. The reason being, he doesn't know what's going on with her after she's gotten her hands dirty in the White House.
"I think he was confused and very upset the way that she handled that thing about Vermont," Goldwyn told TooFab. "It' blindsided Fitz that she would be so cruel. I don't think he understood where she was coming from. What's the difference between the library being in Sacramento and being in Vermont? Why does Abby have a thing about it? Obviously what we've learned is that Abby had demons working on her that Fitz doesn't yet know about."
Watch the preview for this week's episode below:
"Scandal" airs Thursdays at 9 p.m. on ABC.