Stephen Colbert is enjoying an uptick in ratings this year, currently competing with Jimmy Fallon to be the reigning king of late-night ratings, but he'd give it all up "for a better president."
In a lengthy Hollywood Reporter interview published Thursday, the "Late Show" host addressed dusting off his bad year to climb into a feat of success, thanks in large part to his constant Donald Trump jokes.
Since Trump's election, Colbert's "Late Show" had gained substantial total view numbers, even surpassing those who tune in to "The Tonight Show," but his CBS program is still falling behind in the adults 18-to-49 demographic.
From the comedian's thoughts on Trump to Bill O'Reilly, here are five insights from the mind of Colbert.
He's Not Thankful for Trump
"No. I would trade good ratings for a better president. How about that? The interesting thing is that when we were prepping all that time, we weren't waiting for Donald Trump. We were waiting for something that everybody cared about. Do you know what I mean? Donald Trump is epoch-making; he changes everything. And so we were ready for something that galvanized people's attention and changed their priorities. The thank-you note is to my staff for being ready — that's the thank-you note. Because if it's not Donald Trump, it's something else. There will be something else that we care about, hopefully happy, possibly tragic. But we're ready to talk about what just happened, whenever it happens now. And that's what we've learned. And so my thank-you note is not to Donald Trump. He can go with God."
Colbert Didn't Bother Writing a Script for Trump's Election Night Victory
"The fourth one (framework) is that Trump wins, and we know it. We just said: 'Well, don't even write that fourth one. Because I'm not saying it can't happen, but let's just say if it does happen, I'm going to be speaking to an audience that are like villagers who've been dragged into the soccer stadium in Chile to watch people be executed.' It's going to be the darkest room you could possibly [imagine]. And I said (knocks on his desk), 'Knock on wood we won't have to do that.' I said, 'Look, man, we're really going to be in trouble if he wins, because we have no plan, and then we will be forced to just be raw. We'll find out who the f--k we are.'"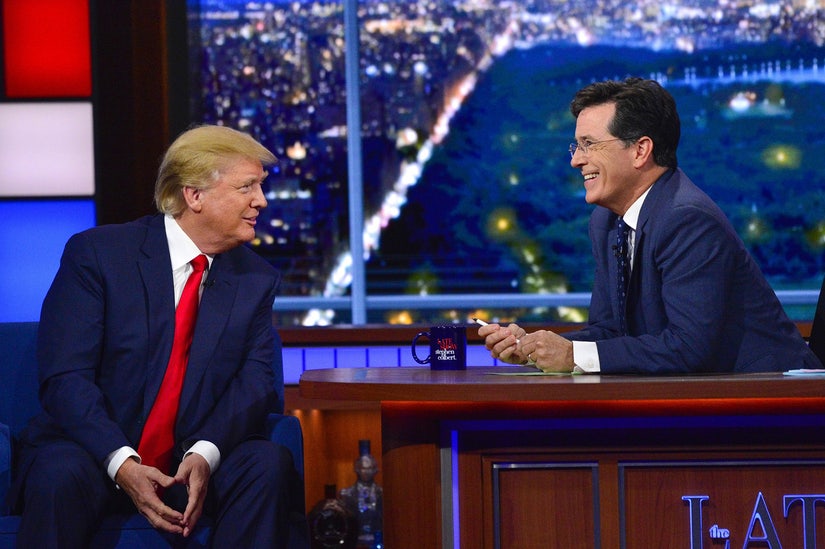 Getty
Making Comedy Is the Best Job in America
"That's what I want to do! That's the joy. What a privilege to be on TV right now. I feel right now the way I did the night that Al Gore finally conceded in 2000. I did a couple of desk pieces [on The Daily Show election night special] with Jon, and after we finished, I turned to Jon and said, "I think this is the best job in America." And that's how I feel again: I think I've got the best job in America."
He Gave Former 'Late Show' Host David Letterman a Very Thoughtful Christmas Gift
"His monologue spot. Before I even started the show, I was like 'OK, where do I want to stand, where do I want to do the monologue?' I said, 'Yeah, I want to stand here.' And I looked down, and I literally was straddling his dot where he did his monologue. As we were renovating the theater, I said, 'Can you please have this taken up and have it cleaned and framed?' It was just a blue square of floor material with a red dot painted on it. It was in the corner of my office for over a year. It looked like art. People thought it was an Ellsworth Kelly or something; it really was quite beautiful. And I said, 'Why aren't I hanging that up? Oh, I know why. It's not mine. It's Dave's.' So I mailed it to him and said, 'Nobody who visits my office can figure out what this is. I hope you do.' And I said, 'It's not mine; it's yours. Merry Christmas.'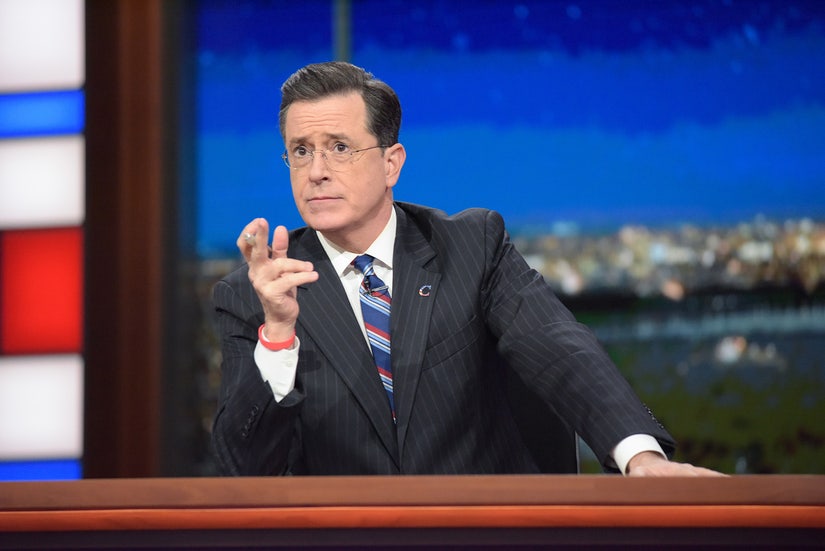 Getty
Colbert Is So Over Bill O'Reilly
"I really have zero interest in talking about Bill O'Reilly. I did more than my share of that over the years. I enjoy having Bill on the show and listening to him, with his own particular professional form of bloviating. I mean, he's really good at it. I've got to admire it as a broadcaster — the words keep coming out. But if Trump hadn't weighed in, I would never have said a word. I have been absolutely monastic in my discipline not to talk about him since I got here because I really don't care that much."