Fans camped out overnight to get inside the 40 Years of Star Wars panel during Orlando's Star Wars Celebration on Thursday and they weren't disappointed.
With appearances from George Lucas himself, President of Lucasfilm Kathleen Kennedy, Mark Hamill, Hayden Christensen, Warwick Davis and more, the event honored the franchise's history and teased its future. Familiar faces like Peter Mayhew, Anthony Daniels and Billy Dee Williams popped up as well.
But it was the speech at the very end of the panel that had everyone's eyes welling up, as Carrie Fisher's daughter Billie Lourd honored her late mother. See the buzziest moments from the event below.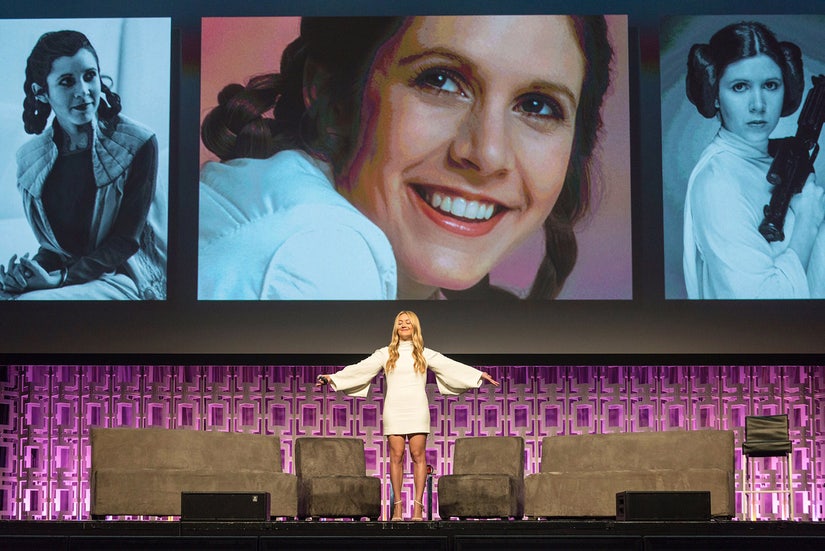 Star Wars Celebration/Twitter
Billie Lourd Honors Her Mother
Carrie's daughter, Billie Lourd, made her first public appearance since her mother's death at the very end of the panel.
"My mom used to say she never knew where Princess Leia ended and Carrie Fisher began. She went from being an unknown actress to Princess Leia," Lourd said, sporting a custom white Tom Ford dress inspired by Leia's. "She was imperfect in many ways but her imperfections and willingness to speak about them are what made her more than perfect. My mom, like Leia, wasn't ever afraid to speak her mind and say things that might have made most people uncomfortable, but not me and not you. That was why she loved you, because you accepted and embraced all of her."
"She loved you, she loved these movies, she loved the people she got to make them with and she loved this character, this force called Leia," she continued.
Lourd also recited Leia's full message to Obi-Wan from the first film, ending with "You are my only hope."
"She taught me that if life isn't funny, then it's just true and that is unacceptable. I learned by knowing her that the most evolved person is seemingly a contradiction," Lourd continued. "They're both the strongest and most vulnerable person in the room and that was her. That is Leia. Thank you for loving her and carrying on what she stands for. I'm beyond grateful."
A tribute to Carrie was then shown:
The series creator wasn't an announced guest, but set the audience into a frenzy after an introduction from Kenndy. For Lucas, seeing moderator Davis was a reminder of how much time has passed since he made his first film.
"I hired you when you were 11 years old and now you have grey hair," the director exclaimed.
During his portion of the panel, Lucas said he hoped the films would instill the belief that "friendships, honesty, trust, doing the right thing, living on the light side, avoiding the dark side" are important to anyone coming of age.
Davis also shared a letter he wrote to Lucas back in 1983, talking about his experience working on the films and asking Lucas for some toys.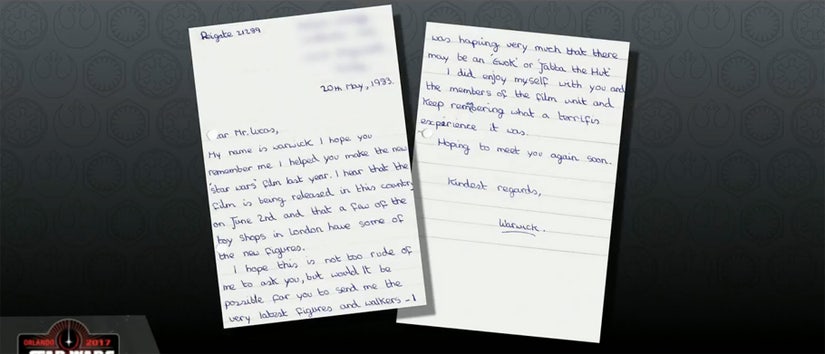 Star Wars Celebration
Liam Neeson's Video Message
While he couldn't be there in person, Qui-Gon Jinn sent a message via video.
"40 years of storytelling, mixing myth, mythology, legend, technology and this extraordinary cinematic form," he said. "I'm actually here on vacation in the Canadian rockies, we're making a very unofficial movie about Jar Jar Binks and what happened to Jar Jar. Spoiler alert: he did go to the dark side. May the force be with you and may the force be with you always."
Evil Reunion with Ian McDiarmid and Hayden Christensen
Palpatine (McDiarmid) and Anakin Skywalker/Darth Vader (Christensen) reunited on stage at Christensen's first Celebration appearance since 2002.
"Everyone knows he's such an amazing actor, but he's also a very generous actor and took me under his wing and just was very caring and giving and I owe a lot of what I was able to accomplish in Episode III to Ian," Christensen said of his co-star. "He's so captivating in his work, it was amazing."
McDairmid said the learning experience went both ways.
Hayden also called his epic final lightsaber battle "a childhood dream come true," but one that introduced a very unique challenge. "I had been conditioned from a very young age to make the sound effect when I'm using a lightsaber.This is something maybe Ewan struggled with a little bit too and it was a difficult habit to break," he explained. He added George would tell him, "I can see your mouth moving, you don't have to do that, we add the sound effects in afterward."
Samuel L. Jackson Wants Back In
During a video message to fans, Jackson thanked Lucas for letting him "ride it out for at least three episode" and begged Kennedy to let him return for more.
"Why you're all sitting there, I know you're all in my corner on this, we know Jedis can fall from incredible heights and survive," he said. "We know the long and rich history of Star Wars characters reappearing with new appendages. Mace Windu is awaiting his return. All you gotta do it say the word. See you soon, on screen I hope."
Mark Hamill Got In on the Action
Hamilly joined Lucas on stage, along with fellow OG alums Peter Mayhew (Chewbacca), Anthony Daniels (C-3PO) and Billy Dee Williams (Lando Calrissian).
"I can never get over the fans, they're more supportive than my actual family," Hamil joked.
Lucas said it took about a year to cast Luke Skywalker. After screen tests and readings, they "found the combination of the group that worked the best together ... that played it like old friends. I wanted them to have the chemistry of working together built in."
"That and the fact you were shorter than I was," joked George.
Harrison Ford also surprised the audience for his first Celebration, driving them once again into a frenzy after his character's brutal death in "The Force Awakens."
"I can't believe we could keep this a secret, considering you landed your plane on I-4," joked Davis. "It's been a good ride," Ford said of his work in the franchise.
Lucas said he asked Harrison if he knew how to fly before casting him. "Fly, yeah. Land ..." Ford joked, shaking his head no.
"The story has gotten a little warped. I was actually there working [as a carpenter]," Ford added. "I wouldn't sit out front and wait for you. I love you George, but I don't wait out in front. I was working. Making a living. And happily I still am, thank you very much."
George Lucas Honors Carrie Fisher
"She was a princess, she was a senator, she played a part that was very smart and she was having to hold her own against two big lugs, goofballs that were screwing everything up," said Lucas. "She was the boss, it was her war and when I cast it I said I wanted someone young to play the part. When Carrie came in, she was that character," he said.
"She was very smart, very funny, very bold, very tough. There are not very many people like her, they're one in a billion," he continued. "For this particular part, she was absolutely perfect. She wore a dress through the whole thing, but she was the toughest one of the group. It was a hard part to play and she pulled it off brilliantly. We'll all love her forever and ever."