Just weeks after sexual harassment claims surfaced against Bill O'Reilly, 21st Century Fox has confirmed that the Fox News host will not return to the network.
In a letter sent to employees, Fox News brass said "after a thorough and careful review of allegations against him, the company and Bill O'Reilly have agreed that Mr. O'Reilly will not return to the Fox News Channel.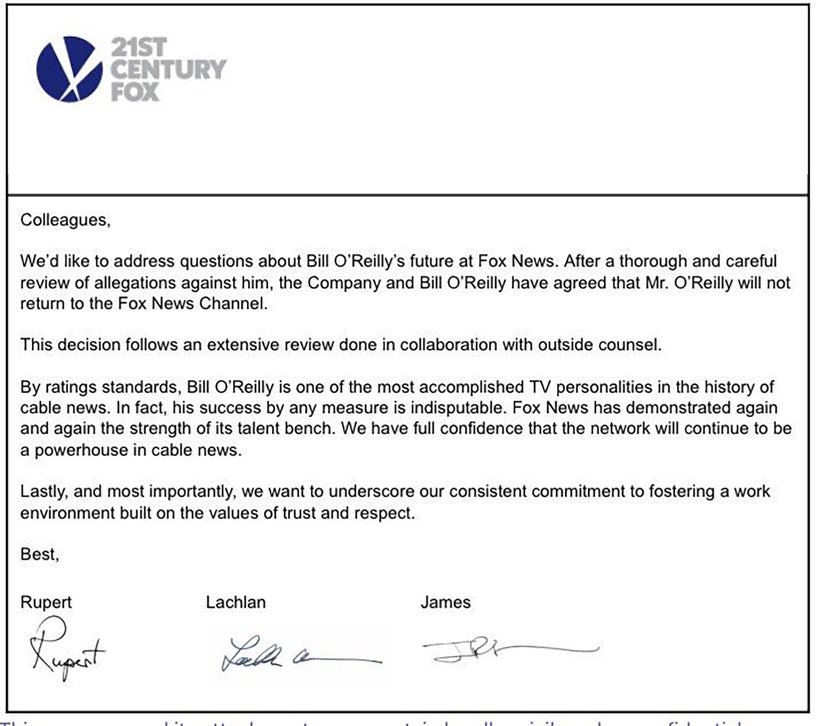 Twitter
The host was set to return to his show, "The O'Reilly Factor" on April 24, but as protests and calls for O'Reilly's firing mounted the Murdochs ultimately decided O'Reilly couldn't return to his show.
The newest allegation came from an African American woman who said O'Reilly called her "hot chocolate" and made inappropriate gestures. O'Reilly's lawyer Marc Kasowitz disputed the claims, saying: "It is outrageous that an allegation from an anonymous person about something that purportedly happened almost a decade ago is being treated as fact, especially where there is obviously an orchestrated campaign by activists and lawyers to destroy Mr. O'Reilly and enrich themselves through publicity-driven donations."
In wake of O'Reilly's removal, Fox has confirmed that Tucker Carlson will move from his 9 p.m. slot to O'Reilly's previously held 8 p.m. time starting April 24th. Fox News' panel show "The Five" will move to primetime in the 9 p.m. hour.
UPDATE (April 19 3:28 p.m. PT): Bill O'Reilly released official statement being axed from Fox News. "It is tremendously disheartening that we part ways due to completely unfounded claims."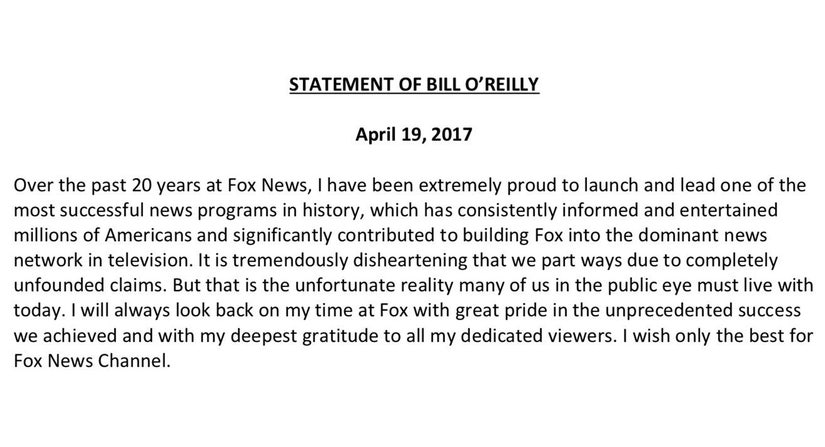 Twitter