After becoming internet famous when his dreamy-eyed booking photo went viral in 2014, the model just landed his first magazine cover and editorial spread for the UK publication Man About Town.
Shot by famed photographer Steven Klein, the heavily-tattooed felon bares his chest, backside and more in the racy photos.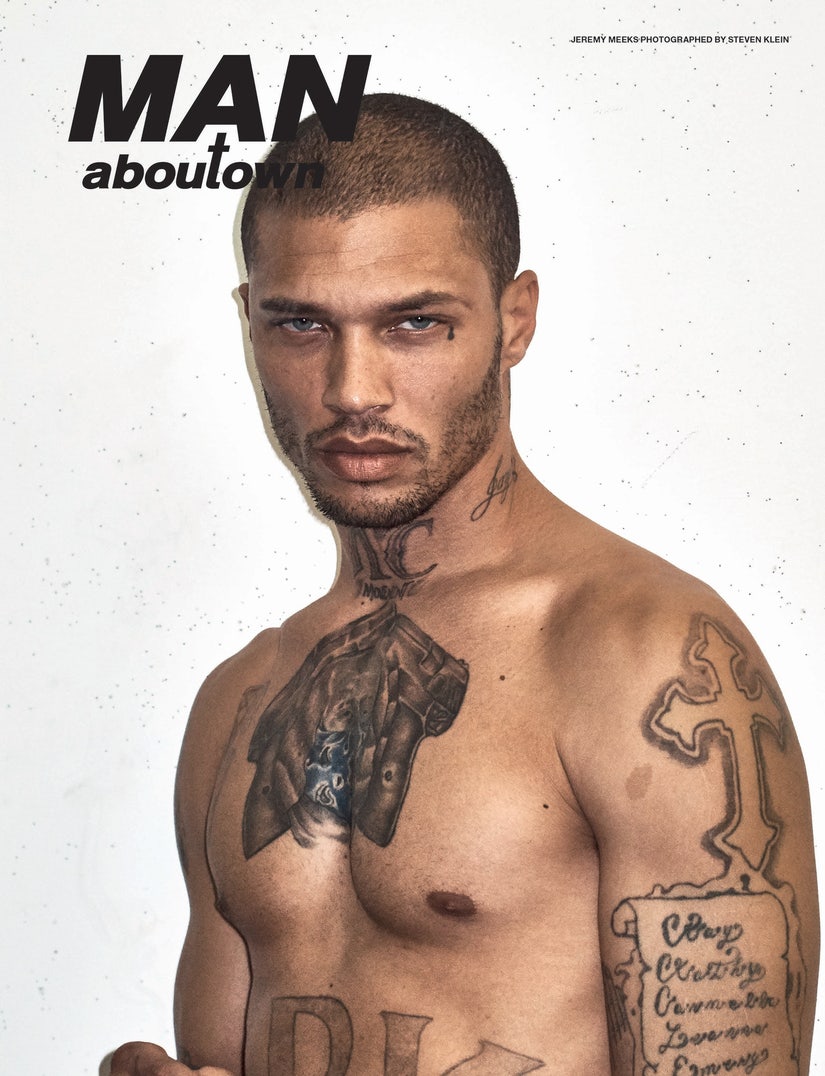 Steven Klein for Man About Town
His body ink includes multiple references to the Crips and his gang history, something he said he's put behind him.
"Most of my tattoos are from my past which I am trying to shed and remove," he told the magazine. "You can quit, to a certain extent I have, I am very extremely non-active. I'm grown now."
Thanks to his highly-publicized mugshot, Meeks' past is hard for him to hide from and something his three children -- two stepkids and one biological son -- often ask about.
"They ask me a lotta questions that are really hard to answer. All they gotta do is type in my name, Google it. It tells about crimes and my background and my gang affiliation. There comes a million questions, " he said. "They want to be just like me – I don't want to tell, yeah I'm a Crip and I'm this and I'm that and I've done this and I've done that. And it's nothing to boast about or even something you even want to talk to your kids about because next you know, they say, 'OK well my dad's a Crip so that's what I'm going to be.'"
Of his critics, Meeks told the mag: "They don't know me."
"I'm a family man, I'm a father, I'm a husband, I'm an uncle, I'm a best friend, I'm a God-fearing man, a Christian," he added. "I'm the peanut butter and French toast champion!"
"I heard all my life, you're so handsome, you have the most beautiful eyes, and I heard it a hundred times a day. To where I would not even pay no mind to it," he explained of his good looks. "It didn't fix it then. I still had a father in prison doing life. I still had a heroin addict mother and me and my brother and sisters struggling through life's tribulations."
While he's already walked in New York Fashion Week, Meeks has plans to become a double-threat going forward -- and has recently started taking acting classes.
"The acting – I didn't know how I would like it – but once I got into the classes I realized it's a strong passion in my life, I really fell in love with it," he said. "Just being on the stage, doing improv – aww man."
"I like improv more than anything," he added. "I don't really care too much for the vulnerability."