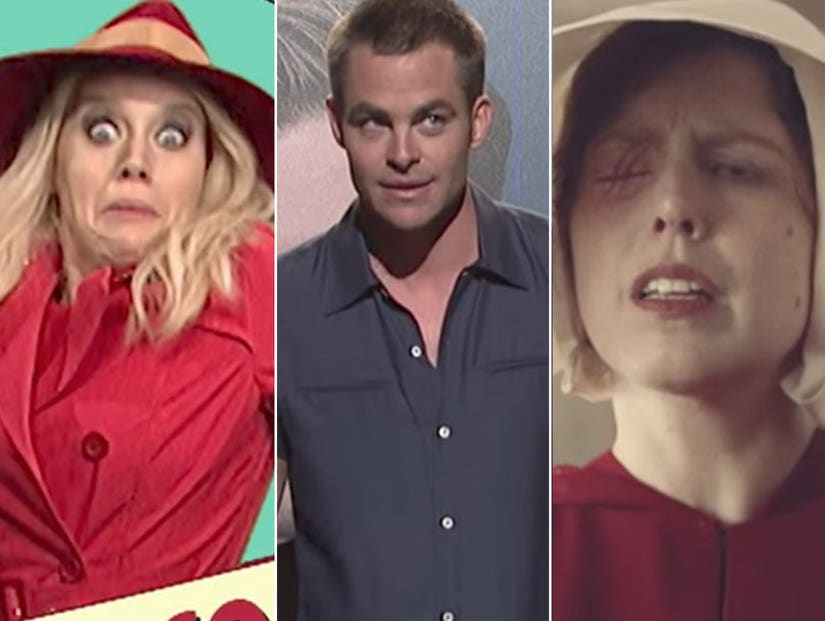 NBC
A casual viewer of "Saturday Night Live" might be forgiven for mistaking Chris Pine for a host that's a musician. For some reason, the "Wonder Woman" and "Star Trek" actor sang in no less than five sketches throughout the night, and it was ... odd. While he doesn't have an awful voice, neither is it particularly stellar. Was it his idea to give him such a song-heavy episode? Jimmy Fallon sang a lot last time, too, so maybe there are too many musical theater majors in the writers' room.
Alec Baldwin wasn't available to make an appearance, nor was Melissa McCarthy, though she's hosting next week so I guess we'll let this one slide. Baldwin did slip in a phone call, and is scheduled to appear in at least the next two installments. It's notable that the episode as a whole suffered for their absences. It's as if the energy of their performances brings a level of excitement to the writer's room that improves almost every sketch. But hey, more songs, am I right?
"Song for Peace," by Stav D
This was clearly a Beck Bennett-Kyle Mooney jam that is usually saved for the closer of the episode, and yet this one somehow made it into the first hour. Pine got to sing dramatically in a gothic wig while Bennett rapped about world peace and a whole lot about his addiction to pornography. I thought maybe it would go somewhere fun, but it never really elevated beyond odd and then I got annoyed each time there was a new verse.
If you're going to do a sketch that's basically an inside joke about a show or movie, you'd better make damned sure this is a cultural phenomenon. When Harry Potter went gaga over Lindsay Lohan's (as Hermione) cleavage, that was something most people could understand. "The Handmaid's Tale" is a new series on Hulu that most people probably haven't seen and know very little about. Half the sketch was trying to explain the future world and its politics, just so the guys could be doofuses who don't fully grasp that the women are now being oppressed. It was way more awkward than funny at all.
It was disappointment and singing right from the top with Pine's monologue as the worst sketch. He sang a song to the beat of Billy Joel's "Uptown Girl" about how he wasn't Chris' Pratt, Hemsworth, or Evans. It was rather long and boring, and even Pine didn't seem all that impressed with the piece. There were a few humorous moments from the cast, highlighted by Kate McKinnon reading his credits from her hand, but it wasn't enough to rank this a good monologue.
Where In the World Is Kellyanne Conway?
We get it. We miss her, too, if only for Kate McKinnon's hilarious impersonation of her. This sketch was mildly amusing for commandeering Carmen Sandiego's format for it's joke, and kudos for keeping it short, but it was more setup than actual humor. The kids don't want us to find her. Get it? Because she's awful? Yeah, that's all we got.
It was no surprise that cast songstress Cecily Strong paired with Pine for yet another musical sketch about a couple who went way overboard trying to play a simple game. The song itself wasn't all that memorable, but it was funny getting Sasheer Zamata's and Kenan Thompson's reactions to Pine breaking their window just for dramatic effect and Strong tearing the curtains to wrap his wound. It went on way, way, way too long (somewhere I think they're still singing), so by the time it was funny, I was already bored.
Playing on stereotypes, this sketch was about a bunch of mechanics who not-so-secretly loved "RuPaul's Drag Race." They spent the first half of the sketch pretending they weren't each huge fans of it, and then it got into a lip synch battle between Bobby Moynihan and Chris Pine. The guys really went for it, making it one of the more fun moments on the night. It also helped that Pine was just lip-synching, as by this time I really didn't want him to sing anymore. Singing doesn't always equal humor ... in fact, that's actually really hard to pull off.
COLD OPEN - Morning Joe on MSNBC
Another sketch with just one joke, this one worked a little better because of the solid performances turned in by McKinnon and Alex Moffatt as Mika Brzezinski and Joe Scarborough, respectively. The sketch was basically about the overwhelming sexual tension between them. Even though most viewers also haven't seen this show, the joke itself was so simple it didn't really matter. It was sold both by the principals and the great reaction shots from the likes of Moynihan and Bennett. Baldwin snuck in a quick phone call as Trump pretending to not be Trump, stunned that passing the House didn't make his proposal law. I would have like more than a two-joke sketch from a cold open but it was at least well executed.
Once again, there was singing. This time, it was Aidy Bryant and Vanessa Bayer, having called Pine in for a meeting. The sketch would have probably fallen flat had the pair not acknowledged in character that they had worked up choreography to Brandy & Monica's "The Boy Is Mine," in an effort to make him choose between one of them. It was over the top and intentionally bad in a way that really worked for the sketch. I even didn't mind when Pine inevitably started singing himself at the end.
Sometimes a nonsense sketch can work really well, and that's what worked here. Thompson and Bennett were doing surveillance on criminal Moynihan, but there were some shenanigans going on next door to his apartment. Mikey Day and Pine were having a series of fun parties from cotton candy to backpack fashion shows. It was told through the officers reporting back to dispatch what they were witnessing, before ultimately everyone in the sketch joined in on the fun. I don't know what I watched there, but I was smiling by the end, and that's kind of the point, isn't it?
Thompson had a blast poking fun as Neil deGrasse Tyson hosting a retrospective on a lost episode of "Star Trek." The episode, which was supposed to have been filmed during the final year of the then-struggling series, featured the introduction of Spock's half-brother, Spock-O, played with reckless abandon and joy by Moynihan. He absolutely owned this sketch, playing it as broad and ridiculous as he could from the way he walked to the way he talked. He even had an awful catch phrase, "Now that's a Star Trek!" It was so awful it was almost amazing.
Another solid outing for the boys at the news desk, but it didn't take first this week. Vanessa Bayer was an absolute blast as a nervous weather reporter who couldn't even string coherent words together. The bit was solidified brilliant by her "Break'n Hnews" interruption to report on a fake hurricane. To make it even more fun, the bit wrapped with Leslie Jones talking about her sexploits in Jamaica. Toss in some great jabs at Major League Baseball, Apple and the visual of Michael Che's uncles measuring in the bathroom, and his partnership with Colin Jost is really hitting its stride.
One of the sharpest sketches in a while, and a perfect critique of how over-produced reality shows have gotten. Here's the plot: Bennett and Pine are playing video games. Pine invites Bennett to come watch TV that night. But he forgot that Mooney was going to make margaritas for them that night. Bennett shows up with pina colada, but he has enough for everyone. But they wring so much drama out of each tiny slight in communication, manufacturing the dialogue and ratcheting up a whole lot of nothing with confessional scenes and forced dialogues. It should be required viewing for reality show producers on what not to do. We know Khloe and Kourtney Kardashian are not really that mad at each other over what was said at dinner last week in Barbados.
After a very quiet season, Bobby Moynihan exploded out of the break with his biggest episode in a long while. Just as it looked like he was going to coast his way off of the show, Moynihan absolutely killed it as an eager runway mechanic, and Spock's ridiculous half-brother. Add in great reactions in the cold open, and it was his most memorable night in a long time.