Ryan Benson was the inaugural winner of NBC's "The Biggest Loser" in 2004 after dropping from 330 pounds to 208 at final weigh-in. In 2017, he once again found himself tipping the scale again at 332 pounds.
The OG winner isn't the only one from the show with this problem. There have been multiple contestants from the series' 18 seasons who have re-gained the weight, with one recent study suggesting their metabolisms never recovered from being on the show.
Fed up with feeling "pissed off" about his fluctuating waistline, Benson put himself back out there for an episode of the upcoming Z Living series, "The Big Fat Truth." Filmed over the course of 90 days, the show followed Benson and five other "Biggest Loser" contestants as they seek a more permanent solution to their weight loss battle with the help of "Biggest Loser" co-creator J.D. Roth.
"I kinda needed a kick in the butt to get myself back in shape and back how I want to be eating and exercising," Benson told TooFab.
"I knew from the get go this wasn't as invasive of a process [as 'Biggest Loser']. I wasn't leaving my family for 3 months, it was something I'd do at home. The fact that it was an at-home thing, there wasn't trainers in my face yelling at me ... not only was that easier for me in my life, I thought it would be something I could maintain for a longer period of time now that it's over."
Benson said he gained 15-20 pounds almost immediately after his time on "The Biggest Loser," and the weight "just steadily went up" from there. "I had really gotten to a place where I felt pissed off a lot and angry and just kinda down," he said of his mental state before signing onto "The Big Fat Truth." While he was gung-ho about giving the new show a shot, his family was skeptical.
"They were a little tentative at first, my wife and my siblings and extended family, because they knew some of the struggle I dealt with after 'The Biggest Loser' of feeling guilty for gaining weight and feeling like you let people down because you had a great opportunity and you haven't stayed thin," he said. "[My wife's] still tentative because she knows it's only been 6 months since I started this, she knows that there's always a chance I may fall off the wagon tomorrow and stop at the donut shop."
Once he was on-board, Benson said he quickly started to see some major differences between "The Big Fat Truth" and "The Biggest Loser," which he explained is far from reality.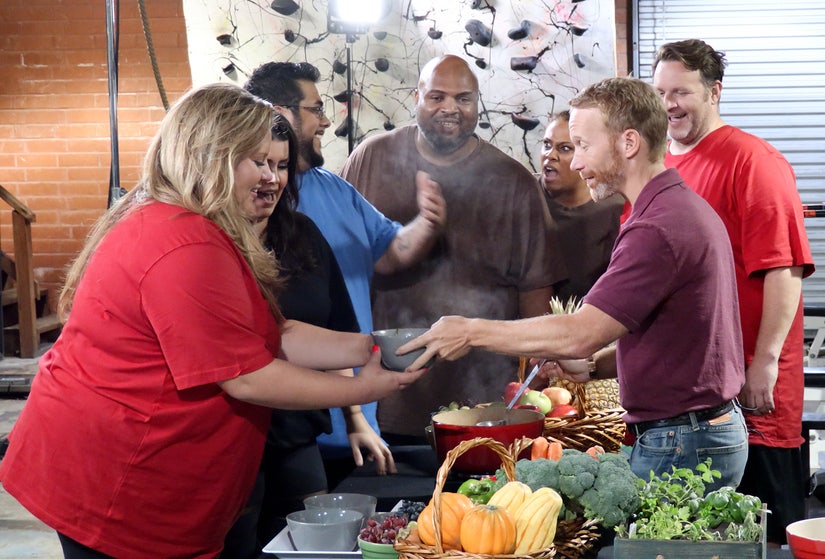 'The Big Fat Truth,' Z Living
"'The Biggest Loser,' as anyone knows, it's not a completely real life experience," he said. "You're away from your family, you're working out 6-7 hours a day, cameras are around you 24/7, so you're not going to overeat. In my season, they used to have temptations, donuts all around the house, fresh pies. When the camera's on you, you're not going to eat a donut, because that's the first thing they're going to put on the show."
"'The Biggest Loser,' it was a game show. I was on a game show and I won," he added. "Now I look at 'The Big Fat Truth' as, this is more of a real life experience, something I can take away with me and really implement in the rest of my life. In 'The Biggest Loser,' I did learn how to eat right, I did learn how to exercise, but I didn't take those things into my daily life."
Benson conceded he's seen plenty of contestants who have had success maintaining their weight loss after the NBC show, but it just didn't work out that way for him.
"Whether it was my fault or how the show was presented to me, I don't know whose fault it was, but I didn't do that," he said. "This show, we've been done filming for a few months and I feel like I've taken it into my daily life and it's part of how I look at things, how I eat and how I exercise. It was definitely a good experience for me.'
Looking back now, Benson said it's the competition aspect of "Biggest Loser" that's its biggest detriment.
"I think inherently that it's a contest, it's going to be tough. Some people take away from it and are great, other people leave it and the weight comes back on but the fact that it's a contest, you're never really going into it for -- at least, I'm speaking for myself -- I never went into it for the fact of lose weight and change my life," he explained. "I was like, I gotta win this thing. That's what made it not lasting for me, because it was a contest."
By throwing "Biggest Loser's" "me-me-me mentality" and big brother aspect out the door, Benson said the experience on "The Big Fat Truth" was a more positive experience.
"I still had a community of people who were also involved in the show that I could relate with and see what their struggles were and talk to each other and share recipes with each other, share ideas," he said of his fellow "Loser" alums. "You can be completely with each other talking about stuff because there's not cameras on your 24/7. We weren't trying to outmaneuver each other, outsmart each other, form alliances, there was none of that. It was a more real process, just strictly about eating as healthy as you can be."
While Benson couldn't reveal where he weighs in now, we're told he lost "a considerable amount" during his 90 days on "The Big Fat Truth," and has continued to drop more in the months since filming wrapped.
By exercising and taking on a plant-based, whole-food diet, the reality star told TooFab he not only "feels good" but "easier to be around" in general.
"I felt like this really helped me make a mental switch. I felt like, eating this way, I treat my family better, I'm easier to be around, I'm happier. Now, my wife in hindsight would say, yeah it's been a great experience so far," he explained.
To anyone else out there going through a rollercoaster ride with their own weight, Benson left us with this message:
"I would say love yourself as you are but also know there are people around who want to support you in eating healthy and doing what's right. You just have to find those people that are going to support you become the best person you can be. Surround yourself with those people and success is easier."
"The Big Fat Truth" premieres Sunday, June 11 at 8pm ET/PT on Z Living.