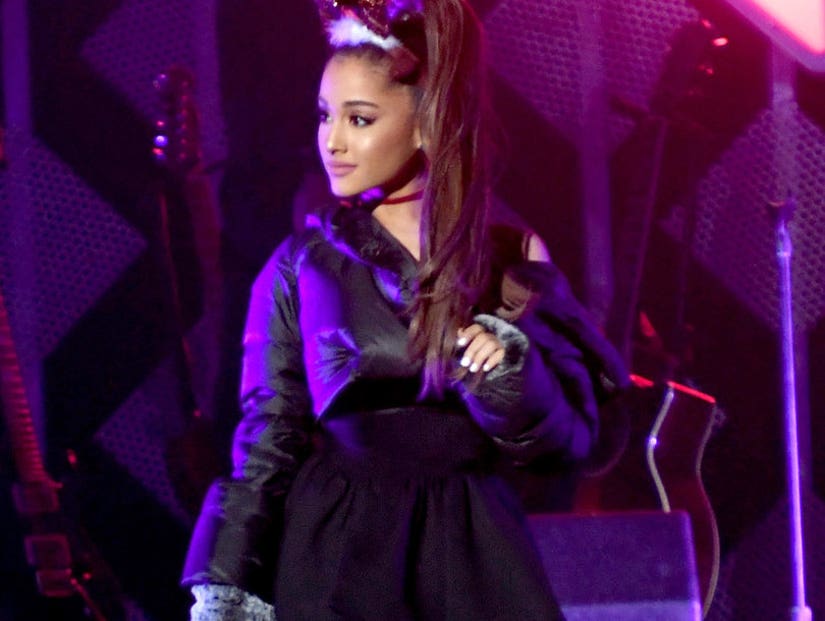 Getty
Police responded to reports of a "serious incident" at the Manchester Arena on Monday following an Ariana Grande concert.
A rep for the singer says Grande is "okay" following the incident, after two loud bangs described as "explosions" were heard after she finished the show.
"There are a number of confirmed fatalities and others injured," Greater Manchester Police said in a statement on Twitter.
Insiders close to the 23-year-old pop star says Grande was "in hysterics" after learning at least 19 of her fans were killed with many more injured.
According to insiders close to Grande, the singer's world tour has not yet officially been suspended as her team assesses the situation.
Grande tweeted this message following the attack:
broken.
from the bottom of my heart, i am so so sorry. i don't have words.

@ArianaGrande
Her manager, Scooter Braun, expressed his devastation in an Instagram post that reads: "Tonight, our hearts are broken. Words cannot express our sorrow for the victims and families harmed in this senseless attack/ We mourn the lives of children and loved ones taken by this cowardly act. We are thankful for the senseless service tonight of Manchester's first responders who rushed towards danger to help save lives. We ask all of you to hold the victims, their families, and all those affected in your hearts and prayers."
President Donald Trump has called those responsible for the concert bombing "evil losers."
And according to CNN, that may be ISIS, which has claimed responsibility for the attack. However, CNN notes the terrorist organization regularly takes credit for attacks it has no proven links to and the police investigating the tragedy did not yet name the group, either.
"So many young, beautiful, innocent people living and enjoying their lives, murdered by evil losers," Trump said at a press conference from the Middle East on Tuesday. "I won't call them monsters because they would like that term, they would think that is a great name."
At least 22 people, including children, were killed in a blast at the Manchester Arena in the United Kingdom on Monday, making it the most deadly terror attack on British soil since the 2005 London bombings. Police have said a man armed with explosives executed the attack on his own and died in the blast, but a 23-year-old man was arrested Tuesday in south Manchester in connection to the attack.
Former President Obama and Senator Hillary Clinton have also remarked on the situation, both sending to everyone impacted by the awful event.
Our hearts go out to those killed and wounded in Manchester. Americans will always stand shoulder to shoulder with the people of the UK.

@BarackObama
Outraged & angry about this cowardly terror attack on a crowd of young people. Sending sympathy & strength to victims & people of Manchester

@HillaryClinton