In case you haven't noticed, the American people have started to wonder about Donald Trump and first lady Melania Trump's questionable relationship.
Sure, they're following the Obamas -- arguably the most lovey-dovey White House couple this country has ever seen -- but there's no denying that POTUS and FLOTUS have displayed some seriously awkward moments after only a few months in the White House. FLOTUS has been caught on camera various times interacting with her husband in ways that would make anyone think she honestly, truly, does not like him.
Let's revisit some of the couple's most awkward moments.
When She Swatted His Hand Away
While on their visit to Isreal back in May, cameras caught Melania swatting away Trump's arm as he reached to hold her hand, leaving us all wondering why.
When He Greeted Her With a Handshake
Not as bad as a hand-swat, but still pretty weird -- Melania introduced her husband at a recent military event at Joint Base Andrews, and the President responded with... a firm handshake? At least it wasn't one of his signature shake-and-yank power moves this time.
When He Ditched Her at the Car Before His Inauguration
On the day he was to be sworn in as the 45th President of the United States, Donald Trump bolted out of his vehicle to greet the Obamas in front of the White House -- but he forgot to wait for Melania. She rounded the car alone, and was later left standing there as Trump went inside. The Obamas, of all people, escorted her in.
When She Had to Nudge Him to Act Like a President During the National Anthem
FLOTUS and POTUS hosted the 139th annual Easter Egg Roll at the White House back in April. Before the celebration, the Easter bunny came out alongside Trump, Melania, and their son Barron to sing The National Anthem. Except, Trump forgot to place his hand over his heart - you know, the small patriotic act we learn to do in kindergarten. Melania had to nudge her husband to remind him to get his hand where it belonged.
That One Time She Turned Her Smile Into A Frown
During the Inauguration, Trump turned back to smile at his wife, and though she did perk up to return one of her own, cameras that stayed focused on Melania saw the smile quickly change to a frown that screamed, "What the f--k did I get myself into?"
That moment spawned the hashtags #savemelania and started a Twitter frenzy that had everyone saying, "Melania is literally all of us."
When She Liked a Tweet About Hating Her Husband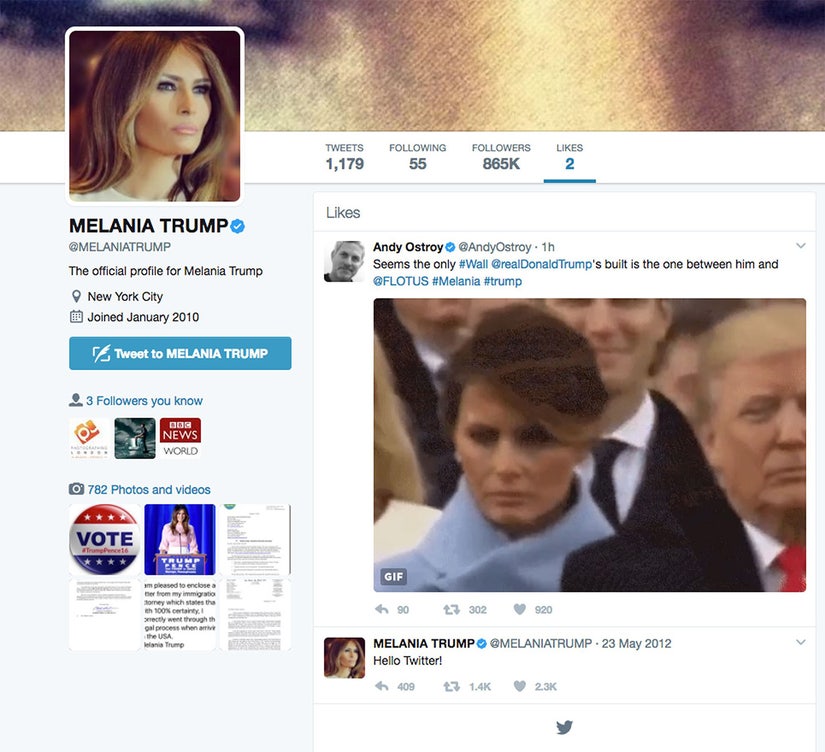 Twitter
FLOTUS' former verified Twitter account "liked" writer Andy Ostory's tweet accompanied by a gif that read "Seems the only #Wall @realDonaldTrump's built is the one between him and @FLOTUS #Melania #trump."
Melania's communications director Stephanie Grisham said the first lady wasn't aware about the situation at all. "The First Lady wasn't aware of any of this until I brought it to her attention," Grisham told PEOPLE. "It isn't her primary account and we have since changed the passwords."
That's all for now, but we're absolutely confident more awkward moments between will pop up, and we'll update this post accordingly.