Johnny Depp sails back into theaters for his fifth outing as Captain Jack Sparrow this weekend in "Pirates of the Caribbean: Dead Men Tell No Tales," but after four films of curses, Krakens, mermaids and more, there may have been a few details fans forgot about.
The latest movie includes more than a few callbacks to earlier installments and, just in case the past 14 years have left you hazier than Jack after a rum bender, we've put together a handy guide with everything you need to know before seeing the new release.
Keep reading for our "Pirates" primer and additional details the film's cast shared with TooFab at a recent press event.
Orlando Bloom Is Still Cursed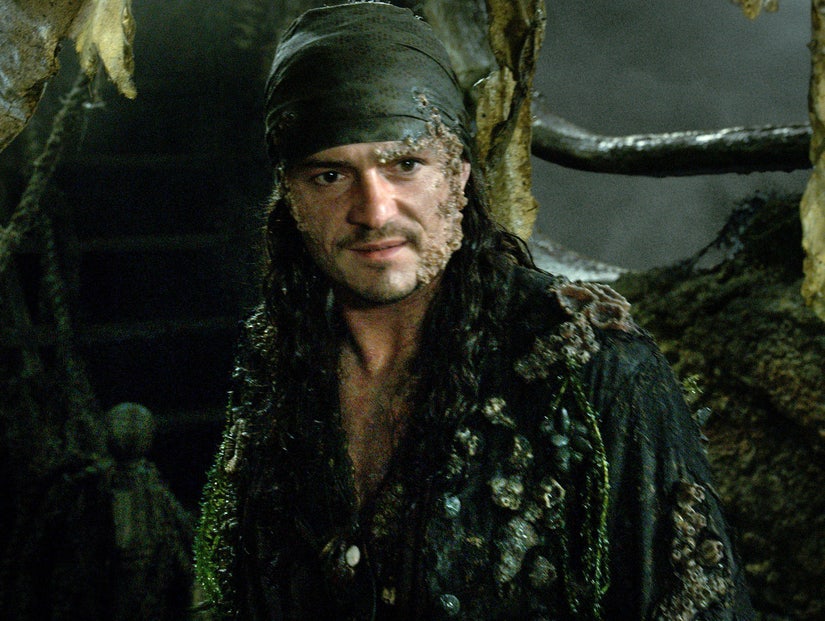 Disney
After being MIA from the last film, Bloom's Will Turner returns in "Dead Men Tell No Tales" -- but what's he been up to all this time? Oh, just enjoying damnation as the captain of the Flying Dutchman.
In case you missed it, "At World's End" ended with Turner being stabbed in the chest by the Dutchman's former captain, Davy Jones. But -- since whoever kills Davy Jones is allowed to live for eternity by taking his place -- Jack guided Will's hand to pierce the octopus-faced baddie's own heart. Will's heart was then locked away in the Dead Man's Chest, making him the new captain.
That's pretty much where we find him at the beginning of this film, with almost no relationship whatsoever with his wife Elizabeth Swan (Keira Knightley) or their son Henry since he can only go on land one day every ten years.
New Characters Take Center Stage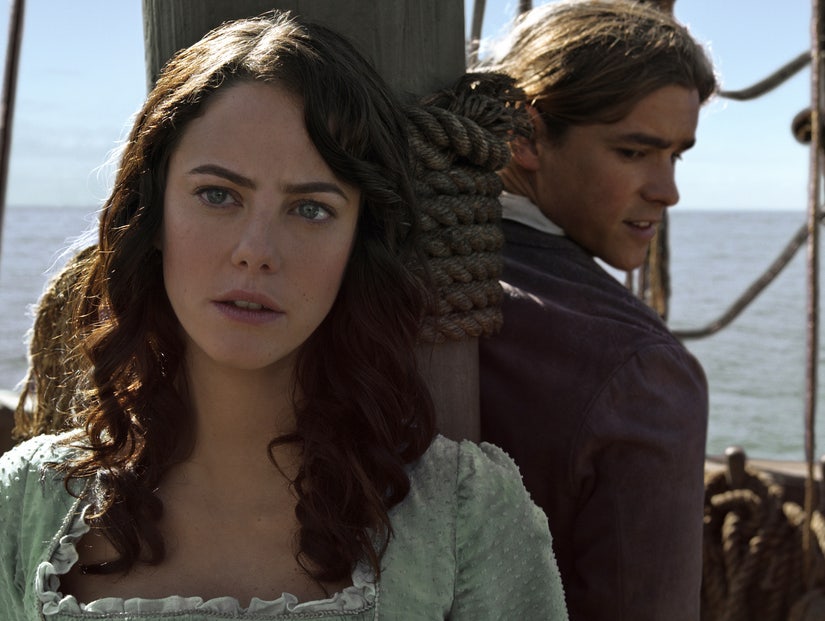 Disney
In "Dead Men Tell No Tales," a now-adult Henry (Brenton Thwaites) is on a mission to find the Trident of Poseidon, which he hopes will give him the power to break his father's curse.
Joining him on his quest is Sparrow and fellow newcomer Carina (Kaya Scodelario), who has a reason of her own for their adventure.
"You look around on set, three Oscars, it's crazy," Scodelario told TooFab of working on the film. "Every day was a lesson in acting, it was like going to the best drama school for six months and it happened to be on the beach."
"I felt we could experiment with each other," she said of acting alongside Thwaites. "There was no pressure. In scenes with Johnny sometimes, you could feel nervous in suggesting a different idea or something like that. Knowing that we were both newbies and on the same level, we had that trust in each other, that to me was just really cool."
Jack's Compass Continues To Be Very Important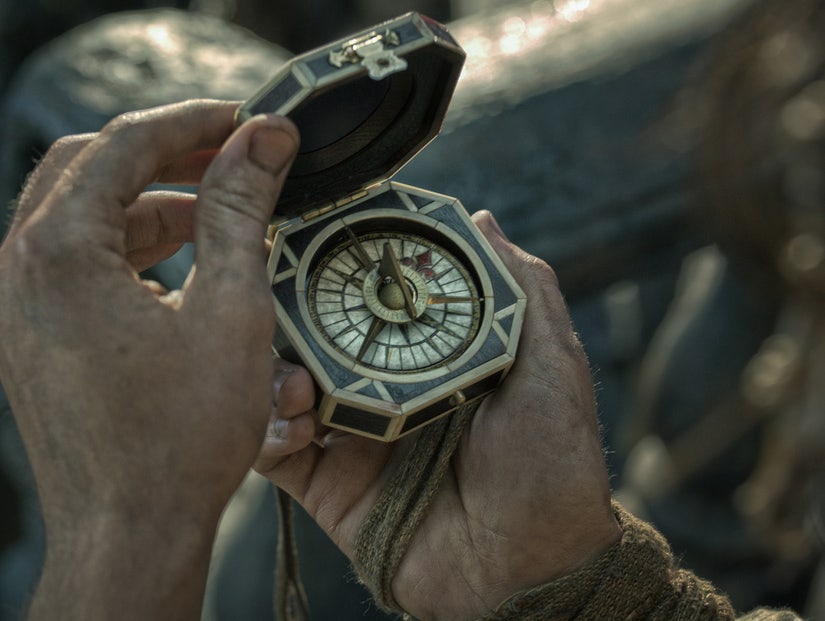 Disney
Throughout the franchise, Jack's compass has been a constant. Of course, this isn't any regular compass, it's a magical one and always points to whatever its owner wants most.
In the past, it's been used to track down Isla de Muerta in the first film, the Dead Man's Chest in the movie of the same name, the Fountain of Youth in "On Stranger Tides" and the location of the bottle containing the Black Pearl on Blackbeard's boat, Queen Anne's Revenge.
While what Jack and others desire most is constantly in flux, you can count on the trusty compass to get whoever's holding it headed in the right direction.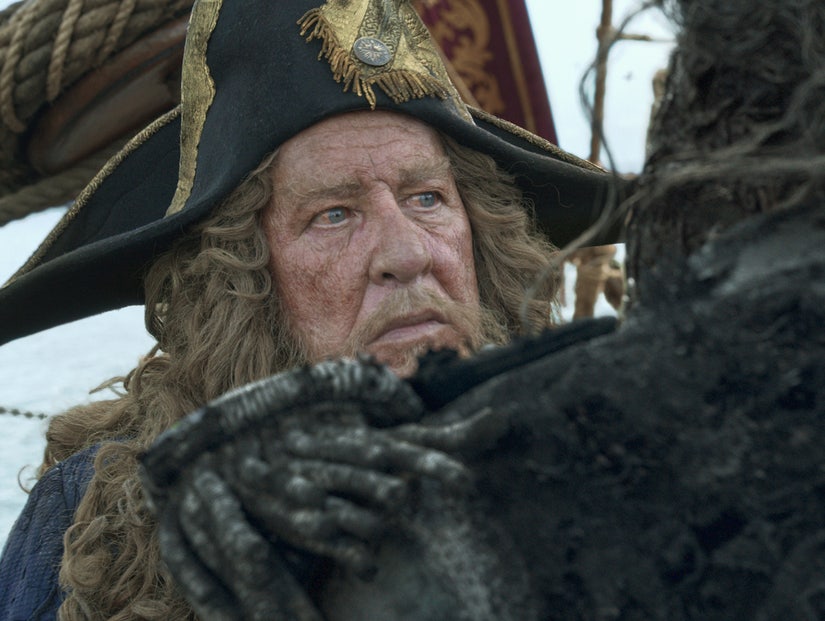 Disney
Speaking of the Queen Anne's Revenge, those who may have missed "On Stranger Tides" may not be aware of Hector Barbossa's new gig.
That film ended with Geoffrey Rush's character killing the movie's Big Bad, Blackbeard, with a poisoned sword and taking command of his mystical boat.
In "Dead Men Tell No Tales," the new villain, Armando Salazar (Javier Bardem) puts Barbossa to work on his own quest for revenge.
Yes, That's Bardem Hidden Under All That Makeup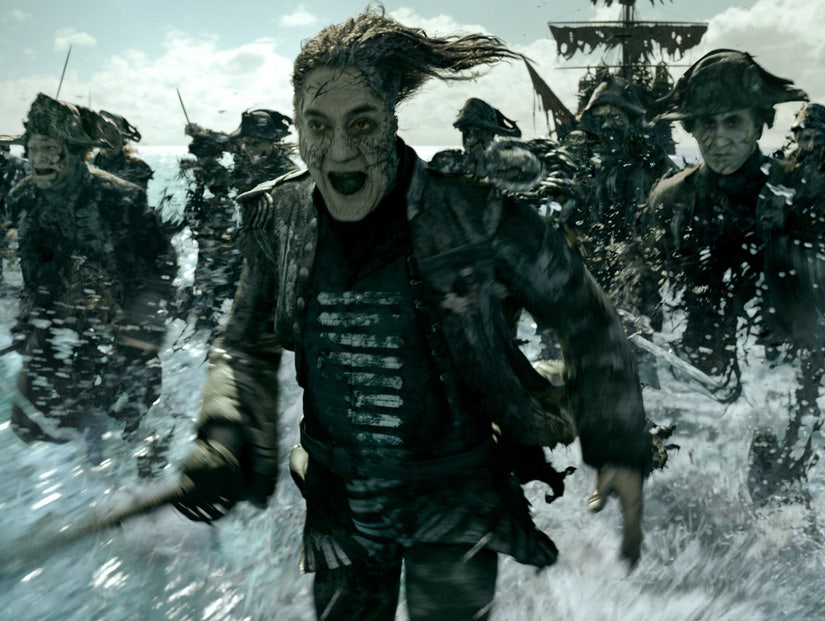 Disney
The Spanish actor takes over as head bad guy for the latest outing as Salazar, a ghost with a grudge against Captain Jack.
To play the part, Bardem underwent three hours in the makeup chair every day of filming for his character's cracked features and partly-exposed insides. The pièce de résistance: Salazar's constantly moving mane, which was added with CGI and makes it look like he's always underwater.
"That's not long for such great detail work they did," Bardem told TooFab of the transformation. "I saw some drawings and ideas, but it's only until I saw the movie that I realized how powerful it was. It didn't kill the performance. When you're surrounded by so many special effects, your fear is, am I going to survive through that? They did a great job, they respected the actor's job and helped it with the special effects. The hair is very hypnotic."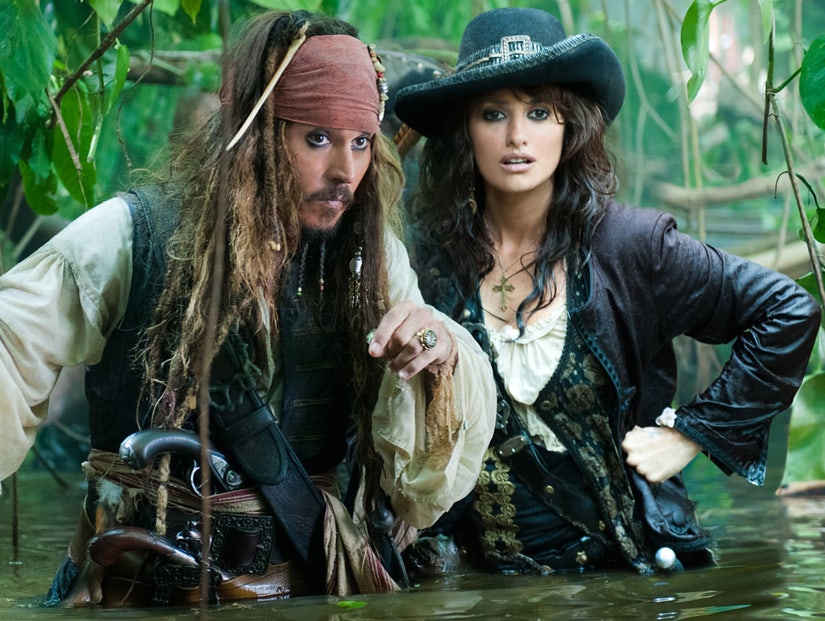 Everett Collection
Despite her own husband starring in the film, Cruz's Angelica does not appear.
We last saw Blackbeard's daughter in the post-credits sequence for "On Stranger Tides," after being marooned on an island by Jack. The final shot of the film showed her picking up a Jack voodoo doll, leaving many to believe she'd be back with a vengeance for this film.
While her character doesn't return, Cruz was instrumental in getting her real life husband, Bardem, in the film.
"We offered the movie and first thing he did is he turned to his wife and said what was it like making a 'Pirates' movie," producer Jerry Bruckheimer told TooFab. "She said, 'I had a great time, you should do it.' It got her blessing and that's how we got him in the movie. If she said, 'I didn't have a good time,' he wouldn't be in it. We're so fortunate she liked her experience of making the movie."
Bardem also said he visited the set when Cruz was filming and witnessed "how good everything worked out" firsthand.
"Staring with the fact that she was pregnant when she was shooting, they respected that," he added. "So I saw the production quality, the detail. It helped me to say 'Yes.'"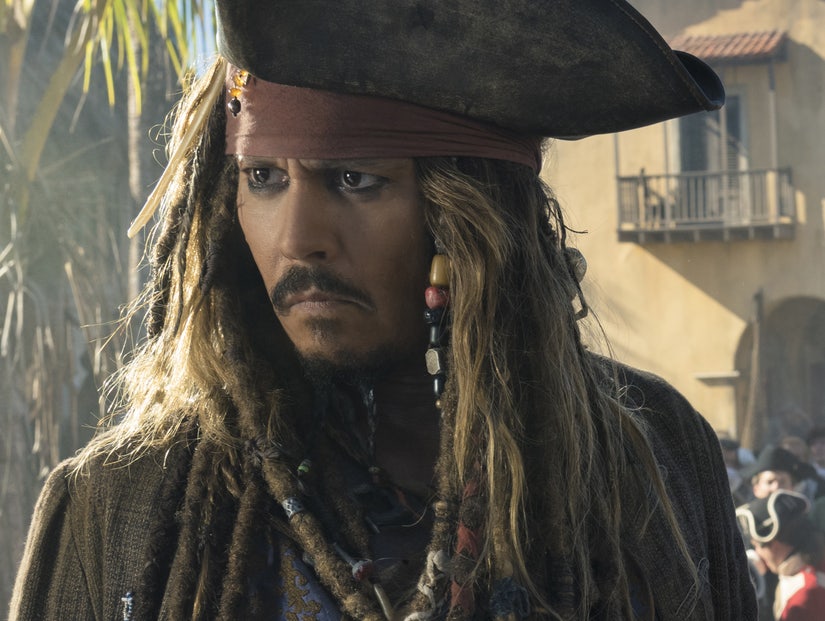 Disney
Whatever you do, don't leave the second the credits start rolling.
There's a stinger at the end that might give some insight into where the franchise could go next.
Bonus Tidbit: Keep An Eye Out for Paul McCartney!
Waiting for your permission to load the Instagram Media.
According to the directors, Johnny Depp texted the Beatle from his own phone to recruit him for a cameo. "He texted back, it became funny over the next couple days," they explain. "They went more and more into the pirate lingo and we knew that we got him. It was fantastic to work with him, such a pro and so eager and a great actor I think. It was fun to transform him into a pirate."
Check back Monday to see more about that post-credits scene and other twists and turns from the film!