"Star Wars: The Force Awakens" ended with the film's heroes scattered throughout the galaxy. Han Solo (Harrison Ford) was killed, General Organa (Carrie Fisher) mourned his death and Rey (Daisy Ridley) met up with the long lost Luke Skywalker (Mark Hamill).
The movie generated some huge questions about the future of the franchise. While the cast and filmmakers have kept their lips zipped about the next installment, "The Last Jedi," some secrets were finally revealed in the new issue of Vanity Fair.
Keep reading for 5 of the best bits from director Rian Johnson, Lucasfilm president Kathleen Kennedy and the cast as they discuss new characters, changing relationships and the loss of Carrie Fisher.
Hamill Wanted Han's Death to Play Out a Little Differently
If Mark Hamill had his way, things would have gone a little differently for Han Solo in "The Force Awakens." In that film, Harrison Ford's character met his end after being lightsabered by his own son, as Rey, Finn and longtime companion Chewbacca watched.
"I thought, Carrie will sense that Han is in danger and try to contact me. And she won't succeed, and, in frustration, she'll go herself. Then we're in the situation where all three of us are together, which is one of my favorite things in the original film, when we were on the Death Star," Hamill said. "I thought it would have been more effective, and I still feel this way, though it's just my opinion, that Leia would make it as far as she can, and, right when she is apprehended, maybe even facing death—Ba-boom! I come in and blow the guy away and the two of us go to where Han is facing off with his son, but we're too late. The reason that's important is that we witness his death, which carries enormous personal resonance into the next picture. As it is, Chewie's there, and how much can you get out of [passable Chewbacca wail] 'Nyaaarghhh!' and two people who have known Han for, what, 20 minutes?"
Fans appeared to approve of Han's sendoff in the film though. "As I said to J.J., I've never been more happy to be wrong," added Hamill.
So THIS Is What Luke's Been Up To
OK, so we don't know everything Skywalker's been up to in all his time away from his friends and family, but know we know he wasn't alone.
While "The Force Awakens" made it seem like he'd just been hanging out on a mountain by himself, the filmmakers confirm he's been at Ahch-To, the site of the first Jedi temple.
According to the article, he's "been living in this village among an indigenous race of caretaker creatures whom Johnson is loath to describe in any more detail, except to say that they are 'not Ewoks.'"
As for "The Last Jedi," expect to see a "training element" to Luke's relationship with Rey, but not one with any "one-to-one correlation" to Luke's relationship with Yoda. "It's not exactly what you would expect," Johnson added.
When the new film starts, expect to see everyone looking a little battle worn, both physically and mentally.
Boyega says Finn begins the film in a "bacta suit," which is described as a "regenerative immersion tank that heals damaged tissue."
"I feel like almost everyone is in that rehabilitation state," Adam Driver added. "You know, I don't think that patricide is all that it's cracked up to be. Maybe that's where Kylo Ren is starting from. His external scar is probably as much an internal one."
Expect Both New Faces and New Faces
Quite a few newcomers are heading to a galaxy far, far away, including a "shady character" played by Benicio Del Toro who the filmmakers call "DJ." "You'll see—there's a reason why we call him DJ," added Johnson.
The article also says the film will include "a prominent officer in the Resistance named Vice Admiral Holdo, played by Laura Dern; and a maintenance worker for the Resistance named Rose Tico, who is played by a young actress named Kelly Marie Tran." Tran's character also has a sister named Paige, who shares some screen time with Poe Dameron. Rose is involved in a mission "behind enemy lines" with Finn.
As for new locales, there will be a "glittering casino city" in the new film, going by the name Canto Bight. "A Star Wars Monte Carlo–type environment, a little James Bond–ish, a little 'To Catch a Thief,'" Johnson said of the spot. "It was an interesting challenge, portraying luxury and wealth in this universe. I was thinking, O.K., let's go ultra-glamour. Let's create a playground, basically, for rich assholes."
Carrie Fisher Is Gone But Not Forgotten
Carrie Fisher filmed all her scenes for the new film before her death in December 2016, but the plan was to give her even more screen time in Episode IX.
"She was having a blast," Kathleen Kennedy told Vanity Fair. "The minute she finished, she grabbed me and said, 'I'd better be at the forefront of IX!' Because Harrison was front and center on VII, and Mark is front and center on VIII. She thought IX would be her movie. And it would have been."
That being said, Kennedy confirmed there are no plans to bring Leia back with CGI. "We don't have any intention of beginning a trend of re-creating actors who are gone," she explained.
The article also confirmed that Fisher's real-life daughter, Billie Lourd, will once again appear as a Resistance lieutenant in the film, while Oscar Isaac shared a fun story from the set.
"We did this scene where Carrie has to slap me," he said. "I think we did 27 takes in all, and Carrie leaned into it every time, man. She loved hitting me. Rian found such a wonderful way of working with her, and I think she really relished it."
The Summer issue of Vanity Fairy hits national newsstands on Tuesday, June 6. "Star Wars: The Last Jedi" lands in theaters on December 15, 2017.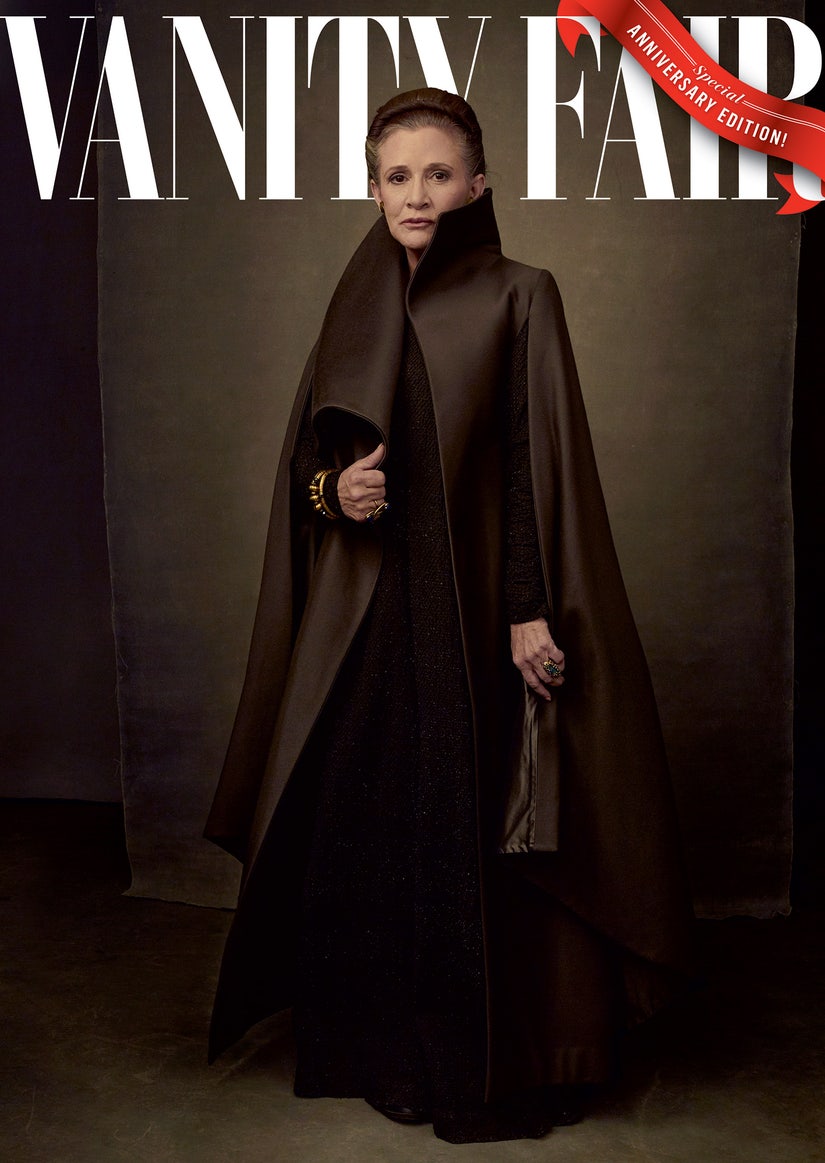 Annie Leibovitz exclusively for Vanity Fair