After 14 years on the high seas, Geoffrey Rush is hanging up his captain's hat.
While the swashbuckling franchise has seen its fair share of actors wander in and out of the series throughout its five films, Rush told TooFab he thinks this is it for him.
"I did say to [producer] Jerry Bruckheimer, 'I think this is the end for Barbossa,'" he explained. "[His death] expanded the world dramatically of the genre of a tentpole blockbuster, to lose an important character is kind of good. It all made sense and didn't feel like an easy dramatic device. "
"And I think the notion of the selfless sacrifice, you'd cheapen that if you suddenly went, 'Well, we'll bring him back because we had the scorecards filled out and everyone said they liked Barbossa,'" he added with a laugh. "I think it would undermine the impact that had on me and the impact it had one my own daughter, because she was working on the film. She was so proud of me, being up on the anchor, it was great."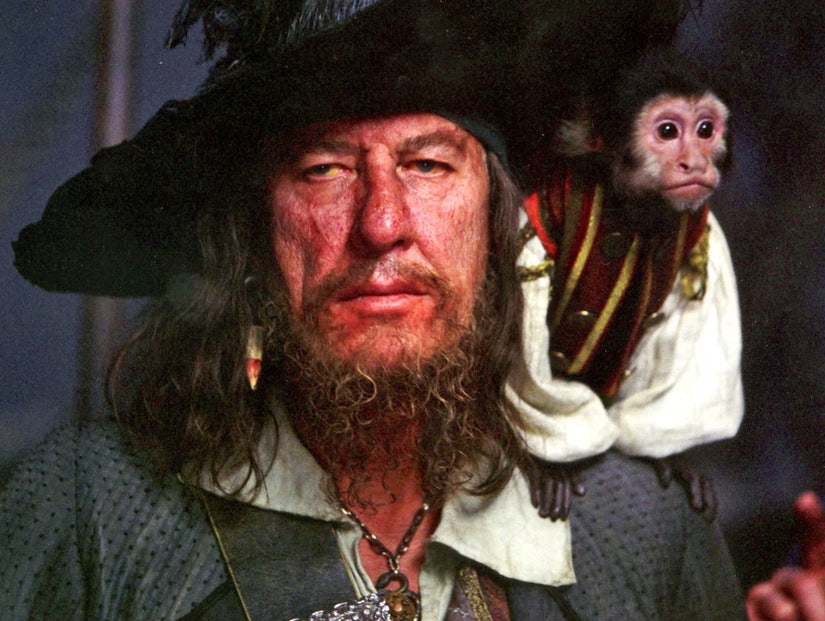 Rush In "Curse of the Black Pearl"/Everett Collection
Of course, he's wise to never say never.
"They could come up with something," he added. "Or he could come back like Hamlet's father as a ghost and just annoy Jack with wisdom."
That's a sentiment shared by Bruckheimer as well, who told TooFab "You never know with us. We can always bring characters back when we love them and we love him."
If Rush doesn't return, his character's bloodline can still live on though.
"I'd love to see her taking the reigns of Daddy Barbossa," Scoledario said. "I'd love to see if she wants to incorporate her love of astronomy and horology into being a badass pirate. I cant wait to see, if we do more movies, what she can do next."
The post-credits scene also teased the return of another long-lost pirate, Davy Jones. While Bruckheimer wouldn't confirm the character would appear in a potential sequel, he simply teased, "I love Davy Jones, he was such an iconic cinema character. Bill Nighy, his interpretation is awesome."
"Pirates of the Caribbean: Dead Men Tell No Tales" is in theaters now.