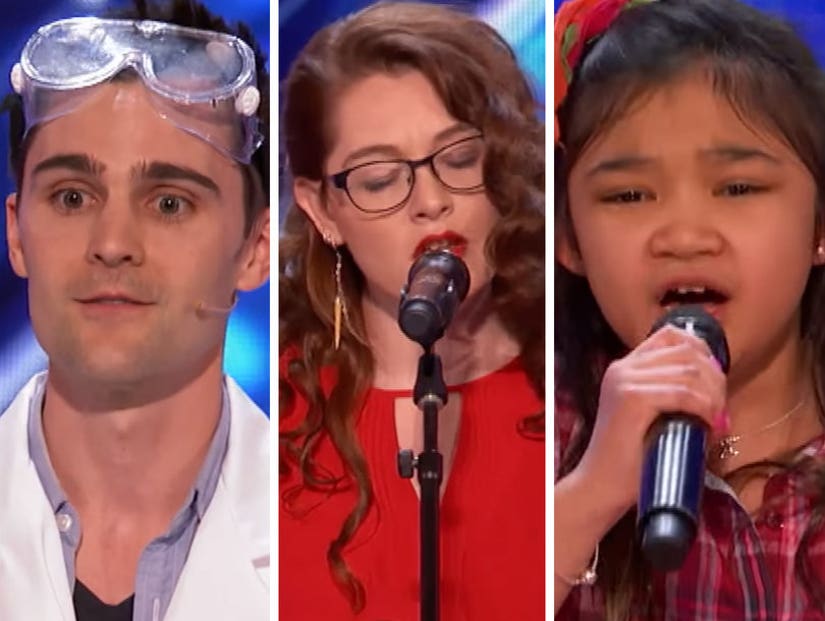 NBC
It was an exciting premiere of "America's Got Talent" last week, with Tyra Banks seamlessly joining the competition as its new host. Your Fifth Judge also joined the judging panel, and I'm ready to get back at it again for the second night of auditions.
Who do I think I am? you ask. Well, I spent nearly a decade of my life sweating and bleeding to the music as a dancer. From a young boy learning a shuffle-ball-change to performing with the St. Louis Ballet Company, I experienced the ups and downs of one of the most difficult physically demanding sports on the planet. During this time, I was also a member of the St. Louis Symphony Youth Orchestra, as well as a gymnast, writer and cartoonist. I had a lot more energy in my younger years. And I've spent the last fifteen years analyzing and critiquing reality competition shows for various media publications. I've got this.
Fair warning, since I'm safe at home, I'm probably going to be a little harsher than my colleagues Howie Mandel, Mel B, Heidi Klum and Simon Cowell. But I might be nicer, too. Maybe. Since it's just yes or no at this stage, I'm going to rank each act from worst to first each night.
Edna & Mia Moore (dog mathematician) didn't impress much in her backstage package, but then it took the chicken Jokgu a bit to start paying piano last week. After a similarly slow start, Mia was able to count up to whatever number was said to her or shown to her on a flashcard. That said, this is clearly a limited skill and how is she going to compete in future rounds? It's counting. Cute, but too limited for me.
Judges Scores: Y, Y, Y, Y
Jimmy Slonina (performance comedy) came out and performed after a lovely montage of acts that showed how their personal connection elevated their performances. There was a huge fakeout setup for him performing his balancing act with a blowup doll. Thankfully, he admitted that he was married and had a son before going into this ridiculous performance that Howie and Mel let go on way too long. It was funny, but also it was very stupid. The judges were split between seeing it as performance comedy. Heidi was absolutely against it, but Mel and Howie argued with Simon to give Jimmy a third yes, but it didn't work. I wasn't amused enough, either.
Judges Scores: Y, Y, N, N
Artyon & Paige (dancers) were nine- and eight-year-old dancers who had an acrobatic dance to "Barbie World" that had some skills and stunts beyond their tender ages. The dancing was certainly rough and flawed in places, but Artyon is a very impressive gymnast. He was a little stronger as a performer than Paige, but the fact they were even tackling lifts and some of those stunts at this age is stunning. Simon buzzed them because of its lack of polish. For the talent on display at such a young age, I'd give them a cautious yes. I want to see if they can grow through the competition.
Judges Scores: Y, Y, Y, N
Azeri Brothers (stunt act) is a foreign act from Azerbaijan that do not speak but perform dangerous acts like slamming nails into boards with their bare hands and heads. The entire act involved nails and sharp objects and was so dangerous that Heidi and Howie buzzed it just in an attempt to make it stop. It was compelling and disturbing to watch at the same time in the realm of torture porn. There is a place for a dangerous stunt act like this, but I can understand why it is difficult for some people to stomach. I'm actually a little surprised that the judges were so polarized on this one, as I think it's absolutely watchable. They only got through thanks to the audience swaying Howie's vote.
Judges Scores: Y, Y, N, Y
Nick Uhas (scientist) wanted to bring science to the masses, and kicked off his act with balloons filled with a gas that lowers the voice rather than raise it. Simon Cowell's dropped voice sounded like Andre the Giant. It was all very silly and entertaining. He then brough Mel and Howie up to make an explosively goopy reaction Finally, it was hot and cold for Howie. But the bottom line is that it takes a showman to make these kinds of experiments fun, and Nick has that enthusiasm and charisma. Science is cool enough to be an act, but it does need a little help to pop. Nick could absolutely be that guy.
Judges Scores: Y, Y, Y, Y
Diavolo (performance artists) was one of those almost indescribable acts that you can only see on a variety show like "AGT." This was one of the most unique and unexpected acts I've ever seen, and it was mesmerizing from moment to moment. There was acrobatics, beauty, artistry, strength and danger at every moment. The group performed with a massive half-circle prop that they rocked with, launched off of. This was something we've never seen before, and I hope they have more unique things to offer. If it's more of the half-circle, it might get old, but the creative potential of this group and its founder, Jacques, is through the roof.
Judges Scores: Y, Y, Y, Y
Chase Goehring (singer/songwriter) took the risk of bringing an original song to the stage. This meant it needed to be a well-written song, and he needed to be a good singer and performer. The song, entitled "Hurt," was inspired by a real girl he knew. She was always in bad relationships and he wanted her to be in a better relationship … with him. Interestingly and totally coincidentally, as both are redheads, he gave off an Ed Sheeran vibe. But then he broke out a rap verse and raised the caliber of his talent even further. "Hurt" is cleverly written, poignant and was beautifully performed. This young man is a rare and exciting talent for sure.
Billy & Emily England (roller skaters) met Simon two years ago on "Britain's Got Talent," but have since moved to America and here they are. Once again, only … this … show! What an amazing and terrifying performance. Billy was spinning Emily around in various ways, coming so close to slamming her head in the ground over and over again. It was the kind of dangerous stunt that makes people sit on the edge of their seats. It's one of the weirdest and most entertaining stunt acts of the season for sure.
Judges Scores: Y, Y, Y, Y
Mandy Harvey (singer/songwriter) lost her hearing at 18-years old. She'd grown up with the dream of singing and even went to school for music, but she had to leave the music program when she went legally deaf. She wrote a song called "Try" about not giving up. It's the story of her her reclaiming her dream. It was beautifully performed, with a voice reminiscent of Sarah MacLachlan. Simon was so impressed there was no deliberation. He hit his Golden Buzzer and sent Mandy straight through to the live shows. As a music producer, it makes sense, and I think Mandy's story certainly makes her performance even more impressive, but I don't think it was the most talent we saw on the night. Still, she's got my vote and I look forward to seeing her again.
Judges Scores: Y, Y, Y, Y
Angelica Hale (singer) is a 9-year-old singer who survived double pneumonia at four-years old. She got a kidney transplant from her mother to save her life. It's no knock to the love and strength of this family, but I don't like these manipulative backstories, and I certainly don't let them influence my decision. It doesn't matter, though, because the voice that came out of her body was absolutely ridiculous. It was so mature and polished it actually made me feel like something was wrong looking at her and hearing her at the same time. Did the pneumonia mature her vocal chords beyond her years? It almost seems impossible. What an amazingly talented girl. That's a once in a lifetime gift she has.
Judges Scores: Y, Y, Y, Y
Colin Cloud ("the real life Sherlock Holmes") is an observation artist, inspired by the stories of Sherlock Holmes. It's the closest thing to real-life mind-reading, but he absolutely admits that it is not. His routine was absolutely brilliant, not reading everyone's minds but rather watching them and seeing inside their minds. Even better, Mel was right and Colin is an absolutely mesmerizing emcee. It was one of the most intriguing acts ever. I absolutely loved that he was explaining what he was doing, and yet no one could figure out how he was doing what he was doing. I could see this as an act in Las Vegas that sells out for years to come.
Judges Scores: Y, Y, Y, Y
My Score: Y [If I had one, he'd get my Golden Buzzer]
"America's Got Talent" airs Tuesdays at 8 p.m. ET on NBC.