As a TV veteran with a career spanning over 25 years, Star Jones is the first to admit she's had quite a few diva moments in her time in front of and behind the camera. And now in a candid interview with TooFab, Jones revealed three of her biggest ones.
"I did tell that sleazy guy that used to work in the Clinton White House not to touch me," Jones told TooFab. "Dick Morris. I did tell him, 'Don't touch me' on national television because I thought his ... I just thought he was sleazy! That was definitely an interesting Star moment."
While speaking about her new VH1 series "Daytime Divas" -- based on her book "Satan's Sisters" which is inspired by her time at "The View" -- Jones spilled stories that might make Beyonce blush.
"There was a time when there was a pimp on our show and he was being disrespectful to women and I walked out," she added. "I remember that very clearly because that's never going to happen. I think if anybody knows my reputation at all, I stand for women and I'm not going to allow you to be disrespectful, period."
But Star confessed that her biggest diva moment ever was actually something that happened off-screen.
"My most diva moment was when my sister was giving birth to my nephew, who is now 21. Think about how long ago that is, right?" Jones said. "She was literally in the labor room and I had to fly all the way from Los Angeles so I could see her. I thought I'd be welcoming my new nephew, so I flew 7.5 hours and took an hour to get to the hospital, and she was still in labor!"
"She had been in labor all frickin' night, it was now a total of 16 hours and they would not give her any medicine and I went straight Shirley MacLaine on all of these people, screaming, 'Give her something for the pain,'" she continued. "I had arrived thinking Auntie Star's gonna see her new nephew, so I'm in a fur coat, high heeled shoes, balloons. I looked like a full on lunatic, that was a full-on diva moment."
Lunatic or not, Jones added that "a diva never regrets."
"Sometimes you just gotta show them who you are, but you never regret. Also, a true diva's not doing it or showing out in order to hurt anybody," she added. "That's not what a real diva's like and I've known some of the great divas of all time!"
Keep reading below to see what Star said about infighting behind the scenes of TV, getting Vanessa Williams cast on the show and what topic she'd like the series to tackle next year. Yes, that includes Trump.
"Daytime Divas" airs Mondays at 10pm on VH1.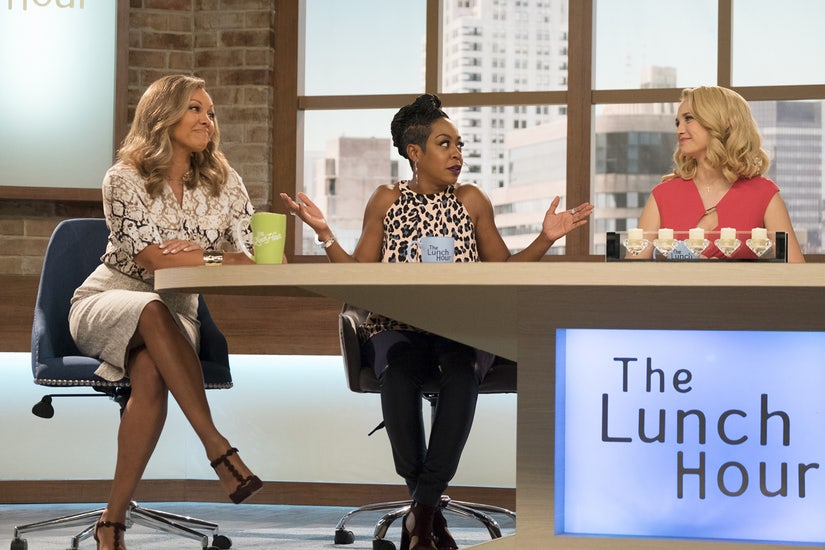 VH1
TooFab: Why do you think people are so interested in behind the scenes infighting on shows like these?
Jones: I think it is our desire to see how the sausage is made. We all like the sausage, so deep down, we really want to know how to sausage is made. And this is the ultimate insider's guide to how daytime television really works. Of course, we've taken tremendous dramatic license and had a lot of fun with it, because obviously if there was that much drama every single day, none of us would get any work done.
TooFab: Is there a specific thing that made it on the show that people might be surprised to learn did happen somewhere along the line?
Jones: Pretty much everything that is on the show is inspired by something that happened in my life, in front of me, I was told about, I prosecuted, was one of my colleagues. Trust me, I'm funny, but I didn't just totally create all of these scenarios. And truth is always stranger than fiction.
You have to remember, I've been a part of daytime television or television news for 25 plus years. It also has put me in a unique position to having been in pretty much every makeup room, every executive producer's office and on every set.
TooFab: When you're doing some of these talk show visits, how palpable is the tension when something's going on between the stars, co-hosts, whoever it may be?
Jones: That is one thing I can tell you the really good ones -- and I've been privileged to work with some of the best, obviously -- you don't get to see that. That's why it's my job to take you behind the scenes. You definitely don't get to see that. Talk show hosts are in a unique position because no matter what is going on in your life that day, when the red light comes on, you gotta hit your mark and your energy level has to be way high, way up, because the audience is expecting you to brighten their day, to give them new information, to provide them with entertainment.
TooFab: When the show gets picked up for a second season, are there topics out there right now you'd like to tackle then that you didn't get a chance to this time around?
Jones: I'm positive we'll probably use something around who's in the White House. Here's the thing, with 'Daytime Divas,' whatever thing would be the water cooler topic, we can actually do in an evergreen way because it's a topic of conversation.
TooFab: Can you talk a little about the casting of Vanessa Williams?
Jones: One of the things I love about 'Daytime Divas' is we returned to the old fashioned soap mentality and it's a nighttime soap and we haven't had a good nighttime soap since 'Dallas.' Dallas and Dynasty. As a matter of fact, Dominique Deveraux is the true inspiration behind Maxine Robinson. When I was writing the book I thought to myself, the way I always write is I get my mind's eye and an actor or actress in mind before I flesh out the character and, hand to the gods above, Vanessa Williams was in my mind's eye the entire time.
I wanted the modern day Dominique Deveraux and is there anybody who disagrees with me that that is Vanessa personified? She's got it down to a science and never in my wildest dreams did I actually think, wow, she's going to actually be my Maxine Robinson.
She's such an excellent actress, such a great leader. When you're doing an ensemble like this, the leader of the cast really has to set the tone and there's no question that Vanessa does that in the most elegant in professional way. The women on the show, they adore her. These girls, they leave it all on the street and I am very appreciative of their hard work.