A Twitter feud broke out after Piers Morgan took Amber Rose to task over a bottomless shot she posted Friday night.
"Put it away, luv. Thanks," Morgan tweeted at Rose.
Rose said her Instagram-banned pic was intended to promote women's rights and raise awareness for her #SlutWalk campaign. Morgan claimed the post is nothing more than an attention-seeking stunt.
Rose fired back at Morgan's accusation, defending the post with a condescending tweet. "I'm sorry I forgot only men can be sexually confident," she wrote.
The British journalist quickly responded, "It's not about sexual confidence. It's about you posting nude photos claiming it promotes feminism, which is utter nonsense."
Rose got pretty explicit in the back-and-forth tweets with Morgan, at one point saying she would video tape him masturbating to the picture while he apologized to her.
Morgan suggested a cup of tea and "to discuss where [she's] going wrong re feminism" instead. Surprisingly, Rose didn't deny the offer. She actually switched gears and even said that Morgan was entitled to his opinion:
"Have me on your show or you can come on mine so we can really hash this out @piersmorgan no love lost. You're entitled to your opinion."
The model and journalist finished their arguments on Twitter by agreeing that they both simply wanted to advocate and educate about feminism. The only problem is--the two celebrities differ on the concept of "feminism" in a big way.
Rose first posted the picture to Instagram on Friday night. IG took it down two hours later--so she decided to share it on Twitter, which caught the attention of Morgan. Regardless of the many tweets that followed the star's post, Morgan's reaction seemed to catch Rose's attention the most and so the feud began.
Prior to Morgan's remarks, Rose did receive other heat against the picture. Regardless of the backlash, Rose encouraged other feminists to join the "Amber Rose challenge" and post their own version of the scandalous picture--and followers did. Rose retweeted and praised fans' mock pics, but IG was quick to take those down too.
See the exchange from Twitter below: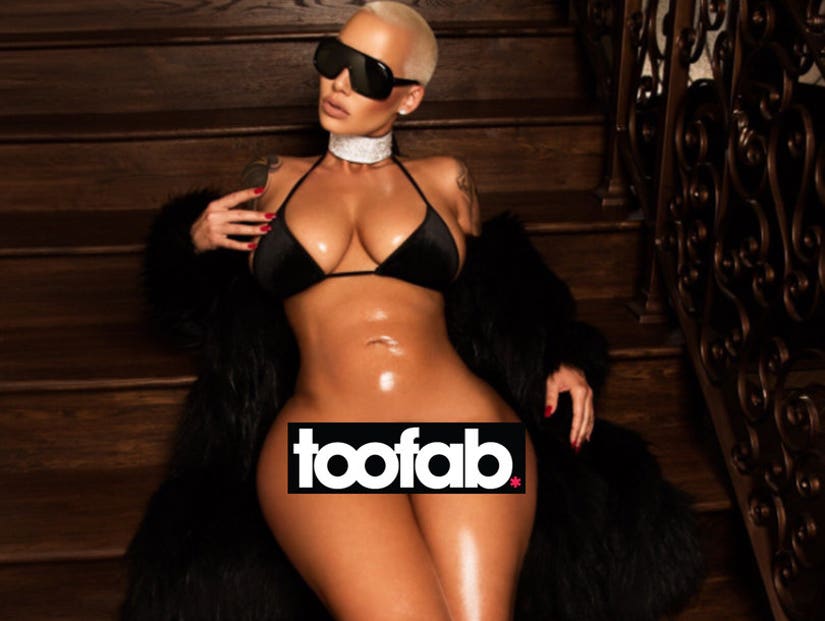 Getty/Twitter
It's not 'misogyny' to think that posting nude photos in the supposed name of feminist empowerment is pathetic attention-seeking bulls**t. https://t.co/39rIjaaUXu

@piersmorgan
You love strong women @piersmorgan I would make u my little submissive bitch & u would love every second of it I can see right through u 😍

@DaRealAmberRose
No @piersmorgan I would video tape you masturbating to my picture while apologizing to me then post that on behalf of feminism 😍

@DaRealAmberRose
Have me on your show or you can come on mine so we can really hash this out @piersmorgan no love lost. You're entitled to your opinion.

@DaRealAmberRose
Although this conversation has been fun @piersmorgan I'm not here to argue about feminism I'm here to educate and bring awareness.

@DaRealAmberRose