Jack Wagner and Josie Bissett may have been co-stars on the long-running series "Melrose Place" back in the day, but they ended the show basically strangers.
In fact, after the series wrapped, it was 17 years until they saw each other again. After reuniting last year for the Hallmark Channel original film "Wedding March," they re-teamed for the 2017 sequel, "Wedding March 2: Resorting to Love" and have become closer than ever.
"We didn't really know each other that well, even though we did seven years on the show together, our characters never intertwined at all," Bissett told TooFab. "So Jack and I probably had a couple scenes together and that's it. We didn't really know each other."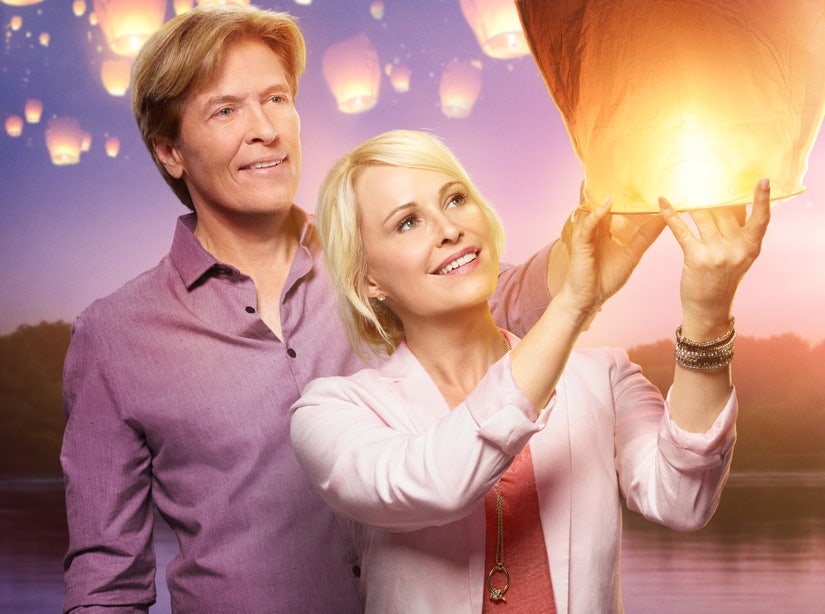 Hallmark Channel
While their characters, Jane Mancini and Dr. Peter Burns, didn't cross paths too often, their shared past on the show gave them something to bond over all these years later.
"Having that history together made us have things in common and things to talk about," Bissett continued. "We just have the same sense of humor and know it and have a blast together."
"We're sort of like this unmarried couple that is almost married because we kind of finish each other's sentences, wipe each other's mouth off and clean each other's clothes, it's one of those things," Wagner said of their relationship now. "And bicker. But I always wind up saying I'm sorry, you were right."
The duo just wrapped filming on the third film in the "Wedding March" series and they're clearly getting even more comfortable around each other with each outing. Maybe too comfortable.
"Well, Jack farts a lot more now around me," Bissett joked. "No, I'm kidding, he doesn't. We just have such a great close friendship, we're just really lucky to have been able to connect this way."
"Wedding March 2: Resorting to Love" airs June 17 at 9pm on Hallmark Channel.