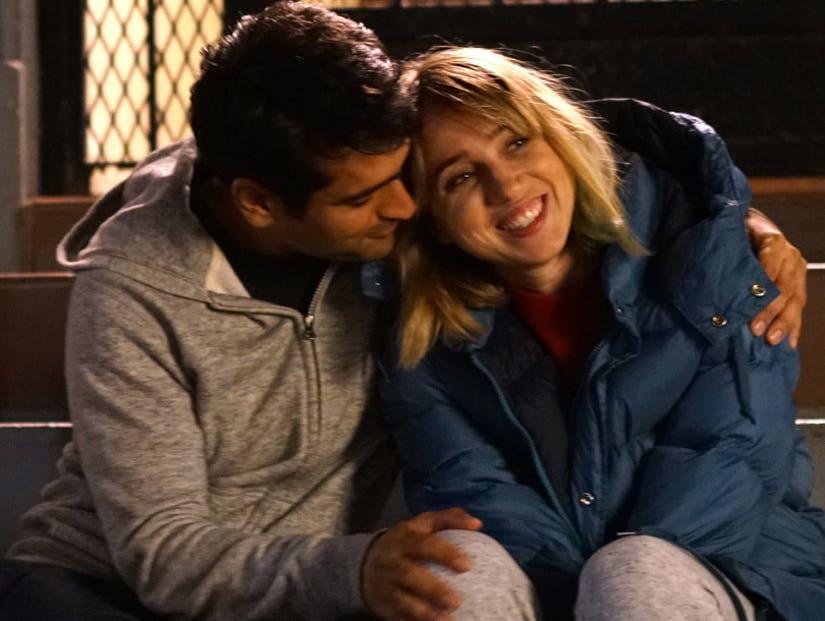 Amazon Studios
There are several ways to watch "The Big Sick," the new movie that "Silicon Valley" star Kumail Nanjiani co-wrote and starred in: It's a romantic comedy, a coming of age story, an examination of immigrant families, a portrait of modern America, and even a medical drama. But no matter how you look at it, "The Big Sick" is one of the best movies of the year.
A hit at Sundance, where it was acquired by Amazon Studios for a whopping $12 million, the movie belongs to all of the genres listed above, and also serves as a sort of biopic: It was written by Nanjiani and his wife, Emily Gordon, and tells the story of their unconventional early days as a couple. Director Michael Showalter's film starts off more or less like a standard love story, with a meet-cute at a comedy club (Kumail plays himself, a wannabe stand-up) and a honeymoon period that defies Emily's supposed reluctance to be in a relationship.
Here, Emily is played by Zoe Kazan, who does a good job of owning a character in what must be an awkward situation: She's playing the co-writer of the movie in a story about her love life, opposite the man who is actually said co-writer's husband. Maybe it's because Emily Gordon isn't super famous, but the unconventional arrangement isn't particularly distracting for the viewer. It also helps that Kumail and Kazan have obvious chemistry, teasing and flirting and feeling from the start like a real couple.
But this movie is not just about Kumail and Emily; the relationships with their parents are just as important. Kumail and his parents moved to the United States from Pakistan when he was 18-years-old, and while he quickly assimilated to American customs and culture, they held on to more of their home country's traditions. He tries to placate them, pretending to pray (he really just chills out in the basement) and humoring his mother (Anupam Kher) when she tries to introduce him to young women from the Muslim community for potential arranged marriages. He even pretends to be extra observant around his very religious aunt and uncle, which leads to a funny sequence in which he introduces his young cousin to the delights of pork products.
It's a loving depiction of family frustrations, highlighted by Kumail's relationship with his brother Naveed (Adeel Akhtar), a doctor who loves the woman with whom his mother set him up. And despite their differences, the whole family dynamic is adorable; you don't have to be Muslim or a child of immigrants to appreciate it.
But by living a double life, Kumail's denying his true self, and it winds up costing him big time: He doesn't tell his parents about Emily, and when she finds out, she feels betrayed and breaks off their burgeoning romance. And though he tries to win her back, the conversation is cut short by Emily's sudden and serious illness, which puts her into a coma.
This is the meat of the film, when Kumail is paired with Emily's parents (Holly Hunter and Ray Romano), who are just overwhelmed: They're unsure what to make of the young man that broke her daughter's heart, how to handle their daughter's mysterious illness, and what to do about the marital strife through which they're suffering. It's an odd threesome for sure, but the combination of actors and circumstances makes for a funny and touching time. Hunter shines as a fierce and protective mother, and Romano slips perfectly back into the well-intentioned but overwhelmed father role.
Ultimately "The Big Sick" is about acceptance, both of others and oneself. That may sound cheesy and unoriginal, but the story and the nuance that Nanjiani and Gordon add to the script make it wholly original. The performances feel lived-in and authentic, even though Nanjiani is the only one playing himself in this mostly true story. It's the best romantic comedy in years, and that's just the start. It's a portrait of modern America, or at least the best version of it, a story of how love (and humor) can overcome culture clashes and misunderstandings.