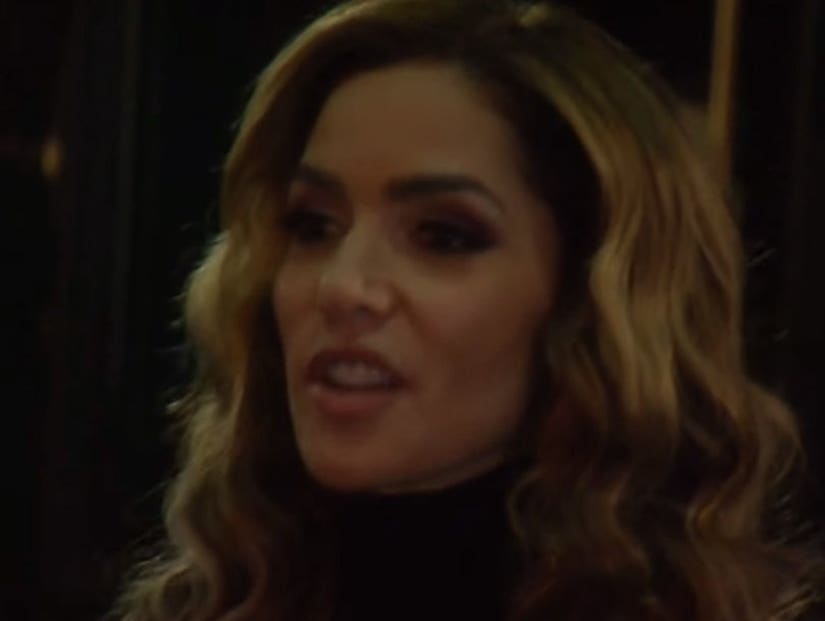 NBC Universal
Reality TV's notorious daters like Ronnie Ortiz-Magro, Tiffany Pollard and Chad Johnson are pushing the limits to move past their personal issues that are keeping them from finding true love on this season of "Famously Single."
In TooFab's exclusive clip from this week's episode of the E! series, Dr. Darcy has a new assignment for the "Famously Single" housemates to help them face their fears in confronting someone who catches their eye.
"See that bus over there? Your job tonight is to fill this bus with people," Dr. Darcy told the contestants. "You are going to bring them back to the house for a mixer. Is it going to be challenging? Of course it is. Tonight we are embracing fear."
"That's like the creepiest thing," Karina Smirnoff from "Dancing With The Stars" said. "It's like, 'Hey, can I take you back to my bus? All of the windows are tinted. Jump in!'"
Dorothy Wang, who is known for judgmental taste on her own show "Rich Kids of Beverly Hills" agreed with her co-star.
"Call me crazy, but I just don't think the man of my dreams is kind of just walking around on a Friday night."
And while they were skeptical to put themselves outside of their comfort zones, some of the other housemates were excited to tackle the challenge.
"You can't ask for a better treat! I'm in my element, total element here," U.K. model David Mcintosh said.
Pollard from "Flavor of Love" and "I Love New York" was also ecstatic saying it was the "perfect activity" for her, but she had a pressing question for her mentor that she had to ask before they could begin.
"I've always wanted to f-k a cop and I noticed a cop car. Is that off limits or can I?"
Dr. Darcy told the group of eight that everyone and anyone is fair game and that's when Pollard couldn't wait to get started.
"I'm the one who can weed out good dick and I hope there's some good dick along the way cause I know what to do with it."
"Famously Single" airs Sunday night on E! at 10 p.m. ET/PT
Watch the exclusive clip: