"Inconceivable" is a reunion two decades in the making.
Former "Face/Off" stars Nic Cage and Gina Gershon re-team in the new thriller which hits theaters and on-demand almost 20 years to the day from the release of their last film together. And to Gershon, that news came as quite a shock.
"Was it?! Oh my god, that's insane," she told TooFab when asked about the anniversary. "Really? It was the 20-year anniversary? I would have put up an Instagram thing if I had known."
The new movie finds the two playing a husband and wife whose lives are turned upside down after they ask their mysterious new nanny to be their surrogate. With Nicky Whelan taking on the more unhinged role, Cage and Gershon found themselves in unfamiliar territory.
"We kept joking about how normal our characters seemed compared to all the other parts we usually play," Gershon added, "and 'Face/Off' was a different sort of ride, for sure."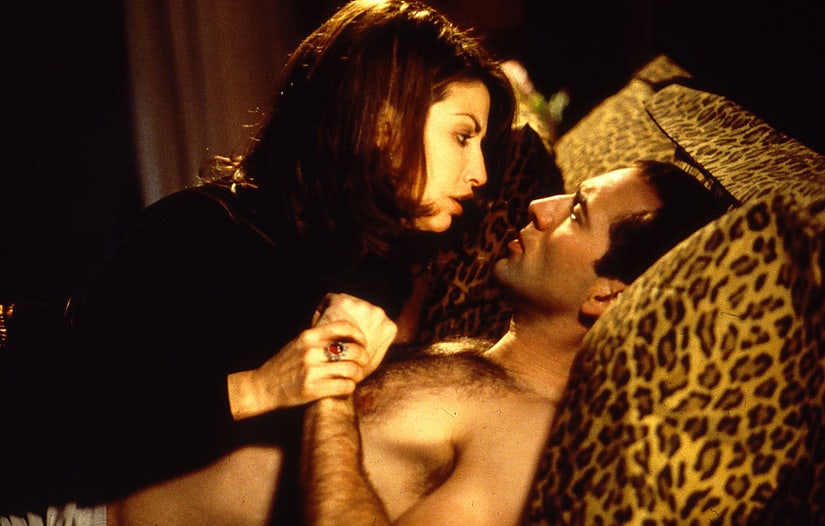 Gershon and Cage in 'Face/Off'/Everett Collection
While Cage may play crazy really well on-screen, Gershon said fans would be surprised to learn how "nice and normal" he is in real life. "I've known him since high school, I've known him for a long time. He's always been such a nice guy," she said. And though they didn't stay in close contact in the 20 years since their last film together, Gershon revealed he did come to a show of hers while she was touring with some music. "It was really sweet of him," she added.
Someone Gershon doesn't have as much love for is President Donald Trump, who she often criticizes on her Twitter page. Though some in the media have slammed celebrities for speaking out about politics, the actress said she has no intention of slowing down.
"Listen man, it's a free country, so far," she said. "Hopefully it'll remain that way. I think anyone should be able to say anything about anyone at any given time."
"I need a Twitter lesson for sure," she added. "I'm curious to see what other people do, but I don't engage as much as I should because I feel like I'm racing around. I've read a couple comments about the Trump stuff and what's going on and people have a lot of different opinions and they're entitled to it."
Read more from TooFab's Q&A with Gershon below. "Inconceivable" hits theaters and on-demand Friday.
I saw you thought of "Inconceivable" as a throwback to films like "The Hand that Rocks the Cradle." What is it about that type of thriller you were interested in doing?
I love psychological thrillers. I really love them. "Rosemary's Baby" is one of my favorite movies. I recently saw "Get Out," I really loved that. I just think they're fun. I'm not a big horror movie person , like slasher films, but when it's a psychological thriller I think it's really fun, I like being nervous, I like being scared, i like having twists and turns.
What was it like when you were reading through the script, what was you initial reaction to some of the things that happen?
I initially read the script so many years ago because I really good friend of mine Chloe King wrote it and she had asked me to do it before. I just remember liking the character because it was a different sort of character for me to play. I just remember really like the script, it was so long ago I read it, I don't remember my reaction!
What made you stick with the project then?
I wanted to do it when I read it. Movies take a long time to get made and for whatever reason this is when it decided to get made. Chloe called and I heard about it and thought why not. I was really thrilled, Nic was attached to it and I really loved working with him on "Face/Off" and it had been a long time since we had been in that movie. Faye Dunaway was going to be my mother-in-law, I thought that's kind of incredible. I didn't know Nicky as an actress and I thought she was amazing to work with.
Both this film and "Showgirls" have you facing off against crazy women who are trying to get what you have. Can you relate to those characters on some level?
I really try to stay away from people like that.
If someone's trying to sabotage my life, you want to stay as far away as possible. I can't recall anything. I'm happy to answer that hasn't actually happened to me, or if it was happening, I was too oblivious to notice it. So no, I've been fortunate, no one's tried to kill me that I know of or try to take my life over [laughs].
What are you hoping people take away from this film?
I hope they watch it and have a really good time and enjoy watching it. For me personally, it certainly made me think about the whole idea of surrogate parenting, carrying a child. I didn't realize how fraught with dangerous possibilities it has. I think it's such a great thing for so many people who aren't able to have their own child, whether it's because of the relationship they're in or age or for whatever reason they cant't carry a kid. Like anyone you're letting into your life, you better really check them out. Once a woman's carrying a child, there's been so many incidences when you get attached to the baby and they're like, sorry, we're keeping the kid and the law is kind of on their side. The parents' who's donating their eggs and sperm, they're in a vulnerable position as well.
We also loved you on the last season of "Brooklyn Nine Nine"
How is it? I haven't seen that yet! I didn't know my episodes were on until the other day. Someone forgot to tell me they were on. I'm going back to do some more.
Is there anything you're allowed to tease yet?
I haven't read the new script yet, but they left it as a cliffhanger, so I'm going back there. I'm excited about it, they're nice people. I'm also finishing the third season on "Red Oaks" this year and I just finished a movie with Leslie Mann, who I really adore. Oh my god, I love her, I have a big girl crush on her.
And I read something about another book?
I am, I'm in the middle of writing another book right now, but different, like a really kids book. This is like a real children's picture sort of book which I'm really excited about.
We did a little Twitter stalking beforehand and saw most of your recent tweets were about Trump. Wondering what you think about those who say celebrities shouldn't speak out about politics?
Listen man, it's a free country, so far. Hopefully it'll remain that way. I think anyone should be able to say anything about anyone at any given time.
How have your fans reacted?
I have to admit, I'm a terrible Twitter person. I'm really bad at it. When I see certain tweets I like, I'll retweet them. If you notice, I don't do all of my own. I'm more of an Instagram person, just because I like pictures. Every now and then I'll read the responses and I know you're supposed to be interacting and sometimes I want to but I get screwed up and retweet. I need a Twitter lesson for sure. I'm curious to see what other people do, but I don't engage as much as I should because I feel like I'm racing around. I've read a couple comments about the Trump stuff and what's going on and people have a lot of different opinions and they're entitled to it