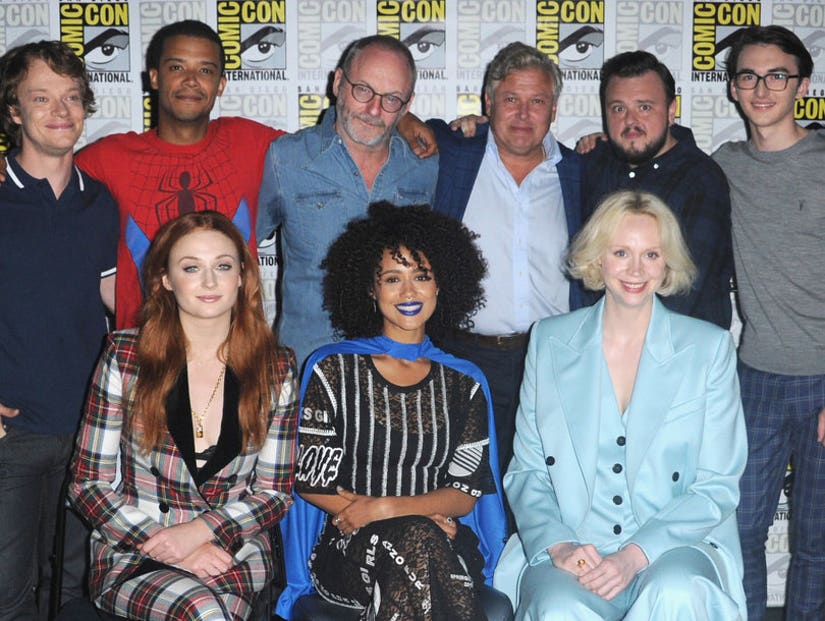 Getty
Kristian Nairn hosted the "Game of Thrones" panel inside Hall H at Comic-Con on Friday afternoon, where the cast fielded questions about working on the HBO show.
Isaac Hampstead Wright (Bran), John Bradley (Sam), Nathalie Emmanuel (Missandei), Liam Cunnungham (Davos), Sophie Turner (Sansa), Gwendoline Christie (Brienne of Tarth), Alfie Allen (Theon), Conleth Hill (Varys) and Jacob Anderson (Grey Worm).
First, feast your eyes on the new Season 7 trailer previewing what lies ahead, then take a look at everything we learned from the panel.
For Brienne and Tormund Shippers
Gwendoline Christie says she doesn't think Brienne gives much care about "how men appreciate her."
"I mean, who doesn't like being appreciated? I don't think that's really what she's invested in at all, I think she's finding it awkward," she added of Tormund's advances.
"Does she like it or does she like someone else?" she then coyly asked, perhaps referencing her relationship with Jamie Lannister.
"It has to be about a mutual respect that's born out of skill and a nobility about your ideals," she said of any love for Brienne.
A Happy Ending for Missandei and Grey Worm?
"I want these guys to be happy and stay together," Emmanuel said of her character's relationship with Grey Worm. "I think they've come through so much, so to see them laugh together and feel something for another person is so beaitiful and I've really enjoyed portraying that journey."
"Maybe there might be a happy ending for them. I daren't say it, just in case," she added.
Anderson said Dany would even help throw their wedding.
Sansa's Coming Into Her Own
When asked whether she believes Sansa's being manipulated by Littlefinger, Turner said she didn't see it that way anymore.
"I think initially there was manipulation. As Sansa has grown, she's been silent absorbing and learning and adapting," she explained. "In my opinion, she's just as good at playing the game at this point."
She said she doesn't think Sansa's really "looking for love" anymore, considering her past. "I think she's woke now ... she trusts no one and I think that's important when you play the game of thrones."
Isaac Hampstead Wright said his character is clearly important this season.
"What's interesting about the Three Eyed Raven is he's one of the few fragments that remain of the old Westeros, the ancient mystical side of it," he explained.
"So what exactly his purpose is, I don't think has been revealed yet," he added. "Clearly it's important. For Bran, this season, it's quite exciting."
"If I could have a superpower, it would be to be all-knowing, which is exactly what Bran is right now," he added. "If that's not one of the most interesting realms there is, I'm not sure what is."
Wine and Education for Everyone!
The cast was asked to reveal what new laws they'd make in Westeros if they were on the throne.
Gwendoline: That women could be knights!
Alfie: The brotherhood that Beric Dondarrion is a part of is allowed throughout the land so everyone could come back to life.
Jacob: Some kind of device where unicorns could exist.
Sophie: The first thing that comes to mind is unlimited carbohydrates.
Liam: There should be free Dornish wine for all the inhabitants of Westeros.
Nathalie: Education for everyone!
John: Maesters have to clean up "their own stinking" waste.
Issac: A holiday scene for all the characters who have filmed in the cold places to film in the warm places.
If there were one character that you wish hadn't been killed, who would it be?
Gwendoline: There's two people, obviously. One is someone who was a magnificent presence in the series who happens to be hosting this panel. And also Catelyn Stark.
Alfie: Khal Drogo, definitely
Conleth: Catelyn and you.
Jacob: I'm still hurt
Sophie: I just really loved working with Jack Gleeson so much, I have to say Joffrey.
Liam: I have to say my baby girl Shireen, that still hurts, big time.
Nathalie: I think I'm still heartbroken about Hodor.
John: Jon Snow, just to save us from having to talk about it every five minutes for a year.
What's next? Rom-com, act, direct?
Sophie: I don't know if I could do comedy after this. I'm in a very dark place in my life.
Alfie: I'll take anything on. Directing would definitely interest me.
Gwendoline: Please, someone put me in a musical! Marlene Dietrich, gender bending song and dance. (When asked if she can sing, she said the jury's still out).
Isaac: I'd like to be in Game of Thrones, the comedy rom-com musical.
Liam: I'd love to do some comedy. I did a lot on stage. Peter Dinklage was asked how he thinks the episode should go. He thinks the last episode should be a musical. I think it's a great idea. Let's finish with a high-kicking number around the throne!
Jacob: This is a hard show to follow. I'm a master spearman now. That's hard. There's talk of spinoffs of the show, I just want to put my hat in the ring.
LIam: The HBO spinoff has already been decided, it's called Better Call Davos.
What They Hate About Their Costumes
Nathalie: I've had to be sewn into my costumes, which is problematic when you have to go to the bathroom. They have to cut you out.
Kristian: It smelled like death. I used to spray cheap aftershave on it.
For Cunningham, it was the Battle of the Bastards, while Isaac loved how Hodor's death scene translated to the screen.
Anderson said he loved seeing Yara and Dany meeting. "I thought that was such a powerful moment, seeing these two women come together, it feels like the women are about the own this shit," he explained.