The trailer (below) was released just a few days ago, and immediately met with criticism for being "unsubtle," "inauthentic" and a "terrible idea."
Davidson and thousands of others have particular reason to take offense: They lost a loved one in the terror attack that brought down New York City's iconic World Trade Center.
The comedian, who's dad died in the attack, called out Sheen in a since-deleted Instagram post Monday night.
"Spoiler alert: I know how it ends..I would respect this movie more if it had Vin Diesel driving a Lambo out of Tower 2 at the last second. F-ck this movie. NOT ONLY THAT BUT YOUR STAR OF THE MOVIE CHARLIE SHEEN IS A 9/11 CONSPIRACY THEORIST. YOU F-CK," he wrote.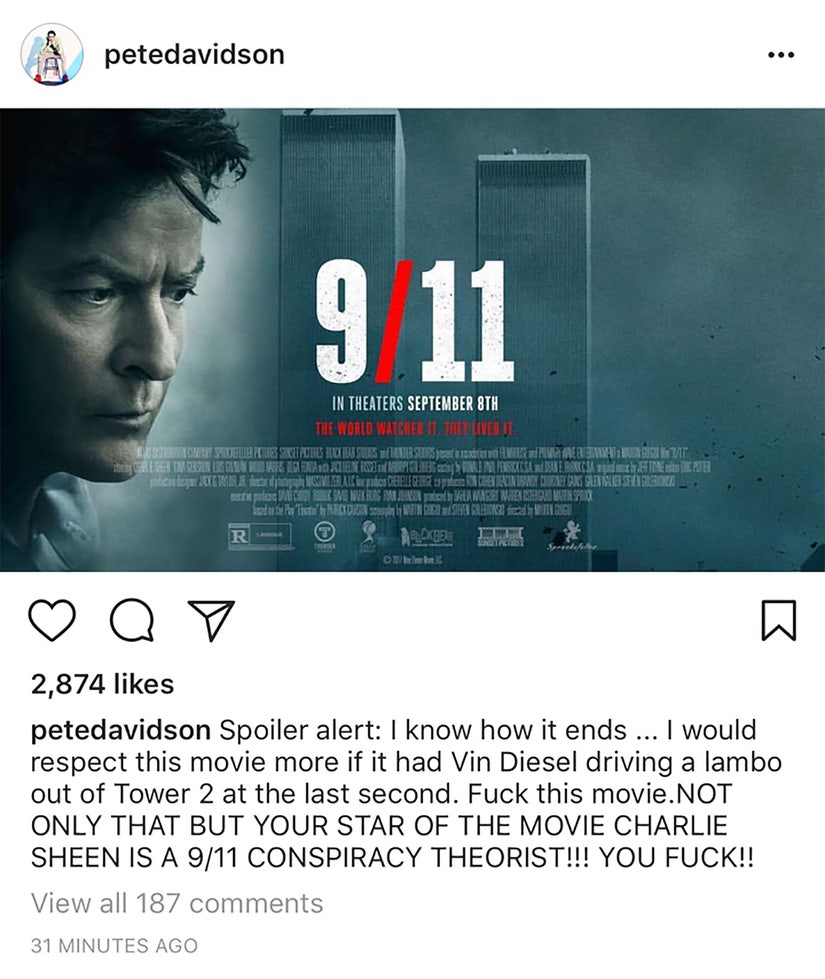 Instagram
The film appears to focus on five people, including Sheen, who are trapped in an elevator in the World Trade Center's North Tower on 9/11 and must work together to escape. Whoopi Goldberg also stars in the film, which doesn't look like it will be receiving any Oscar nominations, as a security guard who assists in getting the group out of the elevator -- if they don't plummet to their deaths first.
Davidson joined many others slamming the trailer on Twitter for various reasons beyond a 9/11 conspiracy theorist's involvement.
Hollywood continues to make a movies that are terrible ideas, and a 9/11 movie starring Charlie Sheen has to be the worst one yet

@connortheOGfam
Disgusting cash grab. No wonder they could only get Charlie Sheen to be the lead. Hope it's an abysmal failure.

@MrRyanMorrison
if you think the world is in good shape know this, there is a movie about 9/11 coming out starring Charlie Sheen and Whoopi Goldberg

@YoungNSupple
If Charlie Sheen doesn't say "that sounds like a controlled demolition..." at some point in his 9/11 movie he's a coward.

@cushbomb
*shows the second plane hitting the tower*
*charlie sheen looks up and says*
"this is gonna be one of those days ain't it?"

@Nintendoisbad
of course its fucking
charlie sheen

nothing says 9/11 like charlie sheen

@Mp3Charlie
Cheesy.- Trying too hard to elicit a certain response from the audience; unsubtle, inauthentic.
Example: 9/11 movie starring Charlie Sheen pic.twitter.com/FN5sSWhfq8

@cle_boo