The 2017 Emmys were notable for three things: First, the dominating performance by "The Handmaid's Tale," which took home Outstanding Drama Series in what was a bit of a surprise, as well as Outstanding Actress (Elisabeth Moss), Director (Reed Morano), Supporting Actress (Ann Dowd) and writing (Bruce Miller).
The three other major themes of the night: It was largely apolitical, despite our current insane political climate; it was a huge night for women, with "Big Little Lies" also taking home a ton of awards; and it actually gave multiple awards to African-American performers.
Here are our most notable, buzzy moments of the evening, which will go down in Emmys history as a decent show with some groundbreaking winners.
Stephen Colbert's Opening Musical Number
Waiting for your permission to load the Facebook Video.
The "Late Show" overtook Jimmy Fallon in the ratings this year, and now he's one-upping him up with opening musical numbers at awards shows, too. Fallon's Golden Globes number was a great celebration of entertainment; Colbert used his opening song and dance to skewer how Hollywood has created a diversion from the nightmare reality of the real world, which is burning and flooding and on the brink of war. "Everything is better on TV" was a pretty cutting opening, and set the tone for a night that poked as much fun at the industry as celebrated it.
Now that he's officially out of the White House, the former Trump press secretary is out to rehab his image in Hollywood. It started with a sit-down interview with Jimmy Kimmel, which he followed on Sunday night with a cameo appearance on the Emmys stage. He spoofed on his infamous claim that Trump's Inauguration crowd was the biggest in history, and even though he could laugh at himself, not everyone was so tickled — Twitter and news outlets immediately broke out in debate over whether putting Spicer up there in a position to get laughs was "normalizing" him and forgiving his participation in a presidency many people aren't very much enjoying.
"SNL" stepped up to deliver on its great cultural responsibility, helping Americans (at least in blue states) make sense of the unprecedented political turmoil that engulfed the country during the 2016 election and beyond. The show had its biggest and best season in a generation, and for that it was duly rewarded, with Kate McKinnon winning Outstanding Supporting Actress in a Comedy Series, Alec Baldwin winning Outstanding Supporting Actor, and the whole show taking home Outstanding Variety Sketch Series.
Colbert Is a Glitching Host — In the Nude
The Emmys had plenty of fun poking fun at the self-serious HBO series "Westworld," which was up for a boatload of awards on Sunday night. Colbert went all-in to skewer the techno-existential-western, going nude to recreate one the show's most iconic scenes. As a robot "host," -- the double-meaning worked well here -- he showed off his programming, emulating different levels of gracious (and not so gracious) award-loser.
Good pals and "Grace and Frankie" co-stars Jane Fonda and Lily Tomlin sauntered on stage with Dolly Parton, reuniting the cast of the beloved comedy "9 to 5" nearly 37 years after its release. And they came firing: Fonda said the film was about women who refused to be told what to do by a "sexist egotistical lying hypocritical bigot" and then Tomlin said they still refuse to be told what to do by a "sexist egotistical lying hypocritical bigot." (Guess who they were talking about?) Then Dolly talked about her breasts and a vibrator, so really everyone played their roles to perfection.
Lena Waithe Brings Down the House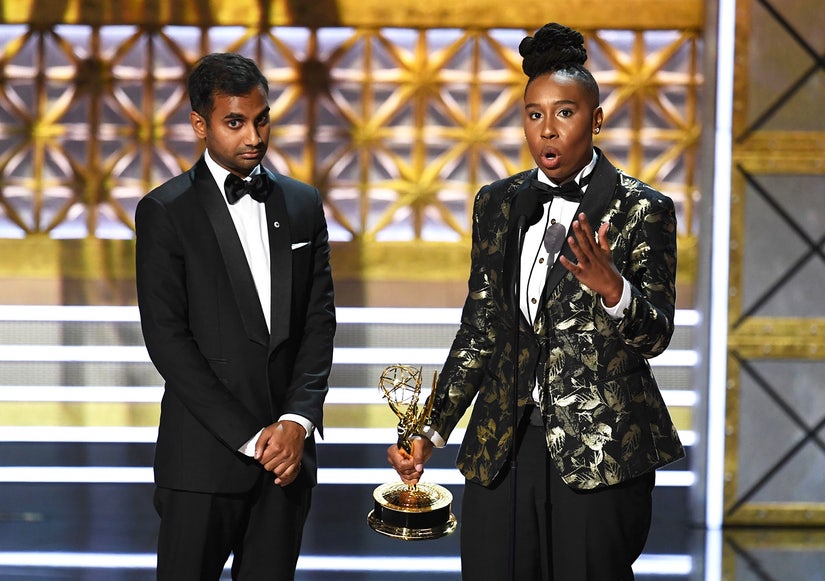 Getty
Aziz Ansari won his first Emmy, but it was his co-writer that stole the show. Aziz didn't even speak, deferring to Lena Waithe, his co-star and co-writer on the "Master of None" episode "Thanksgiving." She gave a rousing speech and shouted out the LGBT community, which brought the audience to its feet and set Twitter into a frenzy.
Donald Glover Takes It Home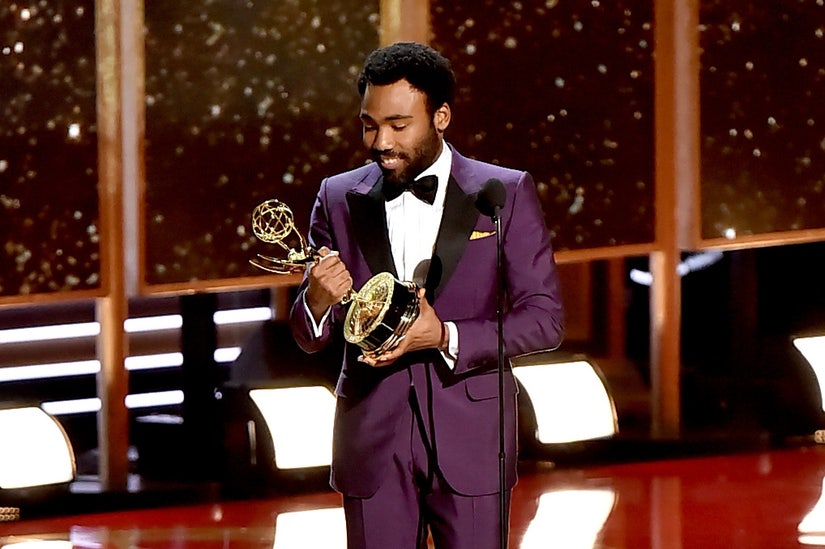 Getty
The "Atlanta" writer/director/star was one of the night's big winners, taking home trophies for both Outstanding Director of a Comedy and Outstanding Actor in a Comedy. His FX series is an absolute gem, the sort of singular vision that would have never made it to air at any other point in TV history. Glover hopped up the steps to accept that second Emmy, and then thanked Donald Trump for making black people the "number one oppressed people" right now, which was a funny, understated way to make a piercing statement — much like what goes on in "Atlanta."
Cicely Tyson Gets Nervous and Charms Us All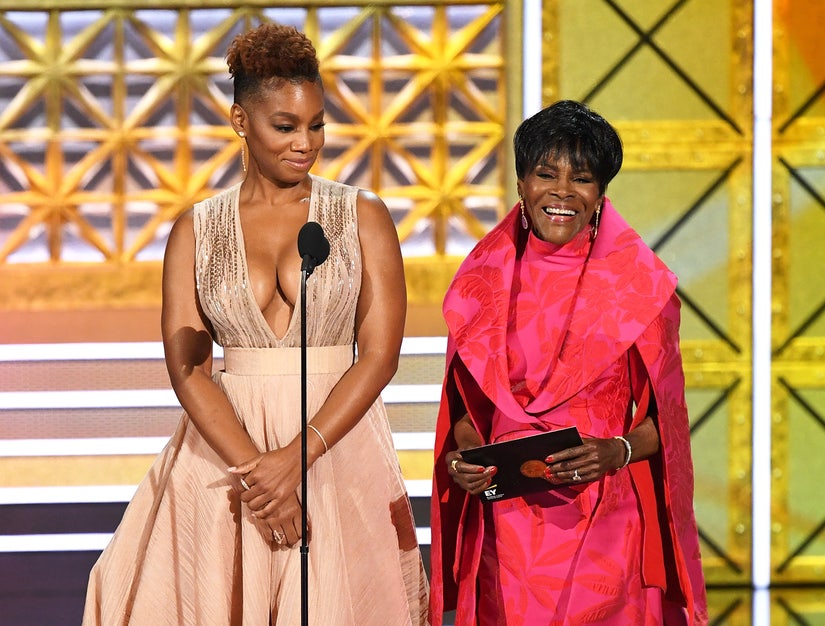 Getty
Cicely Tyson and Anika Noni Rose took the stage to present the award for Outstanding Limited Series, and before that, commemorate the 40th anniversary of the landmark series "Roots." Tyson paused several times throughout her short introduction, clearly overcome; at one point, she said "I'm so nervous," which wound up being absolutely adorable (and relieving). Rose helped her through the presentation, making for one of the sweetest moments of the night.
Sterling K. Brown's Big Speech
The "This Is Us" star gave a triumphant speech when he accepted his award for Outstanding Actor in a Drama Series. And as excited as he was to hold the same trophy as Walter White and Dick Whitman (look it up), his most poignant callout was for Andre Braugher, the last black man to win the award — a full 19 years ago. It was a reminder that progress isn't just measured by the results of a single night, but takes years to make permanent.