The band's back together! The original "Josie and the Pussycats" Rachael Leigh Cook, Tara Reid and Rosario Dawson reunited Tuesday night for the first time in 16 years at the Ace Hotel in Downtown Los Angeles.
TooFab was in the house for the event, held to celebrate the Mondo vinyl release of the soundtrack, included appearances from the film's directors, Harry Elfont and Deborah Kaplan, and the voice of Josie herself, Letters to Cleo frontwoman Kay Hanley.
Before a Q&A, Hanley and the band from the film performed four songs from the soundtrack -- including "3 Small Words," "Pretend to be Nice," "Spin Around" and "You Don't See Me" -- to a incredibly excitable crowd. Sadly, DuJour wasn't also in the house to play "Backdoor Lover," but fans took what they could get.
The Q&A before the film revealed some little-known secrets about the movie, with Dawson surprising everyone -- including the cast -- by appearing about 30 minutes into the event after coming straight from the airport.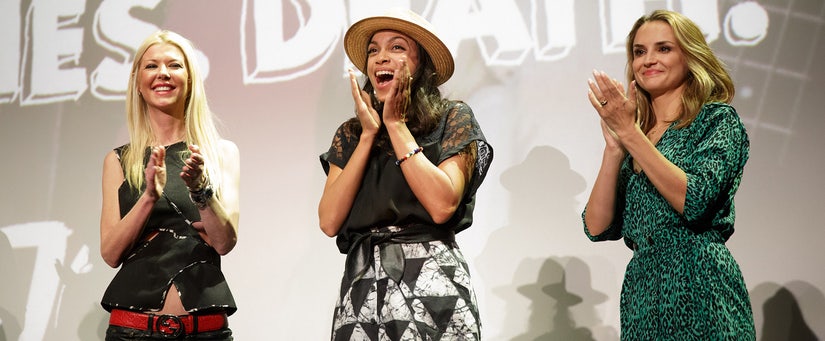 Mireyah Marcinek
Here's everything we learned from the event:
Beyonce Could Have Been Val
"We had some marginally talented young girl named Beyonce," Kaplan revealed. "It was a weird list of people who came in for Val. We went back through our casting sheets and there was a day when Beyonce came in, Aaliyah, Left Eye. I remember thinking, that Beyonce, she's really just so shy."
"She kind of sat on the floor, quietly read her lines," added Elfont. "We should have bowed down."
They Had to Give Away a Car to Get Extras
Elfont and Reid both commented on the number of people in the audience, with the director saying more people attended the event than went to see the movie opening weekend. "I think we have more people here now than we had extras," added Tara.
"And we had to promise one of them a car," Cook revealed, talking about getting extras for the final concert scene. "We gave away a car!"
The Reunion Made Rachael Leigh Cook Emotional
Cook got majorly choked up talking about the film's legacy, adorably breaking into tears three times answering her first question.
"The reason a movie like this, was so ahead of its time was because of you guys," she said to the fans. "My primary memory is just what an amazing time I had with these incredible people."
"The friendship that we formed during that movie, I mean everyone here who went to summer camp has those people that you don't keep in touch with, if you're lucky you're Facebook friends, but in a very real way, those friendships do exist do this day," she added. "I'm so grateful."
While everyone in the cast and crew probably has an interesting fan story to share, none can top Kaplan's.
"Many years ago, when I was married, someone for a wedding gift took us to see U2," she explained. "And we got to go backstage and I got meet Bono and he said, 'I love that movie, you guys totally got what's going on.'"
Josie Almost Had a Totally Different Voice
Waiting for your permission to load the Instagram Media.
Hanley explained that when she first signed onto the movie, she had joined only to do the voices of the Pussycats, not Josie herself.
"By the time I got here, the woman who had been cast as the voice just had this incredible Janis Joplin voice and people heard that voice and looked at Rachael and went, 'That ain't happening,'" she explained.
"You are a beautiful, rocking babe, but the whisky and cigarettes thing, I don't know," she added, looking at Cook. "I came out to do the voice of the Pussycats and it just so happened that I got there when they were looking for another singer. I just happened to be there."
Hanley was also emotional during her performance before the movie, thanks to the reaction from the fans in the audience.
"We really struggled with doing 'You Don't See Me,'" she said. "But I knew people really love that song. I'm so glad that we did because what we were getting back from you during that song ... I'm gonna say something and it may sound like bullshit and I hope it doesn't because it's true, but I've never felt anything like that from an audience."
It's Tara Reid's Favorite Movie She's Ever Made
Reid made "Josie and the Pussycats" following the first "American Pie" film.
"I remember reading the script thinking, this is so cool, I'm gonna be a rock star. This is amazing. Then they had Rachael attached, then Rosario. At the time, we were ahead of our times. We didn't have Facebook, Instagram, so when we were giving subliminal messages, nobody got it," she said. "If we were releasing the movie, I think it'd be a whole different story. I'm so happy to be part of this movie. Out of all the movies I've ever made, this is my favorite one."
She also explained how the three women in the band had to basically take band camp together to convincingly play musicians.
"I had no idea how to play the drums, Rachael had no idea how to play guitar, Rosario had no idea how to play the bass, and we had 8 hours a day, couple months to learn how to play these instruments," she said. "I'm like, we can do this, it's not hard. I started taking drum lessons and I can't control my hands and my feet. Then one day, boom, we learned it. Rachael started rocking the guitar, I definitely got the drums, Rosario on the bass and we got to be good. I remember thinking, man this is such a better job, why am I acting?"
"You're the most genuinely rock and roll out of all of us," Cook joked.
The Cast Shared a Hotel with Hookers
While filming in Vancouver, Dawson explained they didn't have the most glamorous living accommodations.
"The hotel we were at, The Sutton Place but we called it the Sluttin' Palace," she said. "There was a certain time at night when the clientele changed and we were like, oh you're working."
The Girls Had Some Wild Times
"We went to Cancun for something. We hung out a couple times. I remember I almost got in that weird car accident when we were hanging out that time," Dawson said with a laugh.
"We really bonded and really talked. We talked about everything from massive shits in the toilet to putting pancakes on their hands to put butter on, to hair dying, crazy moments with boys, life, careers, projections, experience, wants and dreams and it was really special and beautiful," she went on. "It was a really special time, all jamming out and working hard to get it right. It felt really good to do something we really loved. I'm just so glad because it found its audience over time."
Rachael Wanted to Look Like One of the X-Men
"When we were filming they kept dying her hair red because she was not having it because it was terrible," Dawson said of Cook's fiery 'do in the movie. "So we got her a wig and then she cut her hair and made it bleach and it was so punk rock."
"I wanted to look like Storm from X-Men," Cook explained of the cut.
Rosario Dawson Quotes the Movie on the Regular
"I say so many lines from this movie on a regular basis," she said.
Her favorite: Parker Posey's Fiona saying, "Tho pretty and popular," with a lisp.
Dawson added that she uses it whenever any of her friends say they have too many e-mails or are too busy. Then, after listing off all the things she's been doing this summer, someone in the audience shouted the quote right back at her, making the entire room crack up.