Glenn Rhee getting his brains bashed in never looked so cute.
With "The Walking Dead" returning for Season 8 this weekend, some of the show's most memorable moments from Season 7 have been given a kid-friendly makeover thanks to photographer Alana Hubbard.
Hubbard runs Mother Hubbard Photography in New Jersey and has become a bit of an internet celebrity thanks to her "TWD"-themed photoshoots with children. In 2016, she came under fire for her first series involving the show, after some complained about the kids' use of guns and violence in the photos. The images were even temporarily banned from Facebook.
Now she's back with more and the latest images have been met with a much different response.
"I'm so happy that there is a more positive reaction this time! I haven't released them all yet and I have a feeling some photos will raise some eyebrows but regardless of the comments, we do it because we are fans of the show and the kids love playing together, so it doesn't bother us," Hubbard told TooFab. "These new photos are only Season 7, so we decided to shoot the photos as a recap of Season 7 leading up to the Season 8 premiere on October 22nd."
"This was a huge undertaking, we had over 56 kids this time and shot this over 4 different dates including locations such as Fox Chase Farms for The Kingdom scenes and Beacon Scrap Metal for the junkyard scenes," she explained. "I could not have done this without Kristin Walters, my business manager, and Jennifer Witkowski, my social media manager. We literally spent months and months having meetings and planning this out. I also want to thank all the parents for coming out and dressing their kids so perfectly!"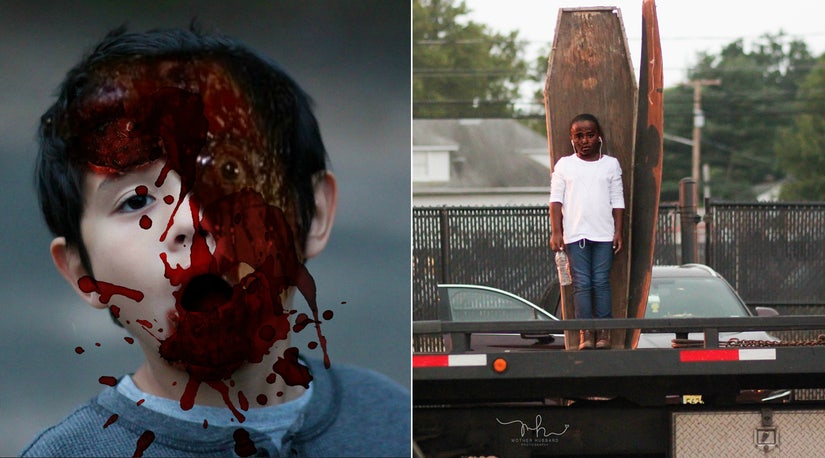 Courtesy Alana Hubbard
In a selection of images she shared with TooFab, the children are seen re-enacting Glenn's brutal death by Negan, Rick taking on that spiked junkyard zombie (AKA "Winslow") and Sasha's sacrifice in the season finale.
"There aren't any moments I second guessed staging," Hubbard said. "The mini Glenn photo was just him looking in the camera and then I photoshopped in the eyeball and blood, so it's not like he was drenched in blood in real life. My husband actually told me I should delete it after I posted it, but I felt every photo we did was necessary to the story line of the season, which was the point of doing these Season 7 photos and that was such an important moment I couldn't not include it."
The images even caught the eye of the cast, as Khary Payton (Ezekiel) shared one of them this week.
"The first time I met Khary Payton was at a 'Walking Dead' convention and he was talking to me about the previous mini 'Walking Dead' photos and said he hopes to see a mini King Ezekiel and I was like, of course there will be one!" Hubbard explained. "I cast my friend Paula Edward's son Jordie as Ezekiel. I was so thrilled when I saw Khary shared my instagram post of mini King Ezekiel and my daughter, Mariana, who plays mini Carol. Later he posted it on twitter and the official 'Walking Dead' page retweeted it. It is such an incredible honor to have your photography recognized by the people who inspire you."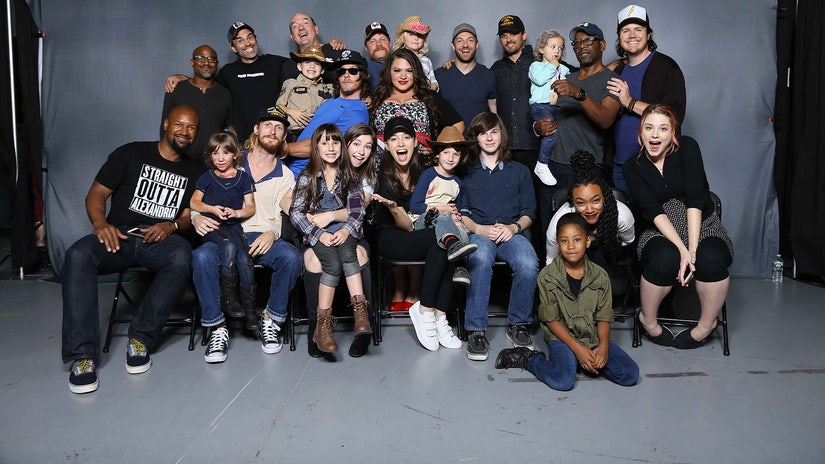 Courtesy Alana Hubbard
Hubbard and her adorable group of models have even mingled with the show's stars in real life, thanks to recent fan conventions for the series.
"It has been amazing going to all of the conventions and meeting all of the fans of the show and photos, and especially meeting the cast. All of the cast of 'The Walking Dead' have been so wonderful with the kids and so supportive of us and our photos," Hubbard explained. "We have an awesome photo of mini Rick (my son Mason) and mini Carl (Jenn's son Matthew) reenacting the Negan axe scene that went viral and all the kids have great photos of them with their cast members. I brought a tray of cookies for my mini Carol and Melissa [McBride] to hold for a photo, it was adorable."
"The most amazing thing that has happened at a convention so far is that Chris Hardwick picked up our mini Winslow (also Jenn's son Matthew) and carried him like Simba onto the stage during the 'Walking Dead Panel' at New York Comic Con and took a selfie with him and Greg [Nicotero], and then Andrew [Lincoln] reenacted the Winslow/Rick hand scene," she added.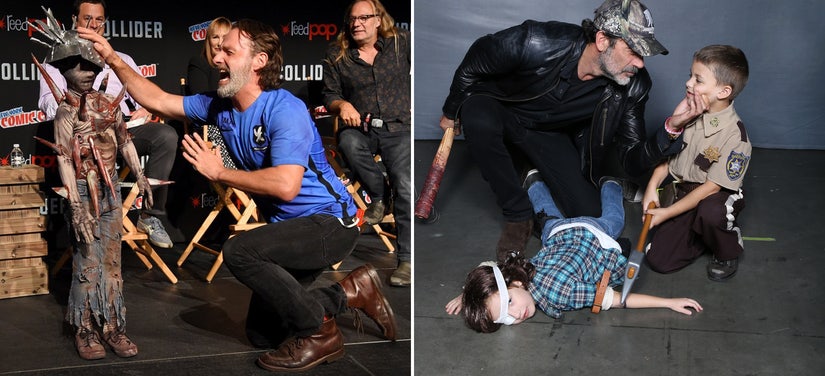 Courtesy Alana Hubbard
She even auctioned off a photo session with stars Michael Rooker and Chad Coleman to raise money for Pulse victims in Orlando last year -- see the amazing surprise engagement shoot the winner staged below.
"The Walking Dead" returns for Season 8 on AMC Sunday, October 22.