In a lengthy account in Variety, Rodriguez said he first met McGowan at Cannes in 2005, where she said she wished she could have been in his film "Sin City." When asked why she never even auditioned, McGowan explained how the mogul had allegedly sexually assaulted her and blacklisted her in Hollywood after they reached a $100,000 settlement.
"My first reaction was one of shock. I recall clearly what I said next, 'My God, why didn't you say anything? People would have stood up for you! And where was your fiancé during all this? I would have at least beaten the crap out of Harvey if I had heard that,'" recalled Rodriguez. Rose said she was advised by a lawyer not to fight back publicly, "because she had done nudity in movies that no jury would believe her."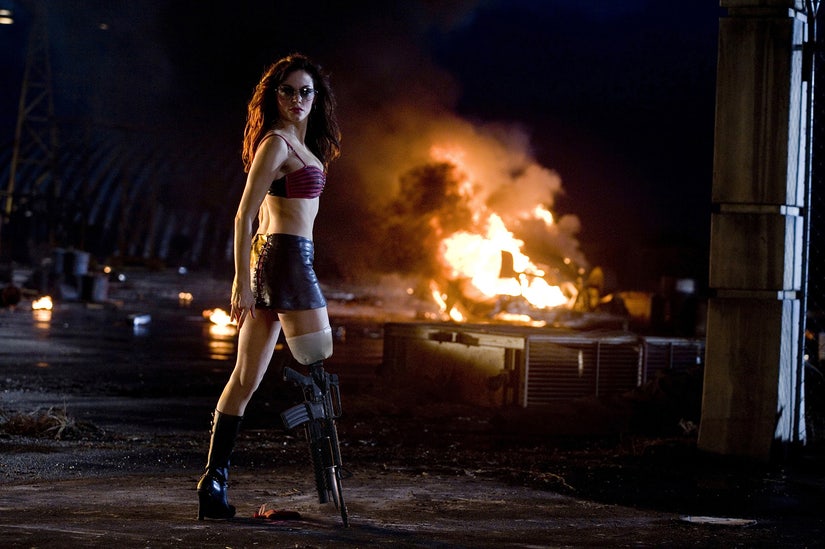 Everett Collection
From there, her role as machine gun-legged Cherry Darling in "Planet Terror" was born.
"I then revealed to Rose right then and there that I was about to start writing a movie with Quentin Tarantino, a double feature throwback to 70's exploitation movies, and that if she was interested, I would write her a BAD ASS character and make her one of the leads," he said. "I wanted her to have a starring role in a big movie to take her OFF the blacklist, and the best part is that we would have Harvey's new Weinstein Company pay for the whole damn thing."
"Even after 12 years, I will never forget sitting with Rose at that party and instantly getting inspired to create a bad ass female action heroine who loses her leg and transforms into a superhero that rights wrongs, battles adversity, mows down rapists, and survives an apocalypse to lead the lost and weary into a land of hope," he added.
Rodriguez knew The Weinstein Company would "never let this project go to another studio," adding that it "felt like the right move to make at the time – to literally make him pay."
At the same party, the two actually ran into Weinstein, who Rodriguez says "dribbed all over himself" gushing about how great she was as an actress. "His face dropped and went ghostly white," the director said, "I knew right then that every word Rose told me was true, you could see it all over his face."
The movie ended up being a box office bomb, making only $25.4 million against it's $53 million budget. Rodriguez now blames Weinstein, saying "To our horror, Harvey buried our movie anyway, and because we did not want to risk getting sued, we never spoke publicly about the matter."
Despite its failure and the toll the movie took on Rodriguez's personal life, he doesn't regret it in hindsight. "I wanted to come forth to say that no matter the consequences, no matter how far you have to stick your neck out, no matter what you have to lose, that we must fight the good fight," he said in conclusion, "Everyone has to make a stand and take action."
McGowan and Rodriguez dated from 2006 to 2009.