Kim Kardashian has recruited her lawyer, Shawn Holley, to help the clemency campaign of child sex trafficking victim Cyntoia Brown -- and celebrity attorney Lisa Bloom believes it just might work.
"The more light we can shine on this, the more likely that we can get justice for Cyntoia," Bloom told TooFab Monday. "I think that all the pressure that people can put on this case to have it be looked at again more carefully in light of the fact that this was an underage girl who had a very, very difficult life who had some emotional and intellectual challenges. She should be given mercy. The case is definitely worth a second look by the authorities."
In 2004, then-16-year-old Brown shot and killed a man who had hired her for sex. Brown -- who is now 29 -- was tried and convicted as an adult, and is now serving life in prison. Last week, the hashtag #FreeCyntoiaBrown and the image (below) began trending on social media, and it caught the attention of some of Hollywood's most influential people, including Rihanna, Cara Delevingne, LeBron James, Snoop Dogg, Ty Dolla $ign, T.I. and Kardashian -- who vowed to call her attorneys "to see what can be done to fix this."
Brown has been incarcerated for 13 years, but Bloom believes this recent mass celebrity call-to-action via social could "absolutely" have an impact on her case.
"Rihanna and Kim Kardashian have huge social media followings," Bloom said. "If they post something, it gets a lot of attention, so that's why it's now getting a lot of attention. And I'm glad it is. There are a lot of other cases that should get attention, too."
Even though Bloom is currently in litigation against Kardashian and Holley (Bloom represents Blac Chyna, who is accusing Kim, Kris Jenner and Rob Kardashian of getting her reality show canceled), she said she has nothing but admiration for the two for taking on Brown's case.
"I actually agree with Kim and Shawn on this one," she said. "Sometimes there are special circumstances where somebody can be let out on clemency, and this sounds like one of those cases because this young woman was the victim of physical and sexual abuse. She may have been trafficked and assaulted as an underage girl, so there's a lot of mitigating circumstances here, which might justify a clemency petition."
"Unfortunately, there are a lot of people in America who are incarcerated for very long sentences in cases like this where they were juvenile, where they may have committed a violent crime, but there are mitigating circumstances," Bloom continued. "We have a very harsh criminal justice system -- one of the harshest in the world."
"Most other countries don't try juveniles as adults. We do. I think it's inhumane, but we're a very law-and-order conservative country, and we do this to a lot of young people," she added. "Young people's brains are not fully developed until they're about 25. They don't appreciate the long-term consequences of their actions. They tend to be more impulsive, and it's really unfair to impose adult consequences on the behavior of juveniles."
According to Newsweek, prosecutors on the case said Brown killed 43-year-old Johnny Allen in order to steal from him. At the time of the shooting, Brown took several firearms and Allen's pants, which contained his wallet. Prosecutors also pointed to Brown's past drug use and juvenile criminal record to demonstrate a pattern to the jury.
Brown claimed she killed Allen in self-defense, but prosecutors pointed out that authorities found Allen's dead body face down in his bed with his hands under his head, as though he was asleep when he was shot. During her trial, Brown never took the stand, and the jury ended up siding with prosecutors without knowing of her backstory of sex trafficking, prostitution and abuse.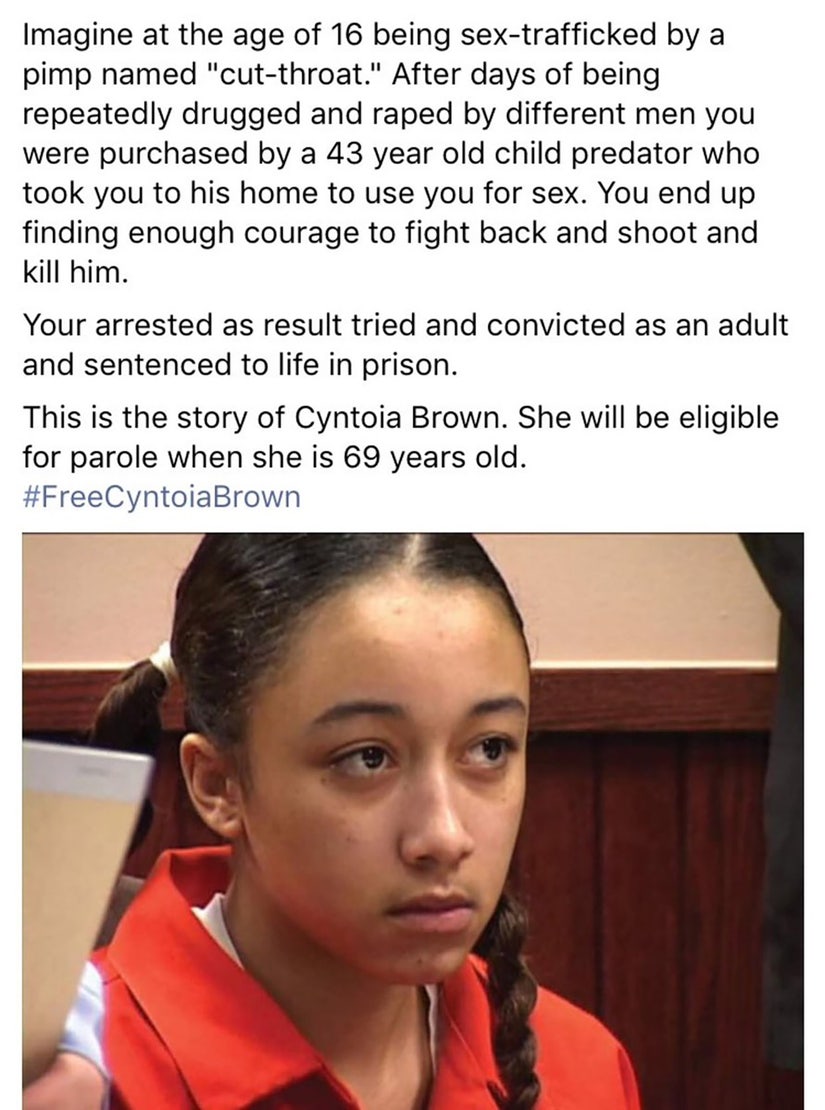 Twitter