Chrissy Teigen -- easily one of the most outspoken celebrities with a Twitter account -- just stepped into a steaming pile of backlash for sharing her opinion on Logan Paul's latest controversy: releasing a video featuring a dead body he stumbled upon while hiking through Japan's "Suicide Forest."
Teigen viewed Paul's decision as an "ethical" mistake, and pondered publicly if society should actively try to ruin the lives and end careers of those who offend people, or "accept the apology, personally make a choice to stop watching, and move on."
"Yikes. Chrissy Teigen trying to say we should just brush what Logan Paul did under the rug. Sis, he filmed the body of someone who took their own life. Why should he have the satisfaction of going back to his life of luxury?" one person tweeted.
The 15-minute video was uploaded Sunday to Paul's 15 million YouTube subscribers, but has since been removed by the video sharing platform. The video, which was titled, "We found a dead body in the Japanese Suicide Forest," showed Paul and his friends walking through Aokigahara, a forest located at the base of Mount Fuji, known to be a frequent site of suicides. The footage showed the group coming across the corpse of an unidentified man and included several close-ups of his body with only his face blurred out. One of the members of the group was heard saying he didn't "feel good," which elicited the following reply from Paul: "What, you never stand next to a dead guy?"
Paul then proceeded to laugh, which only added more fuel to the fire. By Monday morning, the vlogger's name was trending globally on Twitter with many trashing him for his insensitive content.
Teigen first shared her opinion by responding to "Breaking Bad" star Aaron Paul's tweet calling Logan "pure trash."
"You're like...the nicest person on the planet, too. I can feel the passion here, Aaron," Teigen said. A follower responded: "Yeah maybe watch the video Chrissy. Kids watch his channel. Any normal human would not support this behavior."
"First of all, reread my comment," Teigen tweeted. "Second of all, telling people to watch the video to say how bad it is that he posted the video is absolutely counter productive and absurd."
Then the 32-year-old model and TV personality clarified her thoughts in a new thread.
"Re: Logan Paul, something I always think about is when people make...ethical mistakes, as in, not-illegal, should we really be trying to ruin their lives and end their careers or accept the apology, personally make a choice to stop watching, and move on."
"An example I have is with a certain clothing company. Years ago the designers said things I personally found horrible about IVF children. I made the choice to simply...never wear or purchase again instead of trying to 'end them,'" she added.
Teigen's followers chimed in to trash her for sharing her complicated thoughts on the subject, with a few interpretting her words as support for Paul, and she's been defending herself.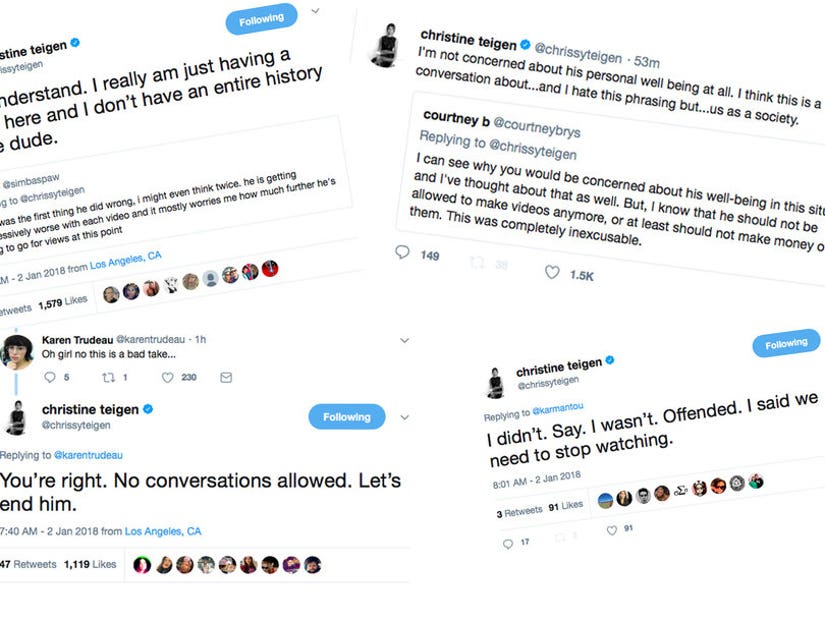 Twitter
See what else fans are saying about Teigen's response below.
Yo wth? We're ruining him? Paul ruined himself and we're reacting like normal people should. Pewdiepie was destroyed after Nazi jokes that ppl make on a daily basis, but Logan films a dead body and all he has to worry abt is damage control? This is bs & u know it. God damn.

@ashalashaley
Yikes. @chrissyteigen trying to say we should just brush what Logan Paul did under the rug. Sis, he filmed the body of someone who took their own life. Why should he have the satisfaction of going back to his life of luxury? pic.twitter.com/QfLR1Yc0vk

@katysxox
Suicide isn't a joke and Logan Paul deserves all the backlash he can get. I hope it haunts him for the rest of his career.

@cheriebomb16
ok but Logan Paul's "apology" wasn't an apology. it was damage control.

@slayyxbbg
I disagree FERVENTLY with Chrissy Teigen re: Logan Paul

But think we need to recognize she's coming at this from the perspective of people trying to ruin her and John's life based on her tweeting about a flight.

She's gonna see this one from a different POV.

@ShanelleLittle
Chrissy Teigen put her account on private. Probably because of the backlash from her tweet about Logan Paul.

@DorianParksnRec
Never expected Chrissy Teigen of all people to defend Logan Paul? Lol

@yesbinch
Chrissy Teigen been garbage, hope this Logan Paul shit helps the rest of you see whay black women been saying about her for years. It's so funny how she locked her account too.

@thetruempress
did chrissy teigen for real just private her account because people are coming for her bc she like low key defended logan paul i'm gonna scream

@hayleyatwelI