Jon Bernthal shared his complicated thoughts on gun control, revealed an explosive set confrontation with Oliver Stone, and addressed the Paul Rudd movie he was cut from after just one day of rehearsals in an incredibly candid Esquire interview.
The star of Netflix's "The Punisher" also sent a pointed message to the alt-right, which has shown love for his Marvel character. Let's just say the feeling isn't mutual.
This was easily one of the best interviews we've come across in a long time, so here are the most interesting bites from the wide-ranging and sometimes brutally honest conversation.
He Wants Stronger Gun Regulation
Playing The Punisher, a violent superhero who's known for his love of guns, puts Bernthal in an interesting position as the country continues to debate the need for stricter gun control, especially as a gun owner himself.
"I'm a gun owner. I have a gun in my house to keep my family safe. I'm trained in that gun's use. I know how to keep it away from my kids, and I know how to use it if I need to," he explained.
"Should there be a way that a guy with mental issues like the asshole in Texas can't get guns? Absolutely," he said, referencing the church shooting that claimed the lives of 26 people in 2017. "We have to have a dialogue, and that's not happening."
His Message to the Alt-Right
"I'm honored to play a guy who people putting their life on the line identify with," he said when the interviewer asked about how the Punisher's skull symbol had been adopted by veterans and bikers.
When the author also pointed out how alt-right protestors also sported the character's trademark at the white-supremacy rally in Charlottesville, Virginia, he simply added, "F-ck them."
Why He Threatened Oliver Stone
One of Bernthal's biggest earlier roles was playing a Port Authority cop in Oliver Stone's 2006 9/11 film "World Trade Center" opposite Nicolas Cage and Michael Pena.
During filming, the director called out Bernthal's performance as "either too over-the-top or too tepid." Bernthal said the director told the cast, "You are all so f-cking vain," and then turned to Jon to add, "And you are the worst."
"Let me tell you something, dude. You might be Oliver Stone, but I will beat your f-cking ass right here on this set," Bernthal shot back. "In front of everybody here, I will beat your ass. You got that?"
The actor said Cage approached him after and said, "Wow, man, there was adversity and you threw more adversity at it."
Bernthal admitted he was "young and stupid," with the article noting he and the director are good friends.
No Love from "I Love You, Man"
Bernthal was originally cast as Rudd's gay brother in the 2009 comedy, "I Love You, Man," but the role didn't stick.
"Everyone started talking about how much they loved baseball. I'm like, 'Well, shit, I played college baseball. I played baseball my whole life,'" he said, talking about feeling frozen out during Day 1 of rehearsals. "They literally treated me like I was not there. I didn't exist to them."
Jon figured he was about to be fired ... and he was right. Andy Samberg took over the part.
The winter issue of Esquire hits newsstands January 9.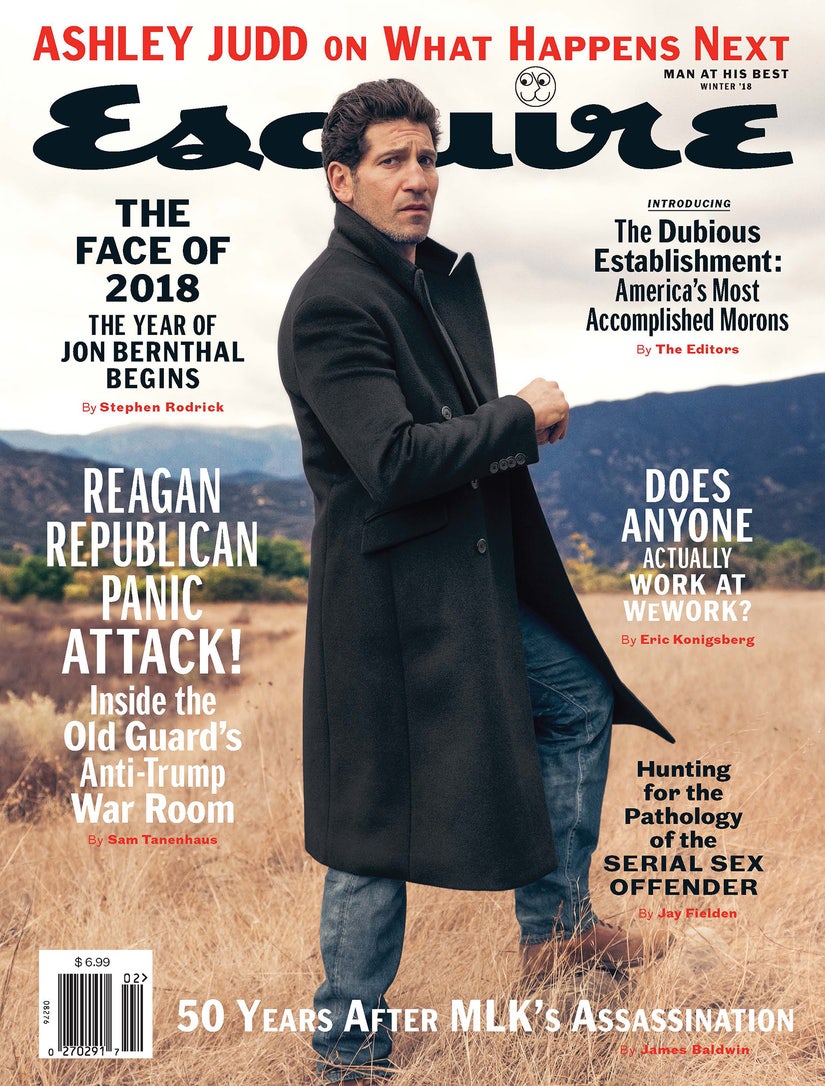 Beau Grealy