Justin Guarini thinks "From Justin to Kelly" should be enough to convince his Twitter followers they're lucky he's talking politics instead of doing more acting.
The 39-year-old "American Idol" alum clapped back at trolls who disagree with his political stances by shading his own career.
"The next idiot that tells me to 'stick to acting' should be forced to watch 'From Justin to Kelly' until they agree I should 'stick to politics,'" Guarini tweeted Thursday.
And just like that, he's won our heart.
"From Justin to Kelly" is a notoriously awful beach musical, co-starring Season 1 "Idol" winner Kelly Clarkson, that bombed in theaters and was trashed by critics when it premiered in 2003.
The movie has a 10 percent approval rating from critics on Rotten Tomatoes, but the "fresh" reviews aren't much to brag about. "So awful it hits the bottom of the bad-o-meter and bounces back up to be sort of good," movie critic Ryan Cracknell wrote. "I haven't laughed this hard in a while. Of course it was in all the wrong spots and mixed with an underlying groan."
Guarini only has a few more acting credits to his name, including a guest spot on a 2011 "Wizards of Waverly Place" episode, Diet Dr. Pepper commercials and a role on upcoming show "Forgotten Son." He does, however, have a lot of tweets bashing President Donald Trump, who is having a really bad week thanks to Michael Wolff's book "Fire and Fury," taking readers behind the scenes of Trump's messy administration.
There is no shame in coming in second to Kelly Clarkson, but if you compare me to Trump again I will hunt you down and sing the theme to Paw Patrol in your face until I break you do not test me. https://t.co/HG3ZrIe7Rf

@JustinGuarini
If you're jailed for treason, does the Secret Service go with you? Asking for a President.

@JustinGuarini
If videoing in from your house to another part of your house to avoid company is good enough for the President of the United States it should be good enough fo....never mind my wife says no. https://t.co/nVnL7xp9mO

@JustinGuarini
Guarini seemed to be enjoying the shots Twitter trolls were taking at him this week, responding with a few more gems.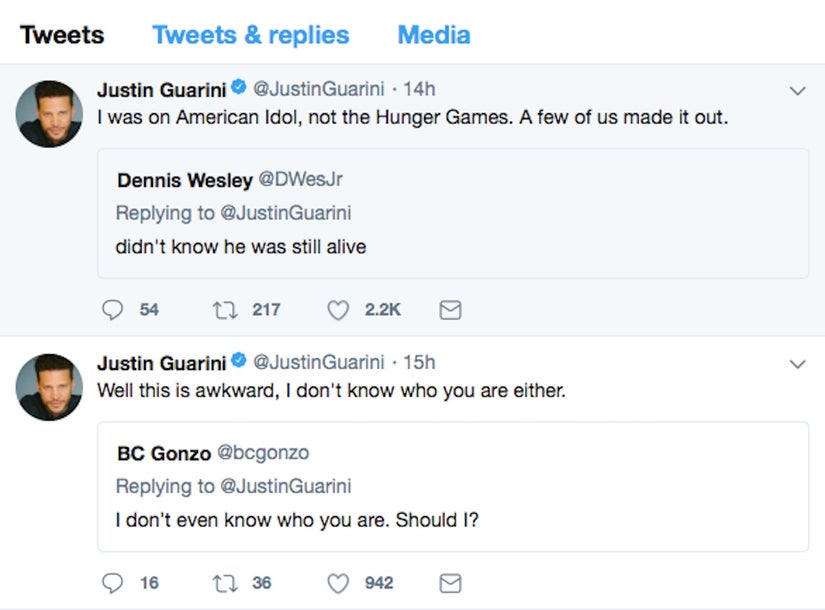 Twitter