Cress Williams shared his anticipation and excitement for viewers to finally see him in action with The CW premiere of "Black Lightning" tonight at 9 p.m. ET. He has plenty of reason to be proud, too, as "Black Lightning" is currently enjoying a 100% fresh rating on Rotten Tomatoes, with critics agreeing it is the smartest, most nuanced and sophisticated superhero show on the network.
One of the first things that stood out when watching the first two episodes is that it does look and feel very different from the other four "Arrowverse" shows. While viewers might immediately notice that it features a more diverse cast than "Arrow," "The Flash," "Supergirl" and "Legends of Tomorrow," the differences are more far-reaching than just that. They go right to the core of the show's premise.
"Our show, in reality, is more of a family drama with superhero powers on top," Williams said, equating it to Syfy's provocative reimagining of "Battlestar Galactica," which managed to draw non-traditional sci-fi viewers thanks to its complex storylines and storytelling. "We're a family drama, we're a social drama. Then there are superpowers on top of it. You take those superpowers away, it's a solid drama that holds its own."
The premiere episodes are very topical, touching on serious issues like racism, corruption and gang violence, and Williams says that's just the way he likes it. He said these issues are "definitely a focus of [show creators] Salim (Akil) and Mara (Brock Akil), and always will be a focus of the show," adding, "As the show goes on, there is all the kind of usual superhero fare -- there's the action, and the kind of fantasy aspect of it -- but it always has a family root and a topical root."
Those two roots were primary reasons Williams was drawn to the project, though he admitted he was excited about it before even seeing a script because he's such a fan of the genre. "Once I read the script, the hair on my neck stood on end, because it was so much more than a superhero show," he said. "The issues that were coming to light, and the fact that he's a family man, and the struggle of coming out of retirement, all of the notes that the show touches on were better than I could have hoped for. I was already on board, and then I was doubly on board."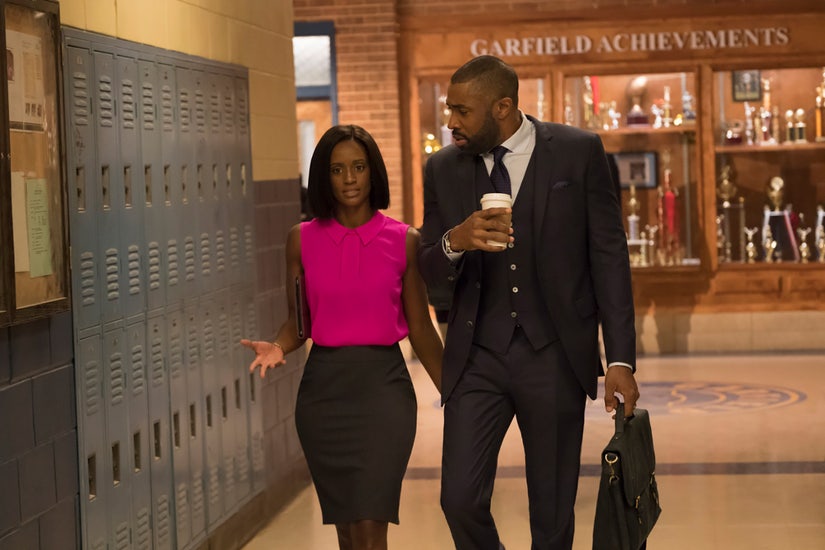 The CW
The fact that Jefferson Pierce is a middle-aged father, as well as a superhero, also sends an important message about aging. "We see a lot of superheroes that are in their 20s and in their 30s, but life doesn't end there," Williams said. "I think it's really important to see a superhero in a different stage of life. It kind of says that we can be effective at all ages. There isn't a point where we suddenly cease to be effective, or cease to be relevant. I think it's an important story to tell."
And Jefferson Pierce certainly is effective in all the different areas of his life, whether that's suiting up as a high school principal, dressing down his daughters for their rebellious behavior, or reluctantly coming out of retirement as the superhero his community needs again.
"I want it to give people hope, and I hope that it also opens the door for shows of diversity," Williams said of his show. "I hope that we can see a Hispanic superhero being portrayed and an Asian superhero being portrayed, that it would continue to raise the bar for people creating diversity; that we can see television truly reflect the demographics of the world."
Williams also hopes that his portrayal of a superhero on TV can serve as inspiration for others. "I think it would be ideal to inspire, especially in young people, a confidence in themselves," he said. "Especially for young black children, because when you see yourself portrayed on television, it just does something inside of you."
And he's not just talking about superheroics. Jefferson Pierce is involved in and committed to his community even outside of his super-identity. "I hope it inspires everyone to get out in their communities and not feel powerless, to feel like they have something to contribute."
Williams got a sense of the community he's stepping into recently when he got a chance to talk with some of the stars of "Supergirl" and "Gotham." With superheroes all over the airwaves, he joins an elite group of costumed avengers. What surprised him the most, though, was how welcoming they were. "I was really blown away by [their] support for our show, and how excited they are to see it, and see it do well," he said. "Actors can be competitive at times, but there was no competition whatsoever. It was nothing but love."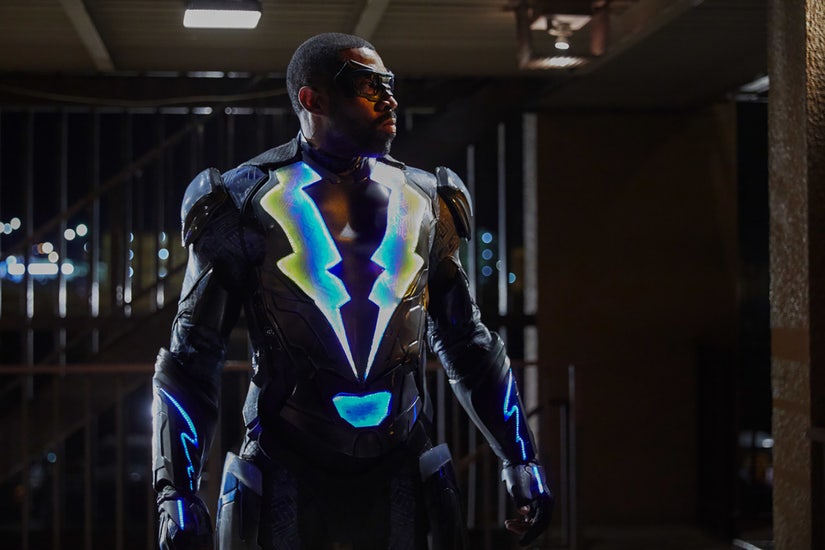 The CW
Even though "Black Lightning" has been established as having no connection with the "Arrowverse" of shows, they're already dealing with parallel realities over there, so it's not outside the realm of possibility Black Lightning could cross over down the road.
"It would logically make the most sense to cross over with 'Arrow,' because that show's a little bit darker and a little more raw," Williams posited. "Of the other shows that are out there, that's probably the closest to our show -- although, my daughter would probably pick 'Flash' because she's a huge fan of the Flash."
Stephen Amell is famously known for doing a lot of his own stunts on "Arrow," and while the 47-year old Williams admitted he gets in there as well, he's not going to go crazy. "I love learning a new skill and I'm fortunate that my stunt double is an expert," he said of the hybrid of boxing and martial arts that makes up Black Lightning's fighting style. "The guy's also a lot younger, so we've kind of agreed that 'You do the falls and you do the side kicks because my knees won't hold.'"
When asked which superhero inspired him growing up, Williams went straight to the top at DC Comics. "I was just drawn to Superman," he admitted. "There was something about his being an outsider story that really appealed to me. Also, I'm a huge fan of the power of flight. He is the man! So that was always my guy."
As for his own iconic suit, Williams admitted to getting emotional the first time he saw it in action on the small screen. "It was like a kid at Christmas, 'cause it looked. So. Cool!" he said. "I felt tingles, my face hurt so much from smiling. My wife's right next to me, like 'Oh my God! Oh my God!'"
Audiences will get to share in their excitement when "Black Lightning" premieres tonight on The CW at 9 p.m. ET.