"RuPaul's Drag Race" is back for its third All Stars edition, which got off to an exiting start on Thursday night with a surprising 10th contestant and a shocking elimination.
After a talent show filled with original songs, baton twirling and, yes, even a violinist, Season 2 contestant Morgan McMichaels and Season 8's Chi Chi DeVayne found themselves in the bottom two. This week's winner, Ben BenDeLaCreme, picked who was sent packing -- and chose McMichaels, after Morgan said she'd personally eliminate the strongest competition instead of the weakest performance of the week.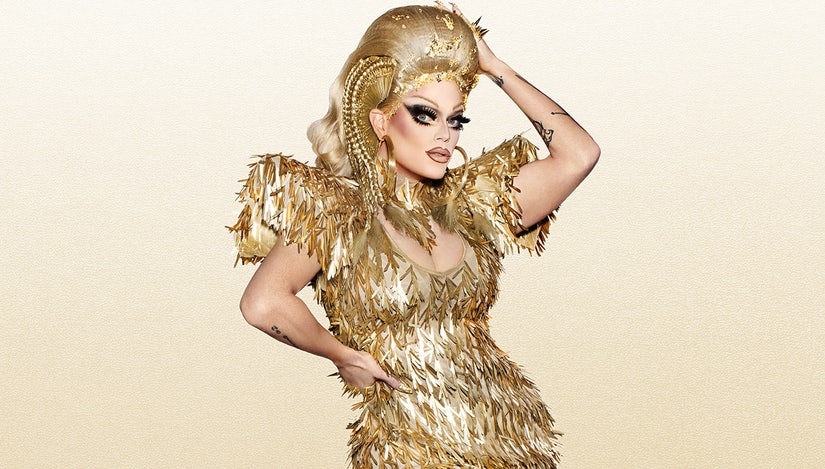 VH1
While McMichael's may get her chance at Ru-emption later this season, she chatted with TooFab about being kicked off first, how the show has changed since 2010 and how she's already benefitted from her return.
Thanks for chatting with us today, Morgan. We were sad to see you go so soon!
Don't be sad, I got to be on All Stars, I was very happy! I would love to have not gone home, but I did, I got to be on All Stars, I'm so happy about it.
After all this time away from the show, what was going through your mind when you found out you were in the bottom 2?
I don't think it was expected. In my mind, I thought everybody was up for the equal amount of critique and the talent was so raw and amazing the whole show. Sitting there, it translated very well on TV, but there's something about watching it live and the energy that people were giving out was amazing. When I landed in the bottom, it was like OK, it's going to go one of two ways. I'm staying or I'm going.
Do you regret sharing your strategy, that you would eliminate the toughest competition if given the chance?
I don't have any Ru-grets. The truth will set you free. I'm a firm believer that with the truth, there's no gray area. I believe we're sisters and we are friends, so here's how it is. That's a breath of fresh air to me, to straight up be honest.
Who would you have sent home if given the choice?
If I had to send me or Chi Chi home, I would have sent myself home. If I was playing by my own rules, I was the stronger competitor in the stronger two, so I would have sent myself home. That's how I wanted to play the game and that's how I think I would have done it.
If the winner can't be you, who would you like to see take the crown based on what you've seen?
That's a really hard question because I was only there for this lovely episode and everyone gave their 100% and that's why it was so hard with the judging because it was like splitting hairs, wasn't it? Thorgy with her violin, Milk with her fabulous song, I mean, Kennedy, come on, and Trixie doing .... everyone delivered so hard. It's really hard to say who's going to take it because they're all in it to win it. I would bow to any of the girls as my queen, I think they have a game plan and they're gonna do amazing things and hopefully they can deal with the challenges Ru is going to throw down at them.
What's the reaction been like for you so far?
I was lucky enough to be invited to Park City for the Sundance Film Festival, where the producers of Drag Race, World of Wonder, were showing Drag Race to the Sundance people. It was packed out of its mind. I stayed in the back and did a pop surprise. When the episode was over, I did a number. I was watching through the curtain and it was a lot of fun seeing people's reactions.
But good or bad, I think if people are still talking, that's good. They say there's no such thing as bad publicity. The social media has been insane and that's something that we did not have on Season 2. It was just kicking off back then. The amount of followers, the numbers are jumping like crazy. I went to check my Twitter last night and there was like 1,500 messages, it's been insane.
Do you think that is the biggest difference between being on the show now and back then, this social media aspect?
RuPaul's Drag Race has grown so incredibly huge, but did it at a really great place. The fans are so loyal, whereas I feel an American Idol type show had huge money, huge backing, was great at the beginning and faded out, I think Drag Race has done the opposite. With it growing so fantastically, the challenges get harder and harder and harder. The applications to get on the show get harder and harder and harder, because everyone - whether they admit it or not -- wants to be on Drag Race. I've seen this, queens from around the world asking how do I do it, how do I get on, what is it that I have to do to get on Drag Race. It's a rite of passage to do it now. Back then, since we didn't have social media, we weren't bothered about what the fans might think. It's a double edged sword.
The show got a great group of girls for this season, but is there anyone else you were hoping to go up against?
I really would have loved to have seen Ongina, of course. I would love to have been on the show with Mariah Paris Balenciaga. And I would love to have seen one of the trans girls, like Sonique or Jiggly, but they're all so busy, they're all touring, but I would have liked to have seen one of the girl girls.
"RuPaul's Drag Race: All Stars 3" airs Thursdays on VH1.