While most people know the Versace brand and about Gianni's horrific end, the details about his murderer's life are certainly less widely known. The series is largely adapted from reporter Maureen Orth's book, "Vulgar Favors: Andrew Cunanan, Gianni Versace, and the Largest Failed Manhunt in U.S. History," with screenwriter Tom Rob Smith filling in the blanks when it comes to the conversations between all the key players. Working backwards, each new episode takes place before the last.
Each week, TooFab is breaking down the biggest moments, drawing comparisons to Orth's book, interviews with the real people involved and news reports from the time to try to understand what actually happened.
We're going to tackle this episode a little bit differently from previous installments, instead breaking it down by how the show presented the life and death of Madson, what we know for sure happened and what writer Tom Rob Smith essentially made up. We're not going to do a deep dive into David or fellow victim Jeff Trail's personal histories with Andrew, either, as those will be covered more in depth in future episodes.
By all accounts, however, Andrew referred to David as "the love of his life."
The Show's Version of Events
FX
This week's episode started inside David's loft in Minneapolis on the night of April 27, 1997, a week before Andrew would kill Lee Miglin.
It's clear there was tension between Andrew and David, who talk about a fight that happened earlier in Andrew's visit. He was in town to see his two longtime friends, who both didn't want much to do with him anymore.
After Jeff Trail showed up to the loft, Andrew bludgeoned him to death. From there, David became almost catatonic with shock, struggling to understand what he just witnessed. Andrew threatened to implicate him in the crime and kept him as a prisoner for the next couple of days. The two were also spotted by neighbors of David's while walking his dog.
Later, they were seen grabbing food together at a diner and watching an open-mic night at a bar, as David told Andrew what he really thought of him. In the end, Andrew shot David in the back by the side of a lake, killing him.
As all that was happening, there was major confusion back at David's loft. A co-worker had dropped by to check on him after he failed to show up for work, getting into the apartment with the help of his super and finding a dead body wrapped in a rug.
The police at first believed the victim was David, then they thought David had killed his visiting friend Andrew, before finally realizing it was the body of Jeff Trail. Even still, they believed David to be the killer.
There were also a few flashbacks peppered throughout the episode, including one where a young David was seen crying over the idea of hunting with his father, and another where he came out to his dad.
What We Know Really Happened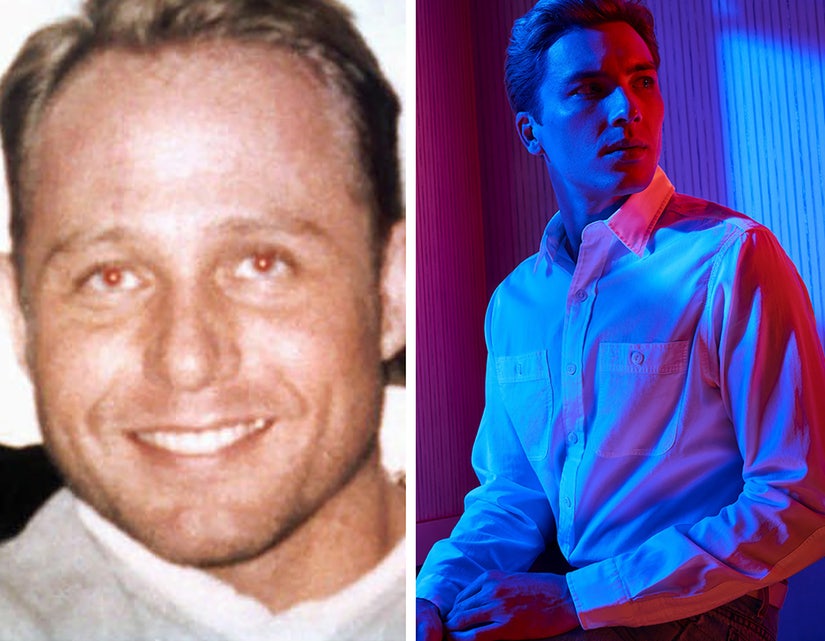 The real David (left) and actor Cody Fern (right) AP/FX
Let's start with those flashbacks. They're both pulled from Orth's book, from interviews with David Madson's father. "David did not like to see anything killed," his father Howard said. "We shot this duck, and he cried so bad I finally hid the thing by a tree … David was beside himself we killed this duck." Of his son coming out to him, Howard added, "I can't say that it didn't make any difference with me, because I disagree with that type of life. However, that had nothing to do with what I thought of him or how I treated him."
It's believed Jeff Trail was killed on Sunday night, after being hit in the head about 27 times with a claw hammer. His body was then rolled into a rug and left in the corner of the room. Neighbor Kathleen Sullivan told Orth she ran into Madson and Andrew Cunanan in the elevator on Monday, saying Madson seemed "crabby or unhappy" while Cunanan said nothing. She also thought she saw them walking the dog again on Tuesday morning.
When neither Trail or Madson showed up to work on Monday, friend Linda Elwell went to check on him on Tuesday. Ewell said she "heard whispering" inside the apartment, but nobody answered. The building's super eventually opened the door. "I cracked the door and opened it and looked to my left and saw this thing wrapped in a rug that would appear to be a body," manager Jennifer Wiberg told WCCO in 1997.
Sergeant Bob Tichich admitted they assumed it was Madson's body inside the apartment. "It was a reasonable thing to assume," he told Orth, "He hadn't shown up for work — it was him!"
Madson's body was found on May 3, 1997, about 50 miles from Minneapolis by the side of East Rush Lake. While he was initially a suspect in Trail's death, he was later cleared of any involvement.
"Oh my gosh -- you know, to be in that situation that David was in with this crazy person, you know, and how scary for him," good friend Julie Hovland recently told CBS News. "I am sure he tried to calm Andrew down … you know, I mean I'm sure there was survival mode going on, like how do you diffuse that situation? But he obviously failed at that. And he lost his life because of that."
Unfortunately, only Madson, Trail and Cunanan know what truly happened. It's believed Madson was Cunanan's hostage, though whether or not he ever tried to escape his captor will forever remain a mystery.
Going off of our searches and Orth's own book, there's no record of the two ever being seen together at a bar, diner or even in Madson's Jeep after leaving Minneapolis. It's unknown why Cunanan took his time before killing Madson. It was up to Tom Rob Smith's script and some impressive acting from both Darren Criss and relative newcomer Cody Fern to fill in all the blanks there.
As for why the show took a turn from Versace, Smith recently told The Hollywood Reporter, "We have these amazing people, not just Versace but Lee Miglin, [first two victims] David Madson, Jeffrey Trail, [carjacking victim] William Reese, these figures that you fall in love with and that you are fearful for because Andrew is in their world and you know that Andrew is dangerous and destructive. There's that permanent sense of tension that I think makes it a thriller. You're unsettled. You want people to live when you know that they're not going to live, and I think that's the unsettling nature of our thriller."
The life and death of Jeff Trail will be the focus of next week's episode.
"The Assassination of Gianni Versace: American Crime Story" airs Wednesdays on FX.