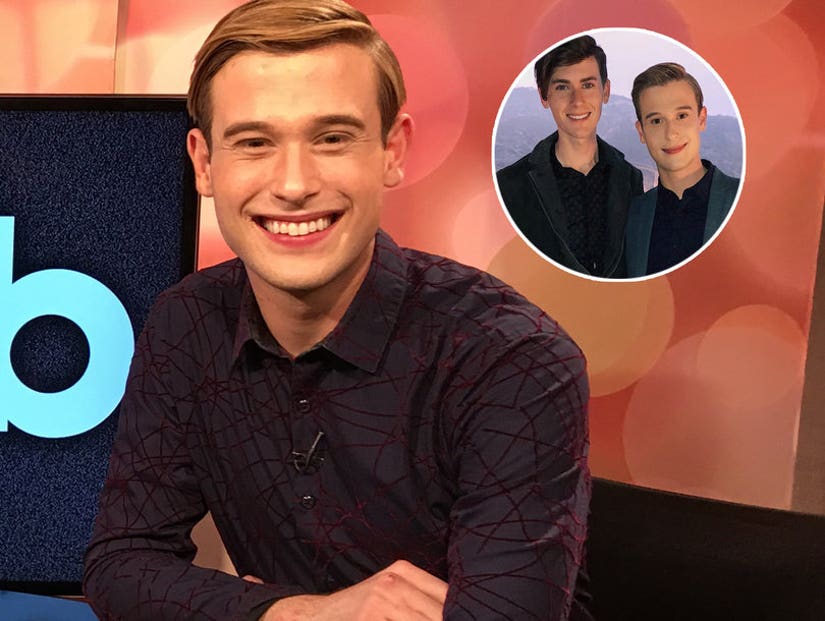 TooFab/Instagram
Being set up by a pushy relative isn't all that bizarre, unless said relative is doing it after his death.
"Hollywood Medium" star Tyler Henry has communicated with deceased celebrities like Brittany Murphy and Lisa "Left Eye" Lopes of TLC for his show, but it's a reading he had off-camera that strengthened a really important relationship in his own life with boyfriend Clint Godwin.
"Weirdly, when we first met, his grandfather had passed away a couple weeks before we met," Henry told TooFab. "His grandfather came through in a dream and he passed away very traumatically. He gave a lot of messages as far as how he died and why he died and it helped my boyfriend's family have a sense of closure on the passing."
"His grandpa hooked us up from the other side!" Henry added. "He kept coming through in dreams and was like, 'Clint, Clint, visit Clint!' ... I was like, OK, I guess we're meant to be together."
Now, they're not only sharing their lives, but also spectral visions.
"I have weird experiences at home but they're never scary. Instances like, just the other day, I was sitting with my boyfriend around 11:00 at night and I saw a woman run down the hallway, like runs down the hallway, down the stairs," Henry said.
"I was like, 'Did you see that?' My boyfriend was like, 'I just saw that, did you just see that?' We literally saw a woman run down the stairs. We both saw it, both witnessed it," he added. "You kind of have to roll with the punches when you're a medium!"
Season 3 of "Hollywood Medium with Tyler Henry" premieres February 28 on E!
See more of his celebrity readings below!