Lawrence lashed out over "dress-gate," revealed what almost got her thrown out of Ellen DeGeneres' birthday party, and whether or not she'll talk to Ryan Seacrest at this weekend's Oscars red carpet.
She also shared the incident that almost got her suspended in school -- and may have cost an innocent bus driver their job -- and talked about turning down Disney, the one role she regrets losing the most, the one song that will get her topless every single time, and her recent comment that pissed off all of Great Britain. (It was all a misunderstanding! She swears!)
While Lawrence wasn't "drunk," as she declared herself on "The Late Show with Stephen Colbert" earlier this week after two shots of rum, she was nevertheless incredibly chatty and open and her usual charming, disarming and crass self. It was all Stern could do to keep up with her.
We've gathered the seven most compelling talking points below.
Ryan Seacrest and the E! Situation
Lawrence admitted she wasn't completely up to date on the Ryan Seacrest scandal, so she couldn't say for sure if she'd avoid him on the Red Carpet this Sunday. "I can't imagine him being sexual," she admitted. "I think it is scary. He has not been to trial for anything. I am not a judge. I am not a jury. I don't know ... that is where this stuff gets tricky."
Seacrest has been accused of sexual misconduct by a former E! staffer, which he preemptively denied. He was cleared after an internal investigation, but new details have since emerged regarding those allegations. Seacrest maintains his innocence and exoneration by the investigation, but nevertheless, he finds himself under renewed heat and intensified scrutiny.
Lawrence's issues with E! go far beyond Seacrest, though. "There is a lot to think about with E! I have always had a problem with the 'Fashion Police,'" she said. "I don't have a problem with talking about what women are wearing; there was a time they were just mean about people's bodies, things you shouldn't say." She also has strong feelings about Catt Sadler quitting over pay disparity, saying, "I have noticed that they keep cycling these women and I am going, is that so you don't have to pay another woman equally to Jason [Kennedy]? Is this just a way to still maintain that you are not paying women equally?"
Accosted a Woman Over Poop at Ellen's Party
One of the biggest Hollywood events in recent memory was Ellen DeGeneres' 60th birthday party. From all accounts, and there have been a lot, it was a star-studded event. There may have been more stars in attendance than there were not. Lawrence was on hand, and decided to share an awkward bathroom encounter that nearly got her ejected from the festivities.
It all started innocently enough when she was in line for the restroom and another woman let her go in before her. As she was leaving, Lawrence realized she knew what that meant. "I went up to her and I was like, 'Look, you gotta poop.'" Why she felt the need to share this revelation with the poor woman is beyond us. "All of sudden security is grabbing me because, what I hadn't realized is, I am grabbing this woman by the shoulders, shaking her, screaming 'You have to poop!'"
All those involved with the incident wound up laughing it off, but Lawrence still feels she should probably track down the woman and apologize. She graciously did not identify the woman in question, much to that woman's certain appreciation.
Why is this a thing? Many people are wondering that very thing, and Jennifer Lawrence is one of them. After a photo was released of Lawrence and four of her male co-stars from the "Red Sparrow" press junkets, many people on social media were up in arms because it was cold outside and all four men were bundled up in coats while Lawrence was seen in a little black dress.
"I saw the cameras for the photo call and I walked my bare ass out there for the photos," Lawrence insisted, clearly still irritated that this became something that demanded her comment. "Nobody took a coat from me."
She added that this kind of faux outrage is what makes people hate a movement, and derails their hard work. "It was a fabulous dress. I wasn't going to cover it up in a f-cking coat," she explained, adding, "I shoot in below freezing weather in record-breaking winters. I can stand outside for 90 seconds in a dress. I want the dress photographed like that."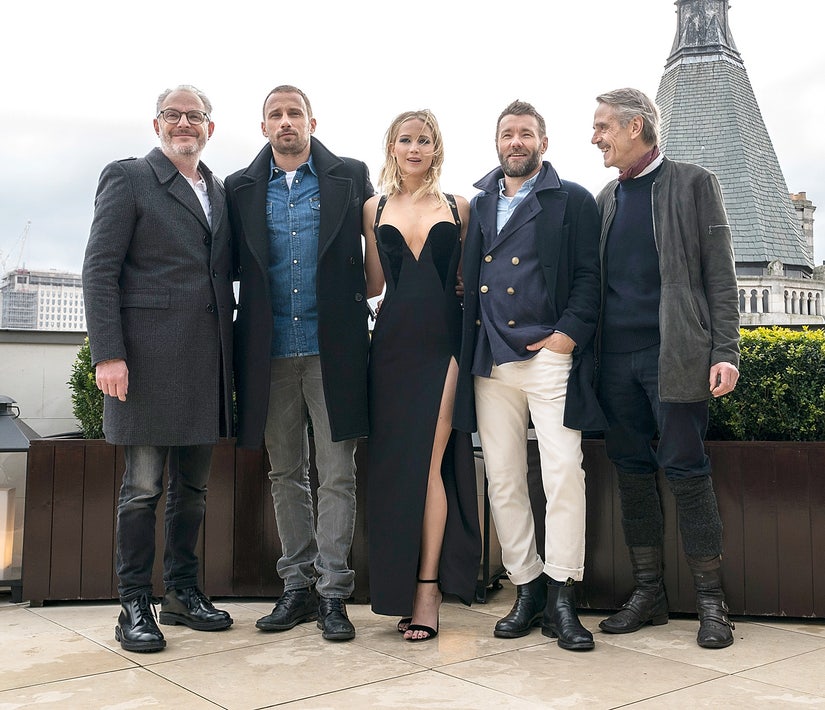 Getty
Pissed Off England at the BAFTAs
Lawrence made headlines again at the Feb. 18 BAFTAs (Britain's Oscars equivalent) for some on-stage banter with Britain's beloved Joanna Lumley of "Absolutely Fabulous" fame. After Lumley heaped lavish praise on her while introducing her, calling her "the hottest actress on the planet," Lawrence came out and shot back, "That was a bit much." Many in Britain saw her comment as disrespectful to Lumley.
"England lit up, hated me, thought that I was rude," Lawrence said. But apparently, it was all part of an inside joke the two had concocted backstage. Lawrence had asked Lumley to go over board in heaping lavish praise on her, setting up her retort. The joke obviously didn't translate well to the English audience.
The One Role She Regrets Losing
Before she broke out big in "The Hunger Games" and with her indie movie career, Lawrence was working as a "run-of-the-mill actor," as she called it. One missed opportunity was "Twilight," though she admitted this was probably at least in part because she didn't know much about it going into the audition. "When you audition ... you just get like five pages and then they're like, 'Act monkey!'" she said.
Lawrence was okay with missing out on that film, though it did elicit a "hot damn!" when she saw it, but there was one lost role that did hurt. "The one think that really killed me, like the only thing I've ever been truly devastated by losing an audition, because most of the time you're like, 'Aah, wasn't meant to be, move on, what can you do?' was Tim Burton's 'Alice in Wonderland.' That one devastated me."
When she saw Mia Wasikowska in the role, though, she agreed they'd gotten it right. "She was perfect and amazing and I couldn't have had a British accent."
Turning Down The Disney Channel
The Disney Channel has launched a lot of careers for young men and woman, including Rowan Blanchard, Cole Sprouse, Miley Cyrus, Britney Spears, Christina Aguilera and Justin Timberlake. It was almost a launching point for Lawrence, but she just wasn't really feeling it -- before she even heard the pitch. Oh to have the confidence of a young teenager who hasn't yet made it big as an actress turning down the House of Mouse before even hearing their offer!
"She like goes into this big thing," Lawrence said of the casting director she met with, "And I just go, 'Can I just say, I'm gonna be honest, I don't think I'm a Disney kid.' And I left," Her parents, who'd uprooted their lives to move to L.A. and help her pursue her dreams, were none too pleased with this development, but it seems to have worked out in the end.
Accused a Bus Driver of Kidnapping
With this wild story, Lawrence never clarified whether she was really scared for her life, or just messing around -- she has an admitted reputation for the latter. Nevertheless, Lawrence managed to panic a bus full of children and probably jeopardized a bus driver's job when she was still in school back in Kentucky -- and her punishment was no homework?!
"I was reading a book called 'Ransom' where kids get kidnapped by their bus driver," she explained. "We had a sub bus driver that was forgetting our neighborhoods and drove past my neighborhood so I stood up and I screamed to all of the children on the bus who were all younger than me that were being kidnapped to be held for ransom."
Lawrence actually had the kids help her flag down a passing woman and then jumped out of the emergency door in the back of the bus and ran home. "I was gonna get suspended," she admitted. "I went into the principal's office and started crying, said I was afraid for my life, and said that bus driver had no business driving a bus ... and I didn't have to do homework because I had post-traumatic stress."
While she said she's since calmed down a lot, there is one thing that can get her fired up. "If there's karaoke, if there's 'Midnight Train to Georgia,' I will take my top off under any circumstances," she laughed. as Stern immediately tried to get his producer to find that song and play it.