Sure, people tune in to the Oscars for the fashion and to see which movies take home the gold, but let's also be real -- you all want to know if there was another f-up like last year's Best Picture winner fiasco, right?
With Jimmy Kimmel hosting this year's Oscars -- in a ceremony touched on Hollywood's recently exposed history of sexual harassment and abuse, President Donald Trump and an outpouring of diversity in pop culture -- there were a few massive moments everyone will still be talking about Monday morning.
For a comprehensive list of winners, check out the link below:
While it may be hard to top last year's "Moonlight" mixup, here are the buzziest moments of the night.
After almost everyone wore black to the Golden Globe Awards, color was back in full force tonight on the red carpet.
There were some incredible looks, with standout gowns on Jennifer Garner, Viola Davis, Taraji P. Henson, the women of "Black Panther," Margot Robbie, Gina Rodriguez and so many more.
Click through the gallery above to see all the standout style!
Jimmy Kimmel kicked off the show with a monologue that took aim at almost every single nominee, brought up the Harvey Weinstein scandal and introduced an amazing way to secure short acceptance speeches.
"Some of you will be going home tonight with an Academy Award, what could be better than that? This year, when you hear your name called, don't get up right away," he said at the top, addressing last year's screwup. "The accountants went ahead and did comedy on their own. I have to hand it to them, it was hilarious."
"Oscar is 90 years old right now, which means he's probably at home right now watching Fox News," he continued. "Oscar is the most beloved and respected man in Hollywood and there's a very good reason why. Just look at him, he keeps his hands where you can see them, never says a rude word and, most importantly, no penis at all. That's the kind of man we need more of in this town."
"Here's how clueless Hollywood is about women. We made a woman called 'What Women Want' and it starred Mel Gibson," he joked. "The Academy took action last year to expel Harvey Weinstein from their ranks. What's happening all over is long overdue. We need to set an example and the truth is, if we can stop sexual harassment in the workplace, women will only have to deal with sexual harassment all the time everywhere they go."
After praising the #MeToo, #TimesUp and #NeverAgain movements, Kimmel mentioned all the nomination firsts this year, including first female director and first female cinematographer. He ended his monologue by saying the person with the shortest acceptance speech would go home with a jet ski, before Helen Mirren came out to show it off. FYI: the jet ski went to "Phantom Thread" costume designer Mark Bridges.
Of "Get Out," Kimmel said, "None other than President Trump called Get Out the best first three quarters of a movie this year."
"Whose kneecaps did Tonya Harding have to break for this casting?"
"We don't make films like 'Call me By Your Name' for money, we make them to upset Mike Pence."
"Thanks to Guillermo, we will always remember this year as the year men screwed up so badly, women started dating fish."
Mary J. Blige was the first artist to ever be nominated for Best Song and Best Supporting Actress in the same year, both for her work for "Mudbound."
The singer looked incredible on the red carpet in a gorgeous white gown, before changing into an oxblood dress for her performance of "Mighty River."
It's the best she's ever looked and one of her best performances to date. Bow down!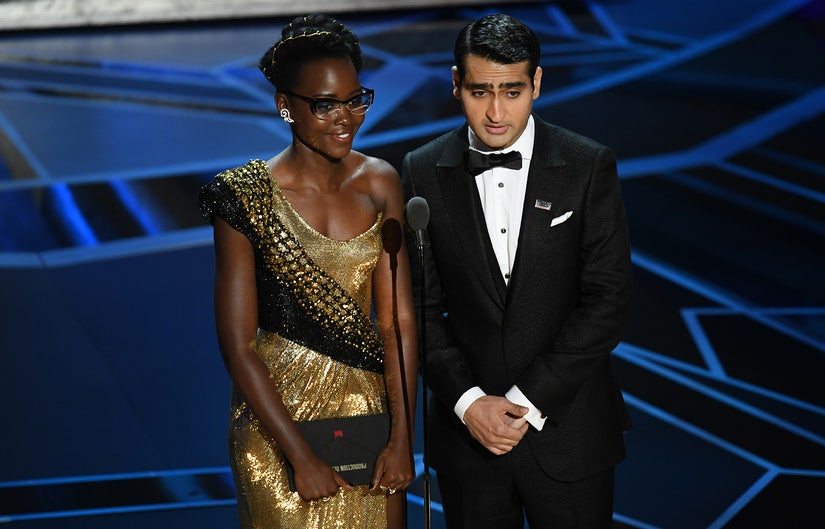 Getty
Lupita Nyong'o and Kumail Nanjiani hit the stage together to present the award for Best Production Design, sending out an important message to viewers before handing out the trophy.
"We are dreamers. We grew up dreaming of one day working in movies. Dreams are the foundation of Hollywood. And dreams are the foundation of America," said Nyong'o. "And so to all the DREAMers out there, we stand with you," added Nanjiani.
They both got huge applause for the sentiment.
A Performance to Remember
Gael Garcia Bernal and Miguel performed "Remember Me" from the animated film "Coco," and it got off to a shaky start. Bernal did a voice in the film and decided to sing a verse from the song on stage, before Miguel came out to really bring the performance home.
Unfortunately for Bernal, he wasn't exactly on key, and Twitter really went in on him for it.
Gael Garcia Bernal's performance in 'Amores Perros' > Almost everything every other actor has done > Things that are just OK > Taxes > Ebola> Gael Garcia Bernal singing 'Remember Me'

@lthomasnews
Miguel wasn't THAT good but in comparison to Gael, he sounded like Whitney Houston for a second. #Oscars

@MajorPhilebrity
Kobe Takes Aim at Laura Ingraham
"As basketball playersn we're really just supposed to shut up and dribble," he joked, "but I'm glad we do a little bit more than that. Thank you Academy for this incredible honor"
He also thanked his wife and children for being his "inspiration."
In a bid to create a viral moment like the now infamous Oscar selfie, Kimmel enlisted Guillermo Del Toro, Mark Hamill, Ansel Elgort, Emily Blunt, Gal Gadot, Armie Hammer, Lupita Nyong'o, Lin Manuel Miranda and Margot Robbie to surprise fans watching an early screening of "A Wrinkle In Time" at a movie theater nearby.
Equipped with snacks, a giant sub sandwich and a hot dog cannon, they entered the theater in their red carpet gowns and sent the place into a frenzy. Gal and Kimmel went out first, as she exclaimed, "This is so much better than the Oscars."
One by one, the rest of the group entered and it was sheer pandemonium.
Kimmel even had one man in the audience introduce the next presenters ... but he clearly isn't a "Girls Trip" fan, because he butchered Tiffany Haddish's name.
Tiffany and Maya's Comedy Routine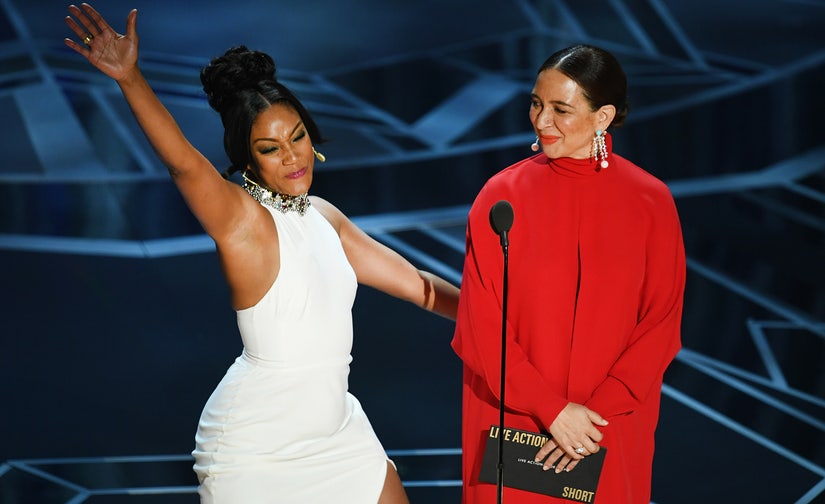 Getty
Tiffany Haddish and Maya Rudolph hit the stage together, shoes in hand, for a comedy bit that was everything.
"When we came out together, we know some of you were thinking, are the Oscars too black now?" joked Haddish. "Don't worry, there are still so many white people to come," added Rudolph. Haddish then took aim at the "white people with clipboards" backstage, who always make her wonder, "What are they writing down about me?!"
They also bonded over losing control of their bodily functions.
"Tiffany, can I just say, when you peed off a zipline in 'Girls Trip,' it was brilliant," joked Rudolph. "Maya, when you took a dookie on the street in 'Bridesmaids,' it changed my life, it's inspiring," responded Haddish.
Weinstein's Accusers Take the Stage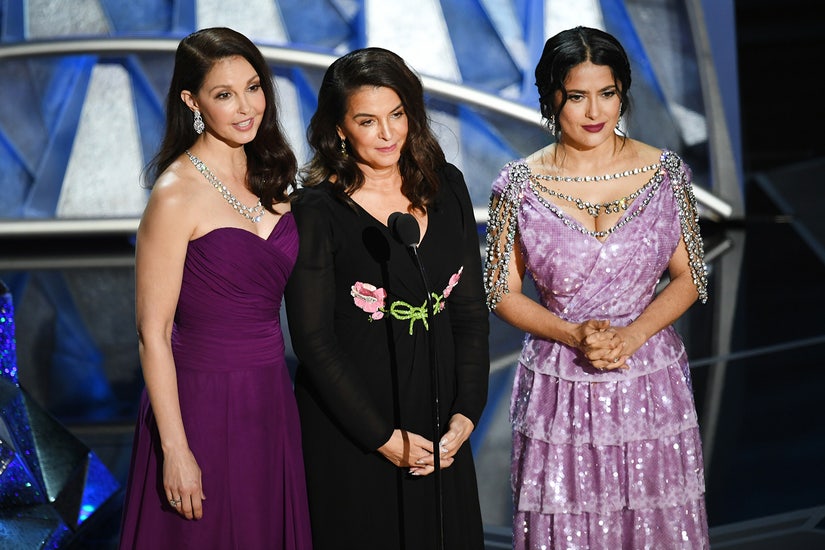 Getty
Ashley Judd, Annabella Sciorra and Salma Hayek came on stage together to introduce a video package then honoring this year's trailblazers.
"It's nice to see you all again, it's been a while," said Sciorra. "This year, many spoke their truth and the journey ahead is long, but slowly a new path has emerged."
"The changes were are witnessing are being driven by the powerful sound of new voices, of different voices, of our voices, joining together in a mighty chorus that is finally saying Time's Up," added Judd. "We work together to make sure that the next 90 years empower these limitless possibilities of equality, diversity, inclusion, intersectionality, that's what this year has promised us."
Jordan Peele Win's for "Get Out"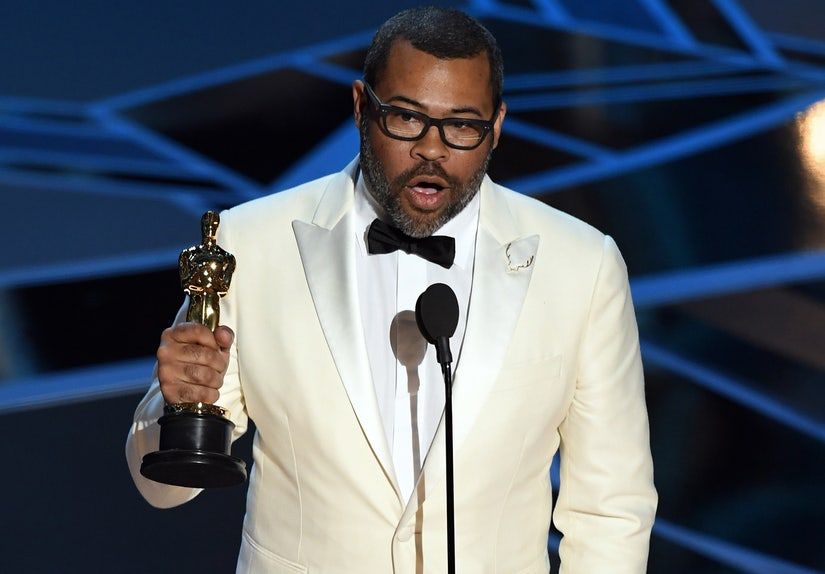 Getty
Peele picked up the award for Best Original Screenplay for "Get Out" and gave one emotional speech after his win.
"This means so much for me. I stopped writing this movie about 20 times because I thought it was impossible, I thought it wasn't gonna work, I thought nobody would ever make this movie," he said. "But I kept coming back to it because I knew if someone let me make this movie, people would hear it and people would see it. I want to dedicate this to all the people who raised my voice and let me make this movie."
He also thanked his mother, "who taught me to love in the face of hate," and praised "everyone who went and saw this movie, everybody who bought a ticket, who told somebody to buy a ticket. Thank you, I love you, for shouting out at the theater, for shouting out at the screen."
Keala Settle brought the house to its feel with the infectious "This Is Me" from "The Greatest Showman."
It's clear she felt the words she was singing, and so was the audience. As she teared up, even Viola Davis was rocking out from her seat.
Guillermo Del Toro's Speech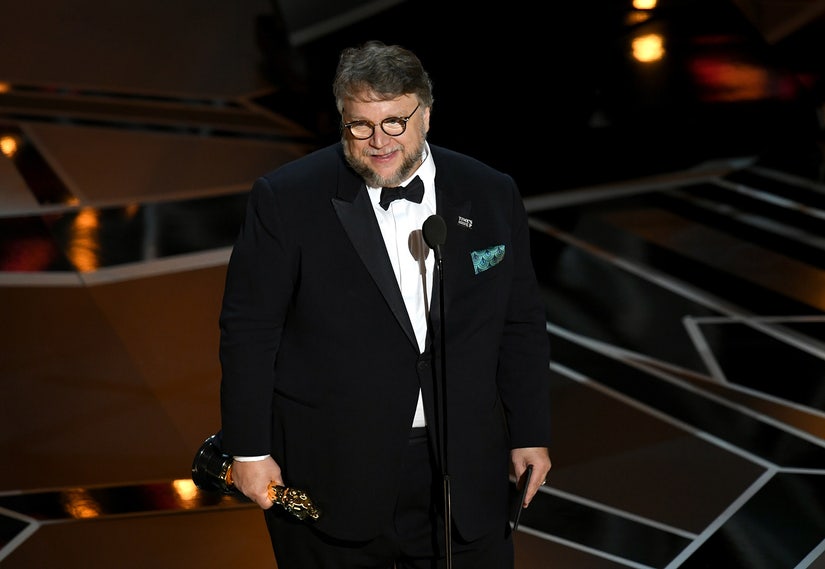 Getty
Del Toro picked up the trophy for Directing "The Shape of Water" and took time in his speech to say now is not the time for division.
"I am an immigrant, like many many of you and in the last 25 years I've been living in a country all of our own, part of it is here, part of it in Europe," he said. "I think the greatest thing our art does and our industry does is erase the lines in the sand. We should continue doing that when the world tells us to dig them deeper."
He got emotional at the end of the speech, saying, "like Jimmy Gagney said once, My mother thanks you. My father thanks you. My brothers and sisters thank you And I thank you."
Frances McDormand Gets Women on Their Feet
After picking up the award for Actress In a Leading Role for "Three Billboards Outside Ebbing, Missouri," she said she needed to get "some perspective."
Speaking to all the female nominees in every category, she asked them to stand up. "Look around everybody, because we all have stories to tell and projects we need financed. Don't talk to us at the parties tonight, invite us into your office in a couple days, or you can come to ours."
"I have two words, ladies and gentlemen: inclusion rider," she concluded.
"I hope Frances McDormand gets an Emmy for the speech she just gave," Kimmel joked.
Warren Beatty and Faye Dunaway returned to correctly announce the winner for Best Picture this year.
"It's so nice seeing you again," Beatty said. "As they say, presenting is lovelier the second time around," joked Dunaway.
Yes, they got it right this time. "The Shape of Water" was the big winner.