The former "Girl Meets World" star plays mean girl Veronica Riley in the film, directed by Ava DuVernay and adapted from the 1962 novel of the same name. Though she only appears in a few scenes, she got the opportunity of a lifetime when DuVernay allowed the 16-year-old actress to shadow her on set.
"I learned so much from Ava," Blanchard told TooFab. "Something that I'm always so incredibly amazed by is how this person has so much on their shoulders and has so much responsibility and is so careful with the work that they put out, but is also so caring and so one-on-one. And I identified that when I was working with her and in just the fact that she let me even shadow her, which was so giving and so rare for her to take a chance on somebody like me. I'll be forever grateful that she sort of gave me the courage to ask questions and to demand space on a set. I really appreciate her for that."
Blanchard returned to watch some of the action after she wrapped, including scenes utilizing effects she didn't have first-hand experience with during her own scenes.
"I saw some scenes with [Chris Pine] and with [Storm Reid] and sort of getting to watch them build like this really beautiful father and daughter relationship was really wonderful," she explained. "I got to watch some of the green screen stuff ... my character doesn't directly go into like those worlds, so it was cool to be able to shadow them on the green screen set."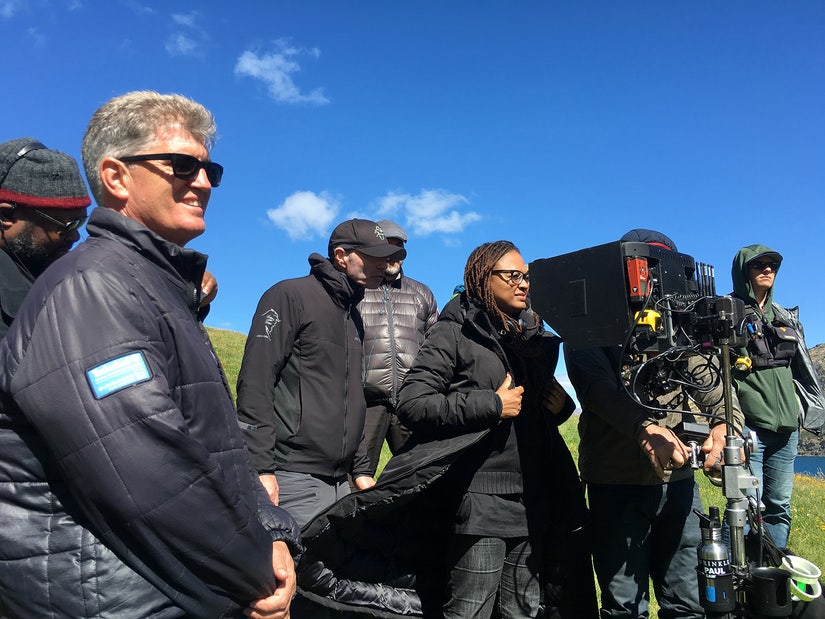 Disney
Another thing Blanchard is incredibly grateful for is the environment DuVernay fostered on set, something that reinforced her own belief that there's still hope for Hollywood after the recent #MeToo scandal has rocked it to its core.
"This was such an incredibly safe set to be on and I feel really grateful that I got to be on the set before sort of everything that's come out in the past few months and how it reaffirmed that this industry can be made a safe place when women and people of color are leading," said Blanchard. "This project and making it has felt like fostering this incredible thing of love. And I think it's so much bigger than just the film and I think all of us know that. And so just the fact that I even got to be -- I would've been an extra in the movie. No, seriously, because I was just like, this is something that's so massive that I just want my involvement somewhere. And I was really grateful that they let me play."
"A Wrinkle In Time" is the first movie with a budget of over $100 million to be directed by an African-American woman, and with DuVernay at the top, Blanchard said you can see that diversity trickle down to more roles both in front of and behind the camera.
"When you put women and people of color at the head of things, or queer people at the head of things, that changes who gets hired," she explained. "I mean historically, we always have, you know, a white guy like heading studios and leading movies, so naturally the thing we see on screen are masculinity and whiteness. It just makes sense. So I think when you have a film like this where you have an incredibly diverse crew, you have this incredible director who's black and a woman, you have that sense built into the entire story and into the entire crew and the entire cast. And it's so rare and I think that's why we're all recognizing how big culturally this all is."
Read the rest of our Q&A with Blanchard below, including her freakout over Oprah and how she deals with Twitter haters. "A Wrinkle In Time" opens March 9, 2018.
Hearing what some of your co-stars have said, the movie obviously means different things to different people. For you and for teenagers out there, what are you hoping that they take away from this after watching it?
I think it's just such an incredibly unique point in history that we get to see this film where a young girl of color saves the entire universe. It makes me really excited. I think it's so much bigger than I think any of us are able to process. I think it's so incredible that we get to see that. That everybody, all genders, all races, everybody just gets to see this incredibly amazing point that has never been done before. So it's really exciting for me.
Okay, so I didn't meet Oprah through the entire course of filming. And I just found out -- I still haven't seen the film -- but Oprah saw the film and like just, I just, I just. Mmmm, oof! Like you know. I haven't met her yet. I still haven't shaken her hand. I'm literally...I don't think I'll say anything, that's the sad thing. I have it like, oh my God, you see how like stressed out I am about-- Like, oh my God. Oh my God. Well it's just, she's Oprah. It's like she's Oprah. Like literally, she's literally Oprah. So it's just really overwhelming. It's like there's no one else to compare her to. She's Oprah. She's Oprah. I just can't even believe it. I'm in shock right now that I was on the same stage as her and that she even listened to me speak. Like, wow.
This movie is all about finding positivity, finding hope in the darkness. Social media can be a place that is very full of bullying and people going to the negative. What would you say is the number one way to kind of combat that?
Well, for me, my page is very much an open forum. I get a lot of, like, bigotry on my page. I guess for me it's very important -- because a lot of my critique comes from political conversations on my page -- it's important to decipher what is just trolling and what is ignorance. And there is a difference between trolling and ignorance and I try to identify that.
And what's next for you after this? I know you still have 'The Goldbergs,' right?
Yeah, I've been working on 'Goldbergs' loosely. The thing that I've sort of put three years of my life into that just came out, I released a book. And that has been really, really an incredible experience that coincided with this coming out. But yeah, I don't know. I'm interested in a lot of things and I don't-- I'll see.