Kim Kardashian is back on the cover of another magazine, this time showing her stuff for the readers of Elle.
In what's being called the "first-ever personalized magazine cover of its kind," 50,000 of the publication's subscribers will receive a copy of the April issue with a personal note from Kim. While that's cute and all, it's the interview inside that we're pouring over today.
Speaking with reporter Molly Young inside her Calabasas home, Kardashian addressed the backlash she got for copying Bo Derek's braids from "10," revealed how many children is too many, and broke down her totally insane beauty and fitness routines.
Kim debuted blonde "Bo Derek braids" on Snapchat back in January and was promptly slammed for cultural appropriation. At the time, her critics didn't necessarily mind the traditionally African cornrows on Kardashian, but rather that she credited the look to a white woman. Lindsay Lohan even chimed in on the commentary, writing, "I am confused." The reality star's clap back: "You know what's confusing? Your sudden foreign accent."
"I'm not worried, because I love Bo Derek," Kim told the reporter, who interviewed her when she was still rocking the look. "It's a reference. If you genuinely love something, then it's what you should do. It's appreciation."
"It's one thing when people mock something and are negative. I'm clearly not being negative," she added. "Images mean a lot to me. I spend a lot of time on them."
Kardashian also spoke to Elle about having a gestational carrier for her third child, daughter Chicago West, where she was asked if she'd do it again.
"I dunno," she replied, adding that four is her limit. "My home and my heart feel really full right now, in the best way. I don't think I could handle more than that. My time is spread really thin. And I think it's important that in all couples, the mom gives the husband as much attention as the kids."
Of her carrier, Kim wanted her to eat organically while carrying their child, "which is just how she eats, so it was a good match for us." That being said, Kim added, "I straight-up told her, 'Look, I ate doughnuts every single day. If you want doughnuts and ice cream, go for it. Do whatever you feel. I'm not going to be picky like that. That's just ridiculous.'"
"I hated being pregnant," she added. "But as much as I hated it, I still wished I could have done it on my own. The control is hard at the beginning. Once you let that go, it's the best experience. I would recommend surrogacy for anybody."
In the profile, Kim is described as having an immaculate home. "My life is chaotic, so my home is supersimple," she explained, "Everything has to be clean. No clutter."
It's a philosophy she carried over to her cell phone too. "I can't have a full phone. At the end of the day, I delete everything that's not a current conversation. If I need some information, then I keep it. If not, it has to be deleted. I can't see too much noise."
What It Takes to Look Like Kim K
Elle asked Kim to share the "increments of time spent on sheer bodily upkeep." Here's how they broke it all down:
Hour-long workouts at 6 a.m. (Torture.) Hair and makeup for an hour every day. (Fun.) Manicures and pedicures every 10 days. Brows with Anastasia every three weeks. Teeth whitening, spray tans, laser hair removal, various stomach- and thigh-tightening lasers (although she's cut back on those), daily skin and hair vitamins, plus the occasional marathon hair event, like the cornrows, which took six hours and kept her up until 2 a.m. Oh, and her eyelashes? They're natural. She's never done extensions, doesn't need them. The Armenian side of her family took care of that.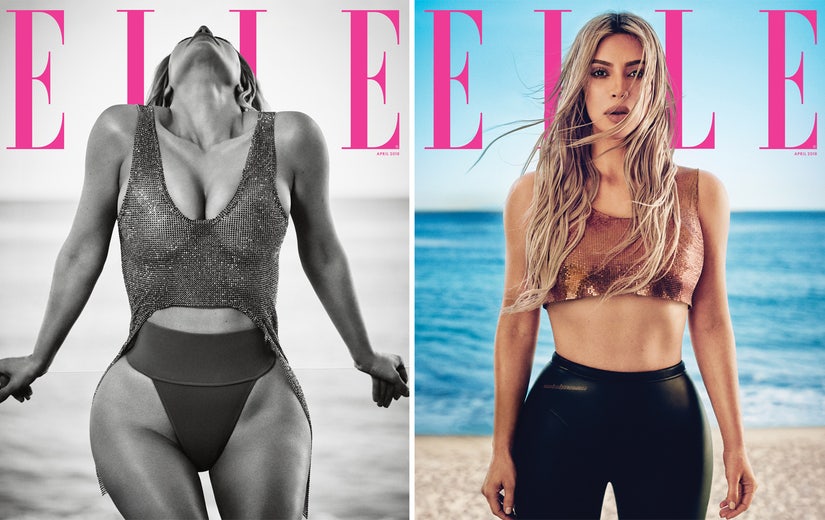 Boo George