All you have to do is take one look at Alicia Vikander's shredded stomach in the opening moments of "Tomb Raider" to know she really put in the work to transform herself into Lara Croft.
"It gives me goosebumps even talking about it," her personal trainer, Magnus Lygdbäck, told TooFab of her awe-inducing eight-pack in the boxing ring scene that opens the film, out Friday.
Lygdbäck -- who has worked with stars like Alexander Skarsgård in "The Legend of Tarzan," Ben Affleck for "Justice League" and Gal Gadot for the upcoming "Wonder Woman 2" -- put the actress on a vigorous training and nutrition program seven months before she started filming. While Vikander was already in great shape, she pushed herself to the limit to bring the video game heroine to life.
The process began with the trainer meeting with both the actress and director Roar Uthang to figure out where they want the character to go. "Who is this character? Everything from background to skill set," he explained. "What do they need? Who are they? So seven months before filming me and Alicia and Roar, the director, sat down and discussed what they wanted for Lara and, you know, I gave them my thoughts on what I think she needed and then kind of started from there. We gave her all the skills she needed and built her up."
"When we started, it was seven months out, so we had a vision," Lygdbäck explained. "We knew what kind of skill set she needed, but we didn't know exactly how or what was going to be filmed. So we knew she would fight. We needed to give her MMA skills. We needed to work on her climbing, cycling and obviously her physical appearance."
In the movie, Croft starts her journey as a bike messenger who also enjoys some MMA combat in her spare time. "She gained 12 pounds of muscle mass," Lygdbäck said. "She was obviously in good shape coming into the movie, but you need to take it pretty far on the screen to make it -- just to do the character justice. So it's always -- there's a lot of work. A lot more work than people might think to get there."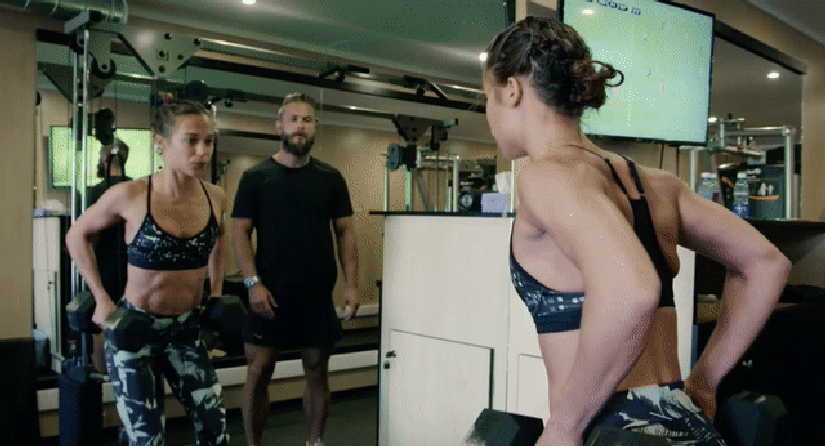 Warner Bros.
When filming actually began, the workouts did not stop. The actress reportedly trained for 45 minutes to an hour every day before she went to set. "She's extremely hard, she's a hard worker," said Lygdbäck, who added she found it challenging to "take a day off to rest, knowing that rest might be better than working out some days." Vikander also never got a "cheat day," something Magnus said there's "no room for" in a project like this one.
The trainer admitted that what they did for this movie should not be treated as the norm. In fact, Vikander herself said she basically lost her muscle mass in just three weeks, telling Graham Norton, "That is the sad bit. I thought I was gonna stay like this ... crazy."
"Well, I think that's good," Lygdbäck said of her post-production physique. "Because everything I do with my actors are healthy, good things that everyone should be doing. But there needs to be some balance. And you know, there's no balance when you do something like this. You do work out that extra hour. You do that extra day. You eat extra clean. You don't allow yourself to have that cheat meal or that pizza and for me life's about balance so I'm happy that she took a little break. She didn't lose all of her gains. I mean, she's got a pretty impressive six-pack still. She had an eight-pack while filming but you know, six-pack, that's enough."
At the end of the day, it's not just Vikander's body transformation that he's proud of. For Lygdbäck, he also found reward in what the movie represents.
"I have a daughter myself. I think it's extremely rewarding to be a part of a project that empowers women, just that alone is huge," he told TooFab. "And just to be around all these talented, creative people that you admire is also very inspiring. That's great too and see different parts of the world obviously, but also for me, it's always -- you never know if you -- if I did my job until the first day of filming so normally that's kind of do or die day for me when the first day of filming. And so far, thank you God, that's been rewarding in all my projects."
Up next is "Wonder Woman 2," which comes with its own set of challenges.
"Alicia's an action hero. Gal's a superhero," he explained of the different approaches. "And they have two different two different body types, and the actors and the directors in these two movies have different ideas. So I don't want to talk too much about that yet, but it's going to be a little different. But I'm very excited."
"Tomb Raider" hits theaters Friday, March 16.