Kendall Jenner covers the April issue of Vogue, where she touches on everything from her sexuality and gender identity to her sister Kylie Jenner's brand new baby girl.
It's definitely her comments about her current dating life that are sure to generate the biggest headlines, as she basically confirmed that she's dating Blake Griffin, while also talking about her own "male energy."
According to reporter Jonathan Ven Meter, Kendall called from Michigan -- where Blake plays -- on Valentine's Day. When asked if she had a boyfriend, Jenner replied, "I like my private life. Yeah ... no. I'm happy. He's very nice. I have someone being very nice to me."
She was then asked why she believes there are so many gay rumors about her on the internet. "I think it's because I'm not like all my other sisters, who are like, 'Here's me and my boyfriend!' So it was a thing for a minute because no one ever saw me with a guy," she replied. "I would always go that extra mile to be low-key with guys, sneaking around all the time. You don't want to, like, look crazy."
"I don't think I have a bisexual or gay bone in my body, but I don't know! Who knows?!" she continued. "I'm all down for experience -- not against it whatsoever -- but I've never been there before."
She also said she has "kind of a ... male energy," adding, "but I don't want to say that wrong, because I'm not transgender or anything. But I have a tough energy. I move differently. But to answer your question: I'm not gay. I have literally nothing to hide. I would never hide something like that."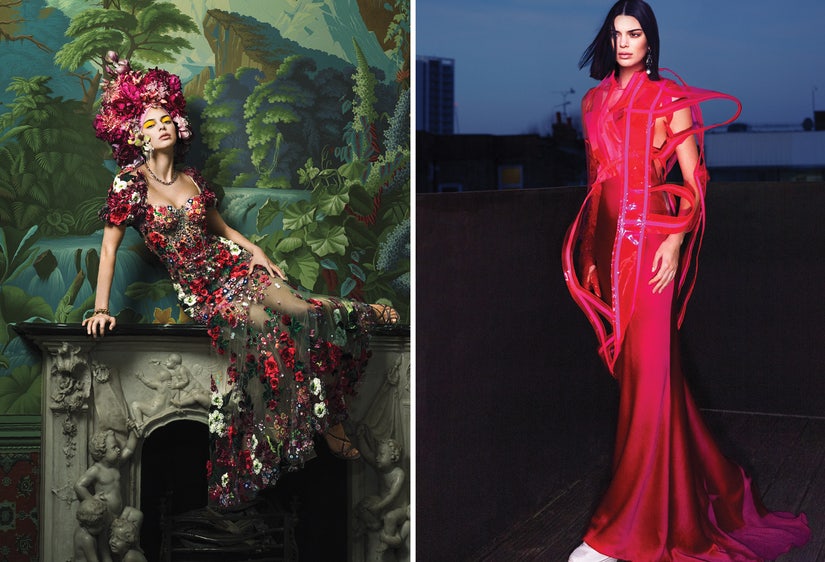 Mert Alas and Marcus Piggot
Keep reading for the biggest takeaways from the full interview:
Jenner was interviewed about a week after her younger sister welcomed little Stormi into the world.
"It's not that it's more exciting than any other births in the family - it's different exciting, because she's my baby sister who I grew up with," said Jenner. "We all grew up in twos: Kourtney and Kim grew up together; Rob and Khloé; Brandon and Brody; Burton and Casey, and then Kylie and I. So to see my best friend growing up have a baby? It's already made us even closer."
Speaking about herself, the 22-year-old model said she does want to have kids, but "at, like, 28 or 29."
"It's almost, like, trendy to hate on my family," she told the mag. "It's not so much that people actually believe that we suck, but it became a thing: If you hate on us, it's cool or something."
She's no stranger to the hatred herself, especially after her 2017 Pepsi commercial went viral for all the wrong reasons. The spot was accused of appropriating the Black Lives Matter movement to sell a few cans of soda and was later pulled.
"Obviously, my intention was not to hurt anyone," she told Vogue. "Honestly, I just hid out. It hurt me that I hurt other people. I've been yelled at before, stepped in controversy before, but nothing to that extent. You can never really prepare for something like that."
"Nobody came to me to explain it to where I was like, Oh, I get it," she said of the aftermath. "But I'm not an idiot. I can see it for myself."
With the #MeToo movement making waves in the modeling industry, Jenner said, "Luckily, I haven't been put into a situation like that ever in my life. I've heard about it for so long, I get it. I can try and understand it."
"But that being said, I think that it's so powerful that, in a time that's so ... shitty, for lack of a better word ... it's just really cool and empowering to see a bunch of women come together and say we're not going to stand for this - we're not taking it lightly; we are going full force. Thats what I find so inspiring."
The April 2018 issue of Vogue hits newsstands March 20.