In an hour-long retrospective they did as part of the shoot, the cast and creator Kevin Williamson reflected on everything from the show's casting to its divisive series finale, revealing a few fun tidbits along the way. You can watch the full piece here -- keep reading for some of the most interesting intel below!
Katherine Heigl Auditioned to Play Jen
Michelle Williams wasn't the only one who tried out to play Dawson's naughty neighbor Jen Lindley, as Williamson revealed another future WB star, Katherine Heigl, also auditioned.
"Steve Miner, who directed the pilot, brought her in. I think she had just looked slightly older at that time, even though she was younger. I just think she was more mature. She gave a great audition, I remember like wow, she's good," he said. Williamson, a self-described "horror-movie guy," said he recognized Williams as "the baby Species monster," and was immediately sold on her audition.
"She was this broken bird and that was the heart of Jen Lindley," he added.
Of casting the rest of the gang, Williamson said he envisioned Dawson as a "nerd" like him, but The WB wanted "girls to watch" and theyfound James. "He had the look, he was so intelligent, he didn't look like a nerd but he was a nerd. He was a nerd inside."
Williamson only knew Jackson from his work in "The Mighty Ducks," but said the star "walked into the room and and he owned it. How can this kid be this age and be so charismatic and so charming and then be a good actor on top of it?"
James Loves His Cry Face, Finds Dawson "Annoying"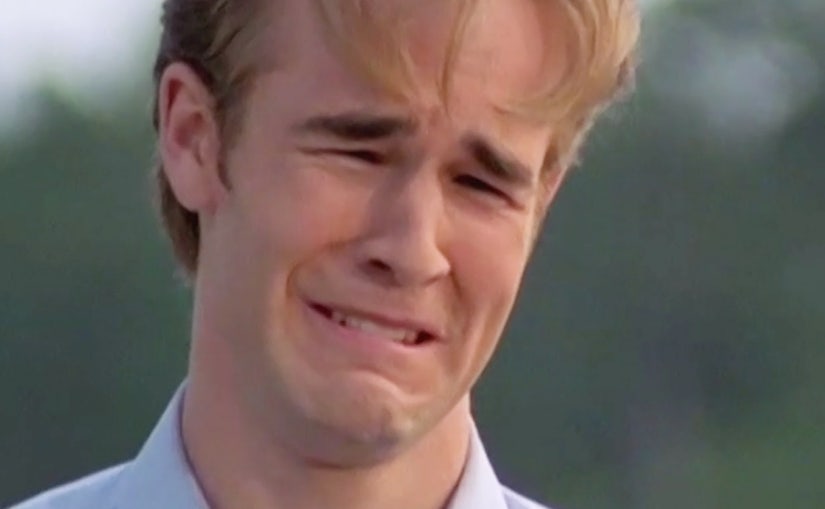 Warner Bros.
"Dawson's Creek" certainly made a lasting impression on its audience and 20 years after its premiere, there's one moment that has lived on in online infamy: James Van Der Beek's cry face. One single shot from the Season 3 finale, "True Love," became a massive online meme in recent years and one of the most GIF-able moments on Twitter.
"I feel like everybody on this show cried more than I did and I'm the one who got caught in the loop," said Van Der Beek, prompting Jackson to say, "It's not how many times you cried, it's how you cried."
"I love it, it's probably my favorite thing about the whole show," James continued. "It's taken on this weird life, it's hilarious to me that you can work or 6 years on a show, 120 something hours and it gets boiled down to 3 seconds."
Williams, who doesn't really have a social media presence, had no idea what they were all talking about, prompting her BFF Busy Phillips to whip out her phone to show her.
Elsewhere in the chat, Van Der Beek said, "There's so much about Dawson that annoyed me." He continued: "I love that he was sensitive, that he was very open and not trying to be a jock. I loved the vulnerability there, that was something I was happy to be putting out. But the rest of it I found kind of annoying to be honest with you."
Nobody Knows the Words to the Theme Song
Well, nobody except Busy Phillips.
After Williamson revealed he's "never known the words' to Paula Cole's "I Don't Want to Wait," he challenged the rest of the cast to sing it. While they had no problem with the one key line in the chorus, they all seriously struggled remembering any other lyrics.
The group also seemed surprised to learn the story behind the song. "It's like about World War II, I swear it is," Phillips told everyone. "You guys, look it up. It's about a solider returning from war."
Even though it's very catchy and melodic and it's a bit of an earworm, for me it's a very personal song that's looking at my grandparents, specifically my grandfather, Everett, who fought in World War II, his unhappy marriage to my grandmother - the firecracker, Helen - their influence on my father and then that influence on me.
When you grow up with your grandparents you can really see the generations and the energy of the parenting. I was looking at it and thinking, "I don't want to make some of these mistakes. I really hope I don't." Wanting to take that Atlas globe off of my shoulders that felt like each female generation was passing, like you have to just stay married, you can't be happy, you can't have a career. I just wanted to shrug it off and I wanted happiness for my life, my generation.
As for the opening credits, Williamson said he filmed them himself on the fly, between takes.
Waiting for your permission to load the Instagram Media.
Kerr Smith talked at length about playing gay teenager Jack McPhee on the show and how the role came to mean so much more to viewers.
"I was actually hired to create a love triangle ... I was playing Joey's boyfriend in the beginning," he said. Eventually, Williamson sat him down and told him his plans for the character. "I go, oh god, let me call everybody I know and I'll get back to you. Obviously, you know the decision, I'm glad I made it," he said.
"A lot of the fan mail I was getting was teenagers who were in the closet," he said. "I remember reading this one, the kid said, I watched the episode where Jack came out and went into the living room and came out of my parents."
Though Smith's portion of the interview was supposed to be solo, Michelle Williams had to interrupt, running into the setup to share a memory of her own.
"The thing that people always come up to me and say is that changed my life," she said. "The best story I ever heard was somebody came up to me and he was like, when I was growing up I had this best friend and everyone was like, 'You're like Dawson and Joey,' and the way he came out, he was like actually guys, it's Jack and Jen. You gave them a cultural reference and it's my favorite thing when people say that."
Why Jen Had to Die and Thoughts on a Revival
The show's run ended with Jen Lindley dying and Joey making her final decision between Pacey and Dawson (she went with Pacey).
"We had dealt with so much, what's the one thing left to deal with?" Williamson said, speaking about the decision to kill one of the core four cast members. "I chose Jen because I thought it was very tragic, it was very sad. If we kill Jen, it's going to force our other three into action, to thrust them into adulthood once and for all."
Though Williamson said he always wanted the show to end with Dawson and Joey together, his feelings changed when he started writing the finale.
Van Der Beek said Joey's decision "felt right," while Holmes wouldn't say either way, instead saying "I'm glad Kevin had to make the decision." Jackson said "of course" the decision made sense, joking, "My vanity knows no bounds."
When asked about a reboot or revival, Williams exclaimed, "I'm dead."
"We can't, we murdered someone," added Van Der Beek. "It would have to be a reinvention of sorts."
"What I love about this show is that it existed in a time pre-social media, it was nostalgic when we were shooting it," said Holmes. "I like that we ended it when we were 5 years older, it does feel like it's completed and I like it the way it is."
Williamson's out too, but he'd "love to see someone else's take on it."
The "Dawson's Creek" reunion issue of EW hits newsstands Friday.