UPDATE at 6am on 5/1: Ronnie released the following statement on Instagram last night: "I want to apologize to my family, friends and fans. This is a private matter that should have never been made public. I remain focused on my daughter and she is my number one priority." He followed it up with another message that read, "When you delete the unnecessary people from your life, good things will start happening for you and it won't be a coincidence." Unsurprisingly, the two have reportedly split.
UPDATE at 12pm on 4/30: Harley went live on Instagram Monday morning in a video where she and Ronnie were seen in a heated argument. In a clip posted on TMZ, Ronnie keeps trying to show video on his own cell phone, repeating, "Why don't you want to show that?" before things appear to get physical. Original story below.
The reality star unloaded on Harley in a series of now-deleted Instagram Story posts on Sunday, but worry not if you missed them -- because we kept the receipts!
Ronnie's social media battle began when he posted to Instagram, "Note to self: Can't turn a natural born HOE, into a HOUSE WIFE. If you find them in the gutter [then] leave them in the gutter," he continued, "not all people can be saved when they are so far gone. All you can say you did ur best and keep it moving!" He captioned the photo with the hashtags "Facts" and "YEAHHHHHHBUDDYYYY."
He followed that up with another IG Story shortly after, one which gave a little more insight into the feud. "If your significant other keeps sex videos of their ex, shouldn't they show enough respect to delete them, esp. after being in a new relationship for over a year," he asked, along with a Yes/No poll for fans to vote.
But Ronnie wasn't done yet.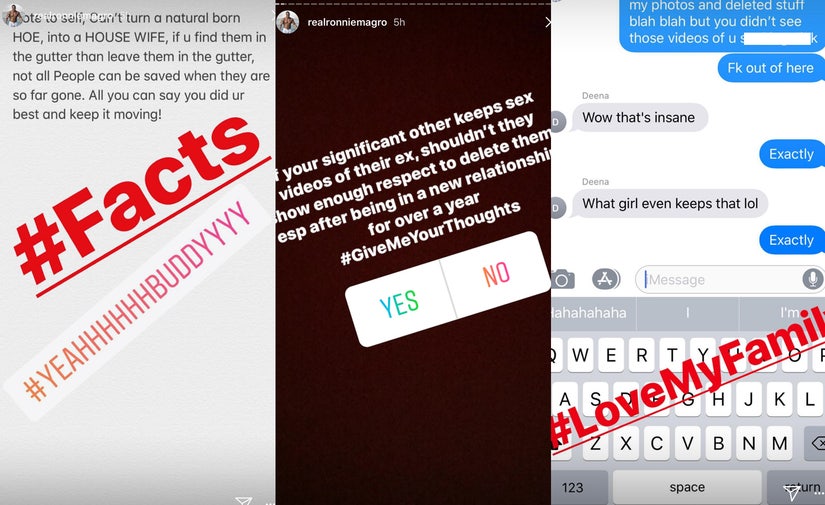 Instagram
He then shared two text message conversations, one which appears to be with his "Jersey Shore" costars in a group called "Just Us WE FAMOUS FAM." Of his girlfriend's alleged racy videos, someone named Deena -- likely Deena Cortese -- asked, "What girl even keeps that lol." Ron's response: "Exactly." Another text message to someone named Mikey -- possibly Mike "The Situation" Sorrentino -- had the caption, "So everyone knows I'm NOT a cheating scumbag! My actions are caused my disgrace and fidelity." In addition to those posts, he also shared messages from fans who had his back.
Harley responded to the craziness on her own Stories with some also-since deleted posts. First, she wrote, "Can't turn a coke head into a father! Yeahhh buddy." She then posted what appears to be a private text exchange between her and Ronnie. In it, "Ron" writes, "And now I'm blocked," "Pls take it down," "U wanna block me and tarnish my name bc u got caught," and "This is going to Mason and ur grandmother," as well as some sort of video. Mason is Harley's 11-year-old son. "What kind of man says this shit," she added.
In a later post, she wrote, "When your man goes all Rob Kardashian on you," with a laughing Emoji.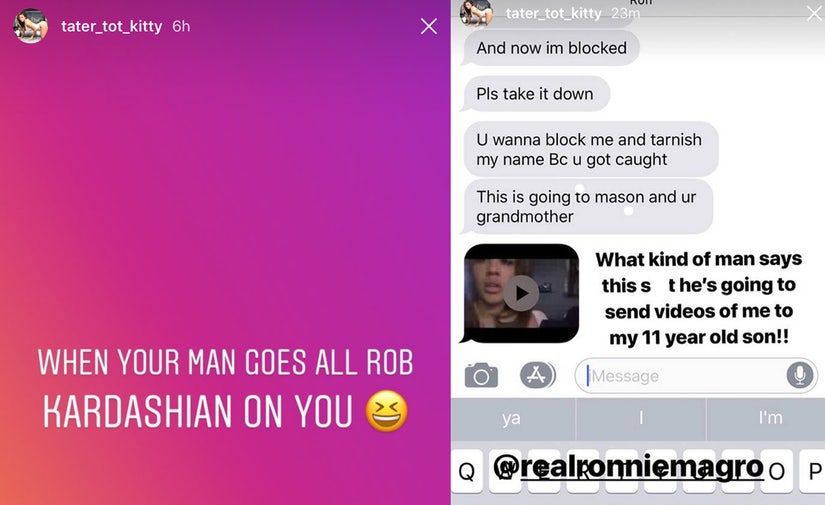 Instagram
Late Sunday night, Ron removed all his posts and apologized for his actions. "I want to apologize for earlier to my fans, and especially [Harley]. I acted on my gut and not rationally," he wrote. "I should've never acted in such a manor [sic]. My deepest apologies [sic]"
Harley hasn't responded to the apology, but she did remove all her earlier posts.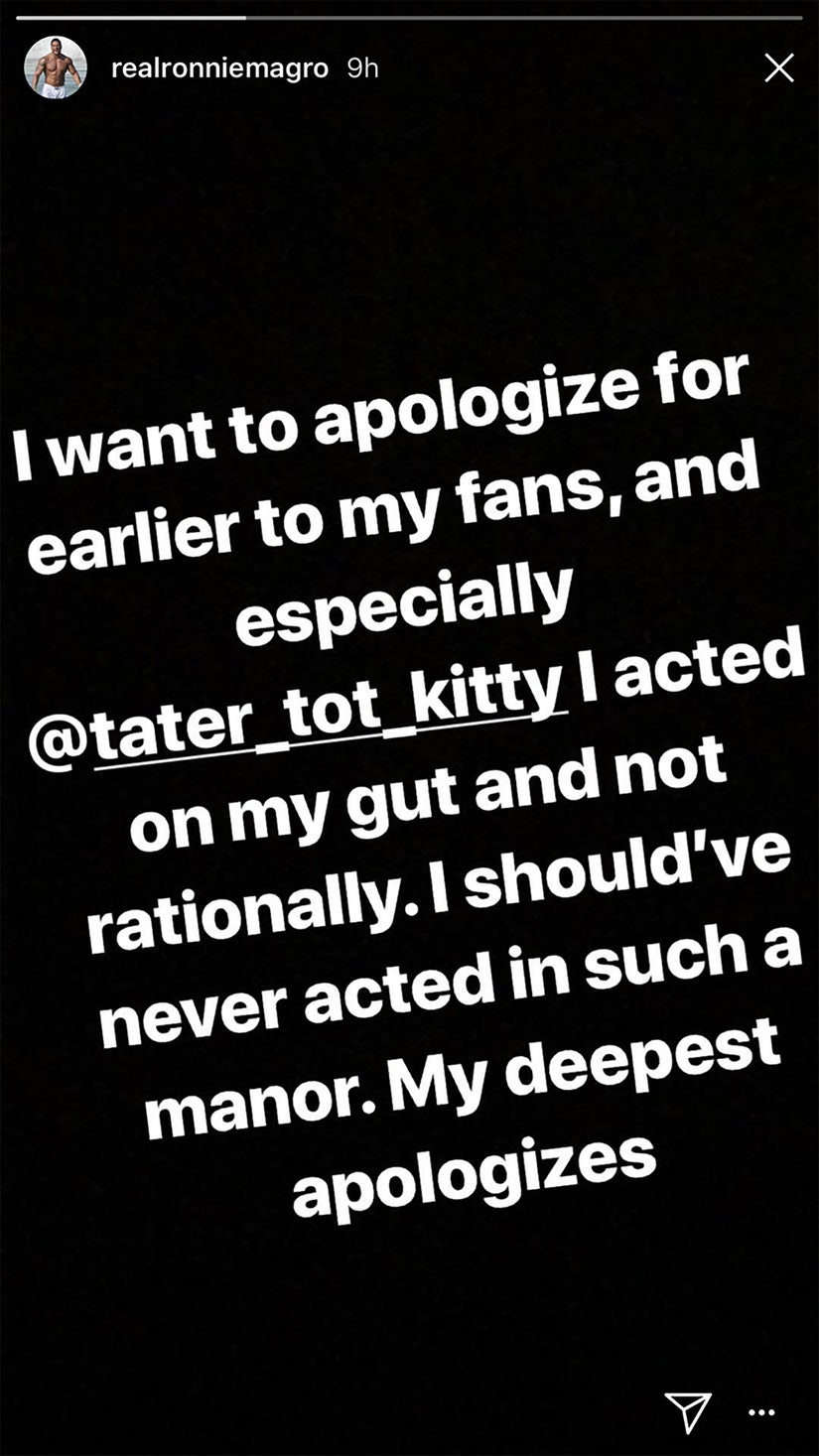 Instagram
Ronnie and Jen welcomed their first child together, a daughter named Ariana Sky, earlier this month.