The All-Pro NFL cornerback. The U.S. Olympic bronze medalist in figure skating. The first U.S. woman skater to land the triple axel in competition. Three athletes who know a little something about the drive and the passion that it takes to win. But only one of them could walk away with the Mirrorball Trophy in this season finale of "Dancing With the Stars."
If it seems like we just started this season, that's because we have. At only four episodes, this is the shortest season of "DWTS" there's ever been, and yet it's been enough time to really connect with these final three contestants in a whole new way. Tonya Harding seems to have claimed the redemption she sought, while Adam Rippon has found a new passion (and best friend), and Josh Norman discovered he could excel outside of his comfort zone.
It's unfortunate we won't get more time with them to see what they could have become in a full-length season, as all three of them have give us some very impressive performances over this short run. And that also goes for some of those we've already lost along the way.
Tonight, they were tasked with a final round of traditional competition, followed by a "Freestyle Round" that really allowed both the contestants and their professional partners to express themselves. And they were memorable. Let's just say, we got a rain-soaked sports anthem, a high-energy disco routine and something very unusual from "The Mod Squad."
Tonya Harding & Sasha Farber
It was a triumphant and joyous Tonya Harding who came out to tackle this Viennese Waltz. She'd been saying for weeks that she just wanted the validation of making it to the finals, and she got that. The joy filled the ballroom as she and Sasha sashayed across the floor beautifully. It's a simple and elegant dance that is far more complicated than it appears, but Tonya really was quite lovely in it. I loved the intricacies of the arms that Sasha choreographed, and how he kept the spotlight on Tonya's journey throughout -- with her as the last one to offer any movement, assuring eyes were on her as the number closed.
Josh Norman & Sharna Burgess
What an elegant dancer Josh has turned into over these four short weeks. He was totally in command during a lovely foxtrot, with a great carriage, lovely posture and his extensions were mesmerizing. Truthfully, I thought his footwork was a little crouchy and hoppy at times and there was a point where he lost concentration, his posture slipped and his arms just hung there during a turn. But these are minor quibbles, and we must remind ourselves that this is technically Week 4. In a regular season, Josh would emerge a dance beast. As it stands, he's still quite impressive.
Adam Rippon & Jenna Johnson
What a fun piece to end the first round of competition. "Anything You Can Do I Can Do Better" is a laugh riot of a song, and opening it up to a silly jazz competition between Adam and Jenna perfectly spotlighted their tight synchronicity and the strength of Adam's form. He wasn't quite as broad as Jenna with some of his extensions, nor were his leaps always as dynamic, but again this was a piece that if I'd been told these were both professional dancers, I would not have questioned it.
Judges Scores: 10, 10, 10
Tonya Harding & Sasha Farber
Can we talk about a 47-year-old woman doing front handsprings and being thrown around like a 20-year-old ballerina? Age ain't nothing but a number, and nothing is going to hold this woman back again. This was basically a victory lap for Tonya Harding. In her eyes, America has embraced her and forgiven her for the '90s scandal that destroyed her skating career, and she is triumphant. I love that she went with a high-energy and athletic disco number to wrap up her time on "Dancing With the Stars." Tonya is proving what she's capable of until the last note, and I applaud her for that.
Judges Scores: 10, 10, 10
Josh Norman & Sharna Burgess
Josh brought such energy and command to his final performance, that he absolutely drew your eyes to him throughout the dance. So powerful was his stage presence, I actually lost track of Sharna a few times, and this despite her bright red hair. He did slip in the strength of his movements, which was only noticeable because of how sharp he was throughout most of this piece. It's a negligible complaint for a beautifully-executed vision and an athlete that has progressed throughout this short season more than any of his competitors.
Judges Scores: 10, 10, 10
Adam Rippon & Jenna Johnson
What a strange dance to end their journey on, but it was certainly watchable. This one was more about the character of the piece than the technical prowess, and both Adam and Jenna fully embraced their unusual '60s mod, mop-top personas throughout. The choreography was so staccato and built more around visuals than technique, which I don't think was a great idea when it comes to a dance competition. But when America's voting, giving them something interesting to look at is certainly smart.
The overall scores from the judges couldn't have been closer, so more than likely it was America who made this final decision ... and they were probably just as torn. Tonya's redemptive arc was an emotional journey filled with powerful performances. Josh experienced monumental growth in his technique and style in four short weeks. And Adam shared a chemistry with his partner from Day One that in many ways made him the one to beat from the beginning.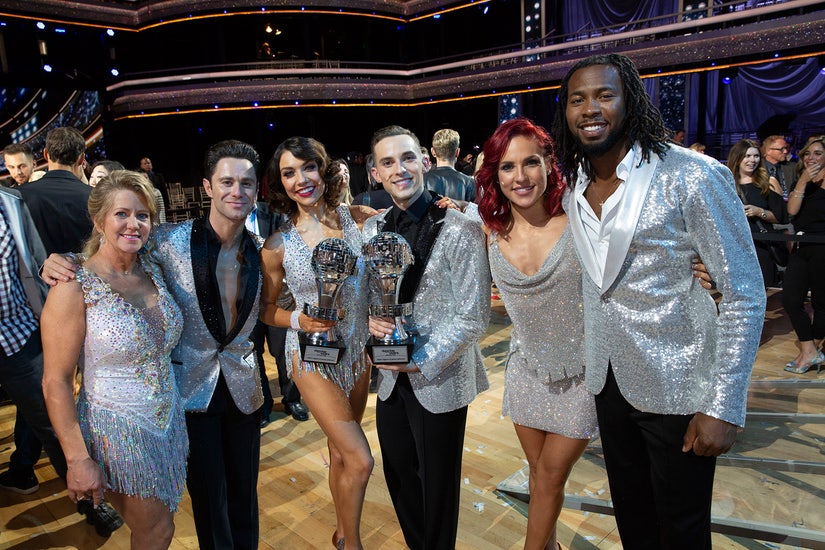 ABC
In the end, he proved unbeatable after all. After triumphing with a bronze medal at the Olympics, it had to be gratifying to follow that up with a First Place finish on "Dancing With the Stars." On top of that, this is only Jenna's second time competing as a professional on the show, after a 13th place finish in Season 23. Not too bad for her sophomore effort!
"Dancing With the Stars" returns in the fall for what should be a full Season 27 on ABC Monday nights. In a double-dose, it will run concurrently with a special "Dancing With the Stars" Junior" edition on Sunday nights.