Gracing the cover and opening up about her career in the accompanying profile, the "Game of Thrones" star was all kinds of candid about the final season of the HBO series, the drama behind the scenes on her latest release and just how rough it was working on a disastrous "Terminator" film.
The End of "Game of Thrones"
Daenerys Targaryen's rule over our Sunday nights will soon be coming to an end, as Clarke's run on HBO will wrap up in 2019 with the show's final six episode season. While Emila still has some work left as the Mother of Dragons and Breaker of Chains, she revealed she has already filmed her character's last moments on the show. "It f-cked me up," she teased. "Knowing that is going to be a lasting flavor in someone's mouth of what Daenerys is ..."
"I'm doing all this weird shit," she added. "You'll know what I mean when you see it."
Some of that "weird shit" could include Dany's romantic relationship with Jon Snow, who's her nephew on the show and is played by her good off-camera friend Kit Harington. "If you've known someone for six years, and they're best friends with your girlfriend, and you're best friends with them," Harington told the publication, referring to Clarke's deep friendship with his fianceé, Rose Leslie, as well. "There is something unnatural and strange about doing a love scene. We'll end up kissing and then we're just pissing ourselves with laughter because it's so ridiculous."
Her "Frigging Stupid" Hair
The actress recently dyed her hair Dany-blonde, and, after enjoying time incognito as a brunette, she quickly realized it wasn't a great idea.
"I did this, which was frigging stupid," she said of her bold new 'do. "I got to a point where I said I just want to look in the mirror and see something different. So I was just like, 'F-ck it, it's the last season. I'm going to dye my hair blond.'" The writer notes she "immediately felt remorse" and bought 9 baseball hats to cover up her lighter locks. "But they don't go with your outfit, so I don't wear them."
Clarke admitted that fans don't tend to notice her when she's "goofing around" with her friends, but "sometimes, if I'm in a really bad mood, people are like, 'Khaleesi!"
That Failed "Terminator" Movie
Clarke took over the Sarah Connor role in 2015's "Terminator: Genysis," a movie that was supposed to reinvigorate the franchise but ultimately failed to deliver big bucks at the box office or any critical acclaim.
The film, which also starred Arnold Schwarzenegger and Jai Courtney, was directed by sometimes-"Game of Thrones" helmer Alan Taylor, who Clarke said was "eaten and chewed up" while working on the movie. "He was not the director I remembered. He didn't have a good time. No one had a good time," she noted. The actress added she was "relieved" when the movie sunk at the box office, so she'd be free from appearing in any sequels.
Clarke added that the crew on "Fantastic Four" -- which had its own disastrous production issues and filmed nearby -- joked about how bad the stories coming out of her set were by donning jackets reading, "AT LEAST WE'RE NOT ON TERMINATOR."
Clarke's first foray to a galaxy far, far away was plagued with its own problems, with directors Phil Lord and Christopher Miller getting axed from the film before being replaced by Ron Howard. According to Clarke, Howard totally "saved" the project. "I'm not gonna lie, I struggled with Qi'ra quite a lot," she said of her time before Howard came aboard. "I was like: 'Y'all need to stop telling me that she's 'film noir,' because that ain't a note.'"
"When it comes to that amount of money, you're almost waiting for that to happen," she said of the film's woes. "Money f-cks us all up, doesn't it? There-s so much pressure. Han Solo is a really beloved character. This is a really important movie for the franchise as a whole. It's a shit ton of money. A shit ton of people. A shit ton of expectations."
"All hail to [Lucasfilm president] Kathy [Kennedy] for hiring Ron," she added, saying he calmed her worries by having a private dinner with her before they started filming again. "I know for a fact he had that discussion with everybody. I think we all came to set feeling like his favorite. It makes for a really happy load of actors, with our egos."
"Solo: A Star Wars Story" hits theaters Friday -- see some of the buzz around the film below!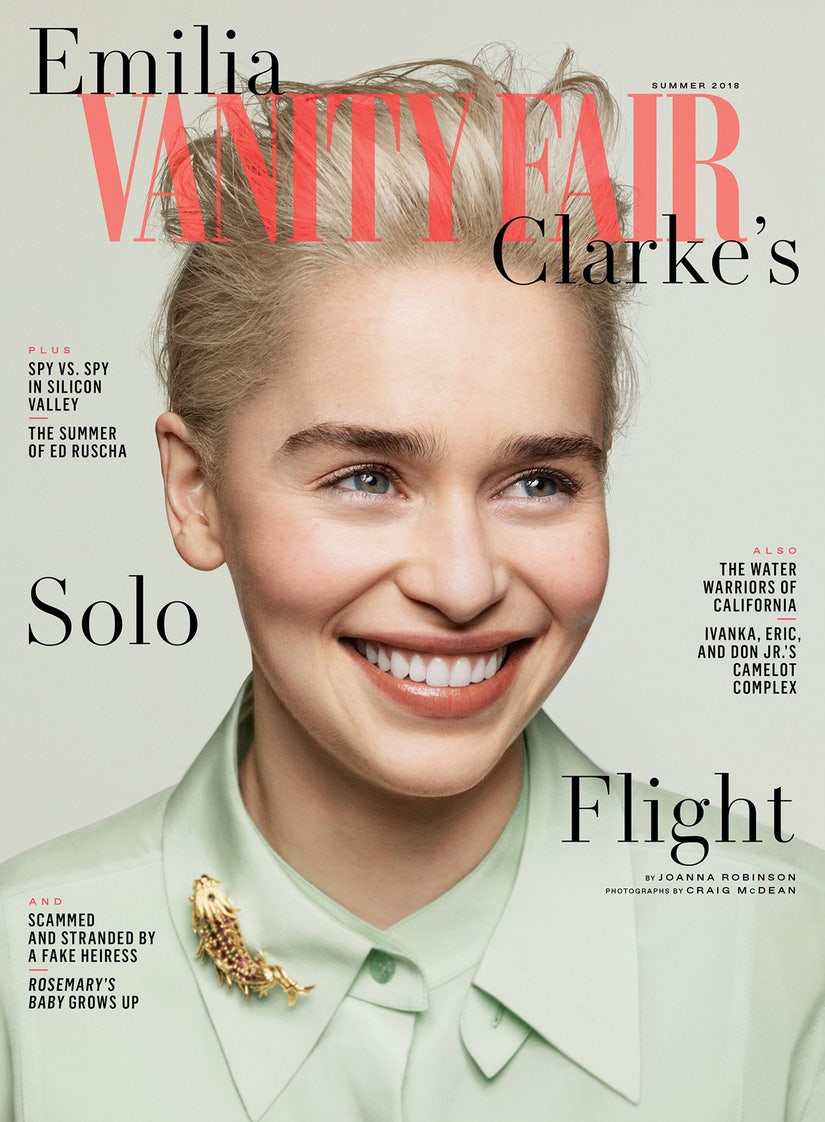 Craig McDean for Vanity Fair