Mary Kay Letourneau and Vili Fualaau marked their oldest daughter's 21st birthday with a special on A&E, updating viewers on the fallout from one of the most shocking scandals of the '90s.
It's been over two decades since the then 34-year-old teacher started up a sexual relationship with her then 13-year-old student. She served seven-and-a-half years in prison before she and Vili shocked everyone by marrying after she got out. Speaking out in a new "Autobiography" episode Tuesday night, both Mary and her husband addressed everything from their first time to what it was like for Letourneau behind bars.
Keep reading for the 7 wildest takeaways from their new interviews:
She Still Doesn't Think She Did Anything Wrong
Throughout the special, Letourneau continued to defend her decision to have sex with a 13-year-old boy, claiming she didn't know she was engaging in anything illegal. The worst thing she thought she was doing? Cheating on her then-husband, Steve, with whom she shares four children.
"I took a guilty plea because my attorney told me I should. It's pretty hard to say crime, but I pled guilty to crime I guess," she said, tearing up. "I did not have to plead guilty. I could take it to trial, but the goal was end the drama, quickly, for everyone. Who cares if I have a conviction, just end it. It's not about me, it's about ... sometimes it's over people."
She also blamed the media for making the relationship sound more salacious than she thought it was. "First of all, I was a teacher and Vili was once a student, but we weren't, there wasn't anything going on at all when he was a student of mine," she clarified. "The summer after we were together at community class, prior to that, the year before he was a student of mine. The make believe is that this was a teacher-student relationship, it never was."
"Vili at the time should have been going into eighth grade," she added. "I believe I saw in the records he did kindergarten twice. So he was older than the students in the class."
But at the end of the day, he was still 13 when it got sexual and that's against the law. When the allegations were made public, she was suspended from her job and it's only then that she says she started to realize the severity of what happened. "I was suspended and all of a sudden, it doesn't look good for me," she said. "I'm married still, even though I was in a separation period, that's really not OK. I didn't imagine I would need an attorney. I didn't imagine there were criminal consequences. I didn't know that I needed an attorney, get it?"
Vili went on to call their relationship "a real love story," while Letourneau said she's not sorry "he's the father of my children" and "the man of my life."
P.S. When it comes to other teachers who rape their students, Letourneau said they should know better, thanks to her. "Truth is, I don't know their stories. I don't know what really happened," she said. "It's just, that any teacher after what happened to me would go there, at least I can say I did not know that it was a law and you knew. After my case, you knew."
"While he was a student, there wasn't any relationship between us that was crossing any lines, at least not on my part," said Mary. "I do remember I felt he was crossing a line. I could tell he was looking at me, I said, 'I'm not meeting those eyes, those are scary right?' Oh no, that can never be acknowledged."
She said he did "corner" her and express his love. "I said, can you hold that for a long, long, long time? Can you hold that?" she recalled. "And I guess what I meant was that, I kinda like you too. But it's not OK right now. I thought I said the right thing. I guess not."
In the summer of '96 they both went to the same community college for courses, and they started hanging out together more and more. "We went out to eat and then after we ate, we were in the car and all I could think about was kissing her," Vili said of their first kiss. "I asked her, 'What would you do if I came over and gave you a kiss?' She said something like only a coward would ask. That was my green light to give her a kiss and that's what I did."
"Back in the day, I accepted the kiss. I did," Mary admitted. "But he wasn't my student when that happened. For some reason, the kiss seemed very right. Maybe I am just naive in that area of life. Maybe it could have stayed just a kiss. I always thought, what if it could have."
They'd have sex for the first time at Letourneau's home when Steve was out of town. "We were watching a movie and everyone had gone to bed and I asked if she could stay with me until I fall asleep," Vili explained. "We've already had kissed, on the couch cuddling and one thing kind of led to another and that was that. I had never had actual intercourse before. That was my actual first."
How Mary's First Husband Reacted
Mary Kay's first husband, Steve Letourneau, threatened Vili when he found out about the affair.
"He came to my house and confronted me about it and told me if I don't want my mom knowing about this or anyone knowing about this, it was going to end," Vili explained. "I was worried about everything, about Mary, myself and I said OK, I don't want this to get out anywhere. The fear of my mom's reaction and the thought of everyone being affected by it was one of my biggest fears, so I said, for the better of everyone, OK. It was kind of devastating."
Mary added that it "was a very hard thing" for her to tell her parents that she and Steve would split and she was pregnant with someone else's child. "After I came back from a meeting with my parents, here comes Steve Letourneau and he said, 'I just met with our divorce attorney and guess what, you can be charged with a crime, did you know that?'" she added. "I said there's just no way, no, its not possible."
It was. Mary was sentenced to 89 months in prison in November 1997 after pleading guilty to two counts of second-degree child rape. She gave birth to the couple's first child before starting her sentence.
Why She Went Back to Prison
After 80 days behind bars, Mary was released on parole, under the condition she stayed away from Vili. She didn't. Instead, she was arrested again in February 1998 after they were caught together in a car.
"Of course I wanted to see him, he's the father of my newborn child. I love him and he was waiting for my call," she said, explaining why she initiated contact after being released. She also said that she was trying to talk Vili out of her car before police showed up. "He just really insisted -- he's an insistent person, he certainly is," she added.
She became pregnant again while out on parole.
"I was pretty upset that I didn't get to say goodbye," said Vili. "She was going away for a long time and I didn't know if I was going to ever see her again."
What It Was Like Behind Bars
After getting picked up again, Letourneau was forced to complete the rest of her original sentence behind bars.
"They said, what about prison, is it horrible? Of course, it's supposed to be," she said. "It's supposed to be a deprivation place. My children call it the far away place, 'Mommy's at the far away place.' It's not a good place to be for a woman. You really have to have the discipline to stay entirely healthy, but it's a community in there. Inside those walls."
Though they were not supposed to communicate with each other, they found secret ways to do it. "I got some good behavior time ... I lost some time too, apparently for sending messages out on breastmilk bottles," Letourneau admitted with a laugh.
Vili added, "She communicated with codes that we had shared with each other on breastmilk ... little number codes."
After about six months in prison, she was able to get visits from her children. While her two daughters with Vili visited with his mother ever two weeks, her four children with Steve -- who relocated to Alaska -- came "periodically."
About two weeks before she was released, Mary said her two daughters with Vili visited and sang a "Hawaiian proposal song" for their dad. Her reaction: "I think that's for daddy to ask."
Why They Got Hitched So Fast
Letourneau was released in August 2004 and had to register as a sex offender. While there was still a no-contact order in place, Vili was 21 and asked to have it overturned.
"It was to not get married right away but to see if things still worked not now that I'm older and a little more emotionally, mentally experienced," he said of the decision. "She got out of prison and I asked her to marry me right away, so nothing went as planned." He proposed with the same Hawaiian song their daughters sang Mary in prison.
"I knew that my kids would have both their parents in a house and that was something I didn't have and I wanted them to have that experience," added Vili.
Despite the nasty split from their father, Mary's kids with Steve would visit regularly. "My oldest children, they've come to know Vili and they've always known me. In the first years, they wanted to be together. I felt very blessed," Mary added.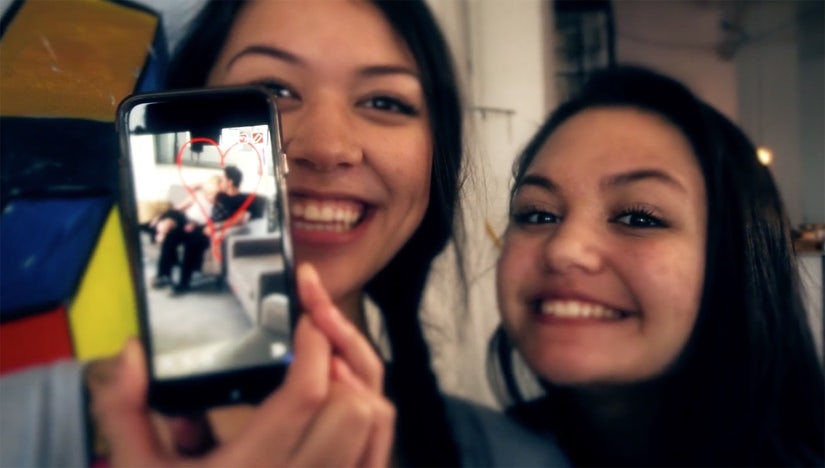 Letourneau and Fualaau's daughters/Courtesy A&E
Vili and Mary's oldest daughter, Audrey, just celebrated her 21st birthday on May 29, while Georgia will turn 20 in October. "Mary and I both told them the story probably once a year," Vili said. "I don't think they understood at the time, they just looked at us both as that's mommy, that's daddy. I don't think they clearly understood why there were cameras around. But now that they are of age, they graduated, they got a clear picture of what happened."
Fualaau currently works as a DJ and hopes to go back to school and get a diploma. Mary works as a paralegal, joking, " I know the court rules because I was in solitary confinement and had to memorize them."
When the interviewer asked Vili why he filed for separation in May 2017, a voice off-camera -- one which sounds like Mary's -- said, "We're not talking about that."
"She's living in hope. Mary wants this relationship to work," a friend said of the separation talk. "Vili's in his mid 30s, Mary's in her mid-50s and you just have to relate it to anyone else you know and their relationship issues. Mary's hopeful. She loves Vili. There's absolutely no question about that."
Another friend added that they're in counseling and still living together, "working on their problems."
"There is a labor in love, just saying," is all Mary had to say. "Anyone that's making love work in a marriage, it's work."