The new Paramount Network series "American Woman" was filmed long before the #MeToo and Times Up movements took over the cultural conversation, but tackles both topics in a way star Jennifer Bartels hopes empowers the audience at home.
Bartels -- who joins Alicia Silverstone and Mena Suvari in the series inspired by Kyle Richards' upbringing -- stars as Diana, a woman trying to climb the workplace ladder as she battles discrimination and harassment in the incredibly sexist '70s. Silverstone's character, loosely based on Richards' mother, also finds her footing as an independent woman after her marriage falls apart in the pilot.
"I think the conversation became a wider, more public conversation last year and as a woman, as an actress in Hollywood, as someone that has come up with my own battles with harassment in the workplace -- not even as an actor, but when I was waiting tables back in the day -- to see all of these women stand up for themselves in different ways and find their voice, I think it's an empowering show, especially in this climate and maybe it sparks more conversation," Bartels told TooFab.
"To have three strong women that you look back and you go, because of women like that in the '70s, the working woman that maybe did get sexually harassed or was looked over but kept pursuing what she wanted and wasn't married and wasn't tied to a man in a time when you needed to be tied to a man to be respected in a way, I think these 3 women show you that we can, we've come a long way," she continued. "We have a lot farther to go but it started somewhere and that second wave of feminism, we slowly weave that into our show, I think very beautifully."
For Bartels, who considers herself both a "Real Housewives" and "Clueless" fan, getting the chance to work with the "Real Housewives of Beverly Hills" star and Silverstone on the series has been a dream.
"I love the Housewives. I think that they're just a strong bunch of women and I've been a big fan since New York. So, I knew about Kyle and when I knew she was attached to this project it was even more enticing," she explained. "I'm actually going to have dinner with her right now and I'm like, 'This is so cool!' She's so down to earth. I'm a girl from North Carolina, just an actor trying to make it and this is just a wonderful ride."
Bartels also commended Richards for keeping it 100. "I think that the reason fans really gravitate towards her is because she keeps it real," she continued. "Who you meet and who you see on TV are a similar person. There is not a big facade or front. She keeps it honest ... she's pretty the way you think she is, in a good way. I love meeting people that deliver that and you don't meet them and you're like "Aww, man."
Waiting for your permission to load the Instagram Media.
Bartels recently shared a throwback photo proving how long she's been a fan of Silverstone, who she saw in "The Graduate" on Broadway back in 2002.
"I'm someone who's just like, 'This is how it is guys,' because I'm for other actors and women, and people to see like everyone gets here a different way," she said of why she shared the photo. "I watched her on that stage and was the biggest 'Clueless' fan and saw her take Broadway and I was always like, she seems so cool, and now I was texting with her earlier and I'm like, 'Man, that's awesome.' Just really special. I'm cool about it, but it's cool."
"American Woman" premieres Thursday night on the Paramount Network. Read the rest of our Q&A with Bartels below!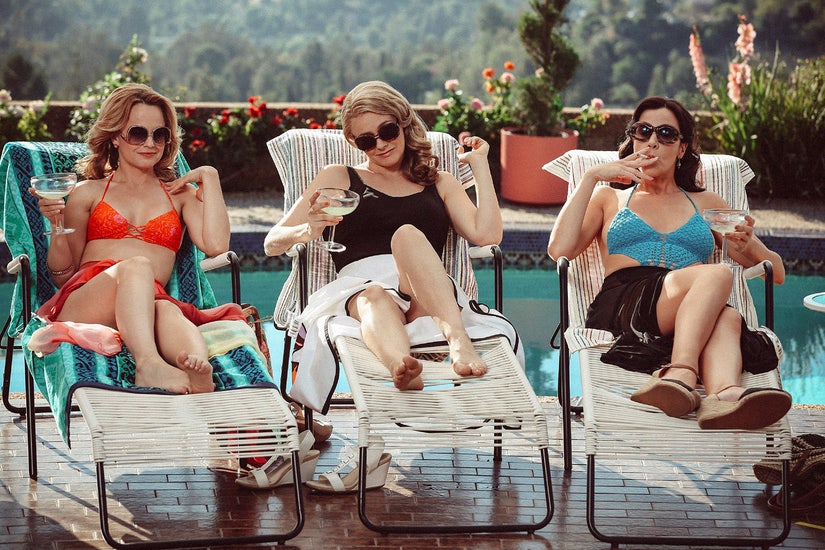 Paramount Network
How did this project come to you and what was the audition process like? We know you guys did the pilot back in 2016.
Yeah, we shot the pilot at the end of 2016 and I'd just come off this show that I did for ABC digital and I was kind of, just like, I don't know what's next and then I got this audition and Alicia was already attached, it was loosely based or inspired by Kyle Richards' journey and I was like, "OK, sure." You try to stay positive but it's a hard industry. So, I went in and I read and it actually went really well and I felt really, I loved that it was about three strong women and I loved that it was in the '70s and I got to test for it and read with Alicia and I was like, "Aw man, I hope this happens." So it's wonderful that it did, it's a real dream come true for an actor.
In the third episode your character kind of fangirls out over a rocker at a party, is there anyone that you would kind of lose your cool over if you met them?
One of them I was so privileged to meet before he passed was Robin Williams. Coming from a comedy background he stopped in and we did a show at UCB when I was performing onstage and he popped in and did a set with us. Like an improv set. It was one of the most magical experiences. So it's, my life has been as everyone's, up and down but that was one of the coolest things. So I would say Robin Williams, or Chris Farley. Those are my two favorites.
Your character also has a pretty wild party moment in that same episode, involving you in a bikini on the roof at a party. What was your reaction when you saw that in the script?
I was really proud. It was exciting to see. I had to trust that the writers got to know me more and saw that I've done a lot of improv and I think that coming in as the new face of the trio, I think you write to what you know and then I think they got to see me and there was a trust that was built on both ends and so to get to go on a roof and have a little fun with it and really lean in to this situation was so wonderful. And then the way it was shot, I thought was beautiful. And there's an underwater scene and it's cool and it's wild. And I think what's interesting is that it's 2018, I'm sure there's wilder things, but when you think about that it's 1975 and this woman is doing this and there's free love and free drugs, there's just this crazier party style that we leaned into for the '70s and I feel great about it."
What do you hope fans do take away from the show and what are you most excited for them to see?
I think it's to see the strengths of a friendship and surrounding yourself with people, especially women, because in society a lot of times women are pegged against women for status or looks and there's just so much pressure and so I think when you surround yourself with strong women that uplift you, it allows you to go farther. I think these three women, they're so different, as the show developed and moves forward it's so far from the pilot in such a rich way. So I hope that people see that when you're surrounded with strong people you can feel empowered. It's about who you surround yourself with and I think it's just their strong female friendship that is so important to me because sometimes it's rare.