Kat Von D knew she wanted a red wedding from day one, but not in the "Game of Thrones" kind of way. The tattoo artist and husband Leafar Seyer went all out for the gorgeous, goth nuptials and now, their wedding look designer is spilling the details on what went into their unforgettable ensembles.
Majesty Black designer Joshua David Reno worked on both the bride and groom's outfits for their big day, after being first recruited by Kat in mid-March to create her crimson dress and matching headpiece. About a month later, he was approached to also make a custom suit for the groom.
"To design for artists who are this fashion savvy and have their own unique and amazing style is a challenge and also an amazing honor for me personally as I look up to them both in many ways," Reno told TooFab. He added that he and Kat have known each other for years, making her gloves, hats and other pieces for her in that time. He first started styling for her when Majesty Black did wardrobe and styling for the 10 year anniversary campaign of her beauty line.
"We met and reviewed her inspirations," he added of their first meeting about the wedding. "I remember Kat wanted to have a headpiece with antlers and had reference images of details and silhouettes she liked. From there it's up to me to approach the look from a unique point of view and to offer a design that is completely original adding my viewpoint as an artist and designer."
"From the beginning the dress was always red," he explained. "There were no second thoughts about this at all. Kat knows what she wants and is very discerning regarding her personal style and how she expresses herself."
The wedding was put together in only two and a half months, and the dress was always considered a "rush order." Designer Adolfo Sanchez was also hired to create an alternate gown and veil, based on Reno's original design, and while she didn't go with his look for the wedding, Kat still used the veil he crafted. "I think he did an amazing job at his interpretation of our original design in such a short turnaround time," Reno added.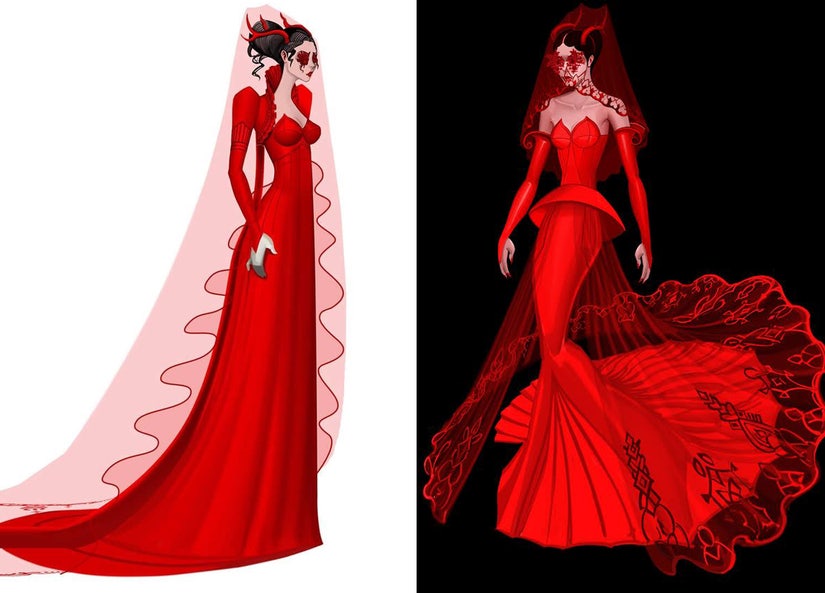 Paressi Labitan for Majesty Black
With the color of the design never changed, the cut of the dress did after Kat learned she and Leafar were expecting a child together.
"Yes, we originally had submitted this image as a first design option," he said, referring to the photo on the right. "Shortly after Kat confided in us the amazing news of her pregnancy and looking at the timing of things, we had to quickly rework the design for this purpose. We are close friends as well."
The final product was a gag-worthy red gown that the internet went wild over, with some -- including InStyle and Racked -- comparing the look to Lydia's dress at the end of "Beetlejuice."
"I heard many other comments and comparisons beyond Beetlejuice, and I particularly preferred the people who compared it to [art deco artist] Erte," said Reno. "I just want to say that I think it's first instinct as humans to instantly draw associations or past connections when first viewing, relating and ultimately judging things. It's part of our mental process and it's this process that I feel really gets in the way of how we perceive art and fashion. If we could approach design and art with an open mind we can really see the true nature of the piece."
"In the end, this is an original Majesty Black Design and for people who are familiar with our brand they also can recognize my personal touch and point of view is there for all to see," he added.
Reno said the entire event turned out to be one of "the most beautiful and iconic weddings of Hollywood's history," something he was thrilled to be a part of. "What matters most to us is that Kat looked and felt beautiful the day of her wedding and that she did."
Of the happy couple, he added, "Kat does everything with such a wonderful and spirited passion and Leafar too. That is why they are so perfect for each other, don't you think?"
They certainly are! See more of Reno's sketches for the main event below.