Terry Crews' allegations of sexual assault took center stage in two dramatically different ways early Tuesday. As he was preparing to testify before a Senate Judiciary Committee on behalf of sexual assault survivors, both 50 Cent and Russell Simmons were mocking his story.
50 Cent started things off by posting an Instagram picture of Crews looking ripped with the words "I got raped" and "My wife just watched" plastered on it. Below that was an image of Crews labeled "Gym time." He captioned the image, "What the f--k is going on out here man?" followed by a quote from Crews when he talked about why he didn't react physically.
Response to 50 Cent's Instagram post was varied, with many expressing outrage and disgust or even urging the rapper to take down the post before it gets him into trouble. Russell Simmons, though, kept his response short and sweet, simply posting a laughing emoji in support of the image and its derogatory message.
This is exactly the sort of thing Crews has been speaking out against, and that dismissive attitude to men's victimization is one of the top reasons that men don't report sexual assault. Yes, Crews is a large and muscular man but that doesn't mean he can't be a victim. Choosing not to respond in violence was the right course of action, according to Crews.
I asked @TerryCrews why he didn't use his considerable strength to fight back when he was sexually assaulted. His answer is a powerful reminder of how victims are too often forced into silence to avoid damaging their careers or reputations. We need to hear the truth. pic.twitter.com/8xSxnhXj91

@SenFeinstein
He even addressed the very thing 50 Cent was harassing him about in his testimony when Sen. Dianne Feinstein asked him directly why he didn't fight back, considering his size and strength. He recalled all the young black men from his hometown of Flint, Michigan who'd reacted with violence when provoked, noting that most of them wound up dead or in prison. He credits his wife for "training" him to find a different way.
While 50 Cent and Russell Simmons were using crude humor to try and tear him down, he was standing up for all those who've been silenced by powerful men for too long. "When you look at the culture with men not holding other men accountable, it turns into something that no one wants: A community that totally looks the other way while men, women, and children are being raped," Crews said during the Senate hearing.
Instead of lashing out when he was allegedly assaulted by an industry heavyweight, Crews told his agency, filed a lawsuit and has subsequently gone public with his story, joining the #MeToo movement as one of its few male voices.
The "Brooklyn Nine-Nine" star has also spoken out against what he calls "toxic masculinity," which he admitted to suffering from in the past. It's an attitude that encourages men to be violent and aggressive, as well as repressing emotions like compassion and sympathy.
That kind of repression can lead to abhorrent behavior like making insensitive posts about victims of sexual assault. You can see 50 Cent's post and Simmon's response below.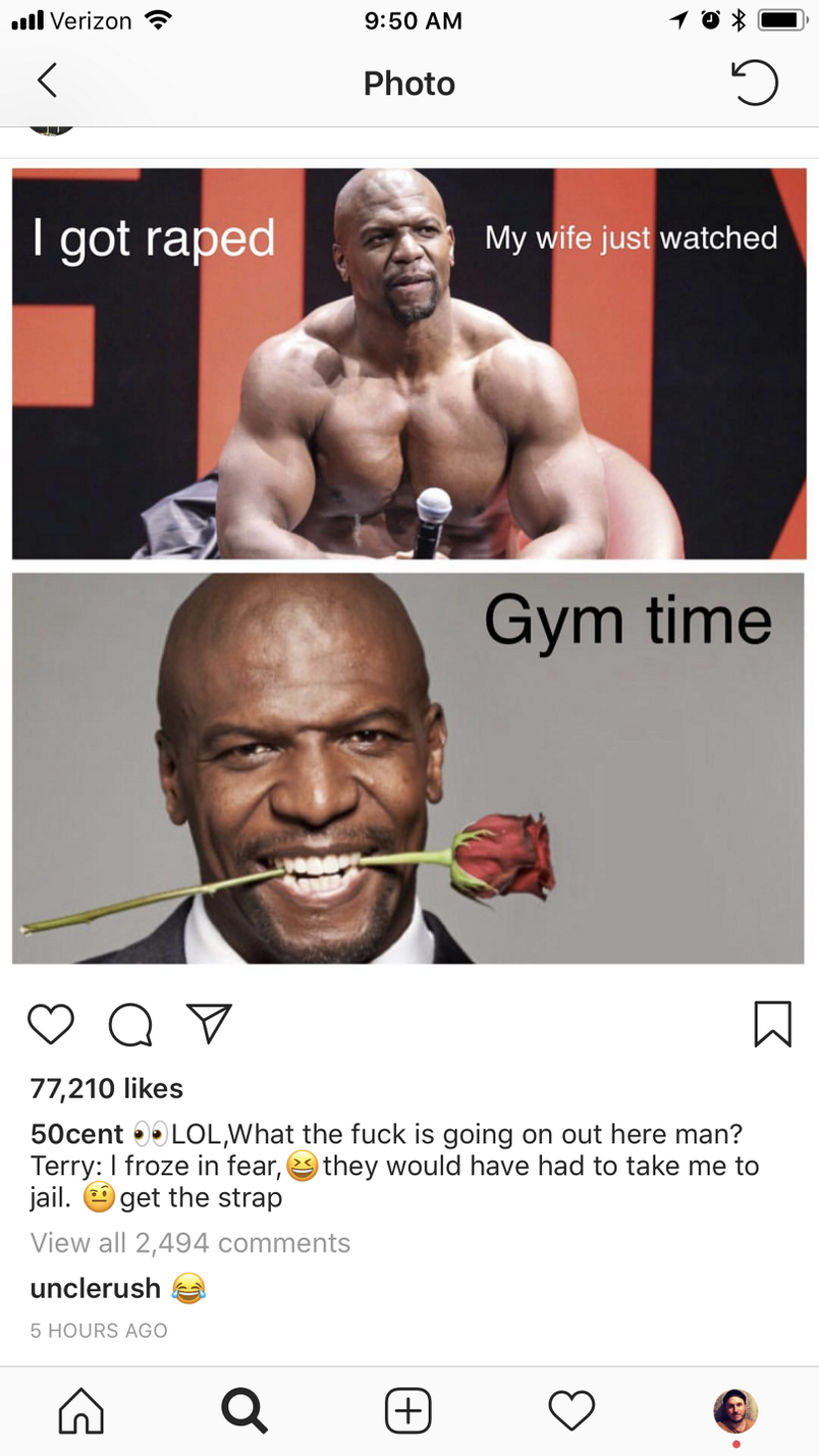 50 Cent/Instagram