Kylie Jenner's face looks dramatically different these days, and she just revealed why.
On Sunday, the 20-year-old reality star and makeup mogul shared two photos of her and her BFF, Anastasia Karanikolaou (a.k.a. Stassi) -- and as one fan pointed out, Kylie appeared to look "like the old Kylie."
"I got rid of all my filler," Jenner replied to the fan along with two wide-eyed emojis and a smiley face. Her comment received almost 80,000 likes and nearly 2,000 comments, most of which were in support of the new mom's more natural look.
Waiting for your permission to load the Instagram Media.
Waiting for your permission to load the Instagram Media.
Kylie has always tried to remain mum on the subject of what cosmetic procedures she's had done to her face and body, but in May 2015, a 17-year-old Kylie admitted she had enhanced her lips with temporary fillers. In September 2017, she revealed why.
"I was 15, and I was insecure about my lips," she said during an episode of her "Keeping Up with the Kardashians" spin-off series, "Life of Kylie." "I have really small lips. And it was like one of my first kisses, and a guy was like, 'I didn't think you would be a good kisser because you have such small lips.' I took that really hard."
"Just when a guy you like says that, I don't know, it just really affected me," she continued. "I just didn't feel desirable or pretty. I really wanted bigger lips. I would overline my lips with lip liner just to create the illusion of bigger lips, and then finally, I was like this lip liner isn't doing it, [so I] ended up getting my lips done."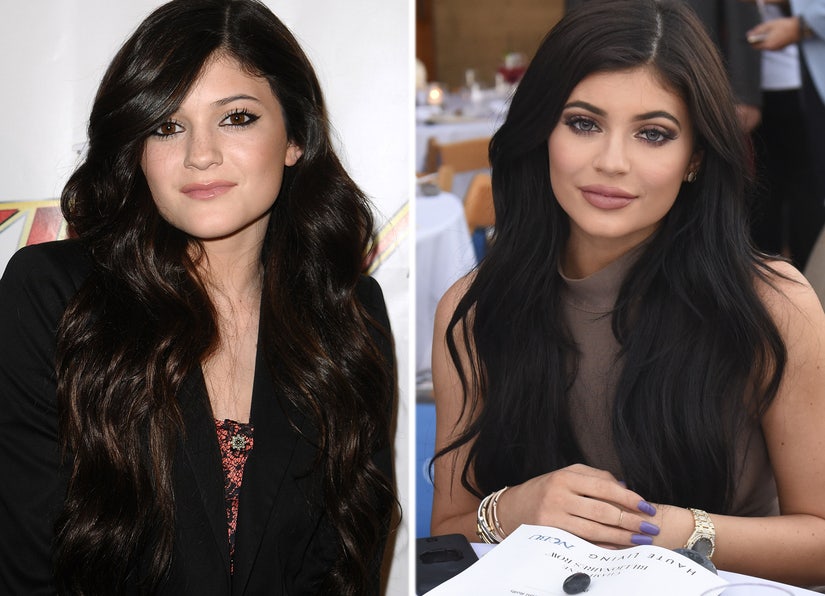 Getty
Fans have since speculated about other procedures Kylie has undergone -- including a nose job, jawline reconstruction, breast augmentation, a Brazilian butt lift and fillers around her hips -- but she's never confirmed anything aside from lip fillers. In May of this year, she admitted that she's not currently pursuing any other plastic surgery procedures.
"I feel like if it makes you feel better and if that's what you want to do, I'm not against it," she told sister Kim Kardashian in an interview for Evening Standard magazine. "Right now, I probably wouldn't do anything, actually."
Waiting for your permission to load the Instagram Media.
But Kylie has made a killing off her desired lips and nearly perfect face.
In November 2015, an 18-year-old Kylie ventured into the business of makeup, launching the $29 Kylie Lip Kit -- a liquid lipstick with matching lip pencil -- which immediately sold out. As of September 2017, Kylie's Lip Kit sales have earned her makeup company, Kylie Cosmetics, $420 million in sales. According to WWD, Kylie Cosmetics is projected to rake in $1 billion in lifetime sales by 2022.