Here's a video from 2009 of Hailey's dad, actor Stephen Baldwin, introducing his 13-year-old daughter to Justin Bieber at what looks like a show or event of his. In 2009, Justin had just released his debut EP, "My World," and was sporting the famous Bieber bowl cut.
"My name's Steve Baldwin. How's it going, bro? This is my daughter, Hailey," Stephen is heard saying in the video below. "We've been enjoying your music." Hailey is visibly shy but shakes her future fiance's hand anyway.
"I just met Stephen Baldwin," Justin later says to the camera. "Really cool dude. Just gave me this video that he produced. It's awesome!"
Watch two versions of the video below.
Twitter is a beautiful and scary place, filled with endless reminders of just how awkward and embarrassing you were in 2011 -- and Hailey Baldwin is no exception.
Unfortunately, Hailey has deleted some of her tweets. Fortunately, screenshots are a thing (see in the PopCrave video above).
Here are all her tweets from the era of early Biebs:
August 28, 2011: "@justinbieber why are you holding a snake ...? ... I think u need to loose the glasses.... but I love the shoes lol"
August 29, 2011: really cool of u to publicly thank God and Jesus in ur speech!"
October 3, 2011: "@justinbieber ohhhhhh yeahhhhh Brazil yeahhhhhhhhh!!! You will love it"
October 17, 2011: "@justinbieber #MISTLETOE is #1 on iTunes! Congrats!!!! :)"
November 23, 2011: "@justinbieber great seeing you today. You were really really good, enjoy ur thanksgiving!"
January 1, 2012: "@justinbeiber happy new year! U had a great performance tonight!"
January 27, 2012: "@justinbieber can we just talk about your dark hair for a second... #itlooksreallygood"
February 10, 2012: "@justinbieber are you ever gonna instagram again? Or..."
March 26, 2012: "@justinbieber boyfriend is such a good song! Already to number 1 on iTunes, that's amazing! #BOYFRIEND"
Not only was Hailey team Justin, she was also team Selena Gomez. The now-21-year-old was such a big fan of "Jelena" -- as the pre-teen couple was known -- that she thought they'd last forever. She also convinced herself she'd be "forever alone." Anyone else see the irony in this?
"I'm for sure 100% team #Jelena," Hailey tweeted on May 27, 2011. On Sept. 23 of that same year, she posted, "I don't care what anyone says but Justin Bieber and Selena Gomez together is the definition of a teenage dream! #word."
Responding to a fellow Selenator on January 7, 2012, Hailey tweeted, "She is beyond flawless and he's ya know he's Bieber. They are the perfect relationship.. -___- forever alone." The following month, Hailey posted, "I gotta say I was really looking forward to seeing what color coordination Jelena was gonna do for this years VF party.. #sign #ohwell."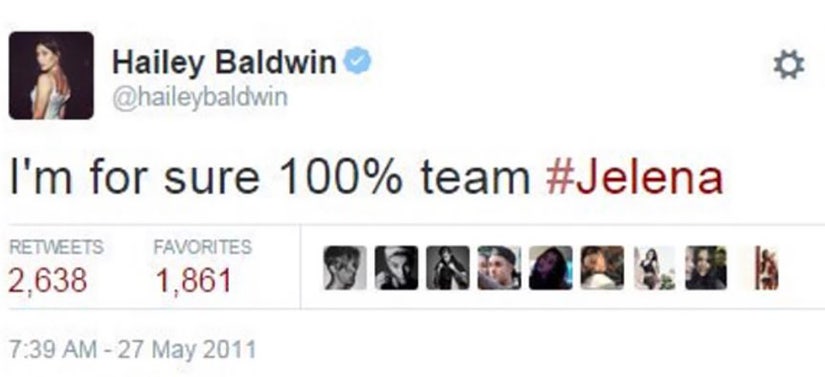 Twitter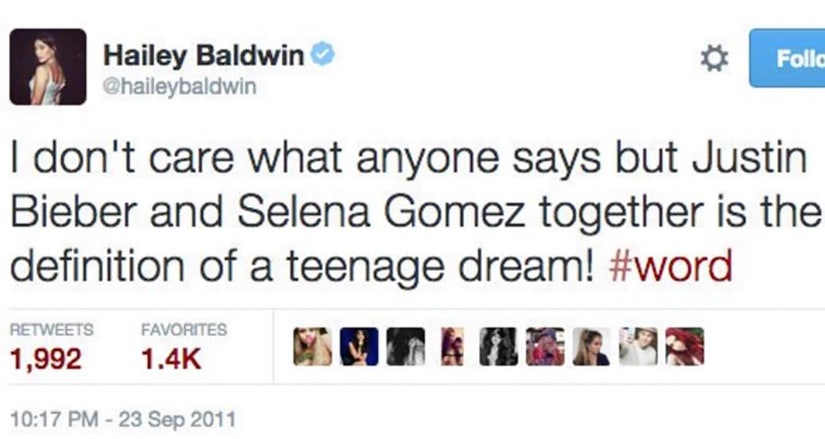 Twitter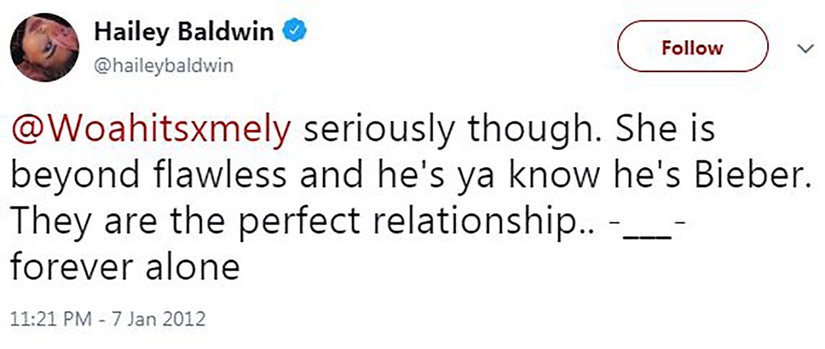 Twitter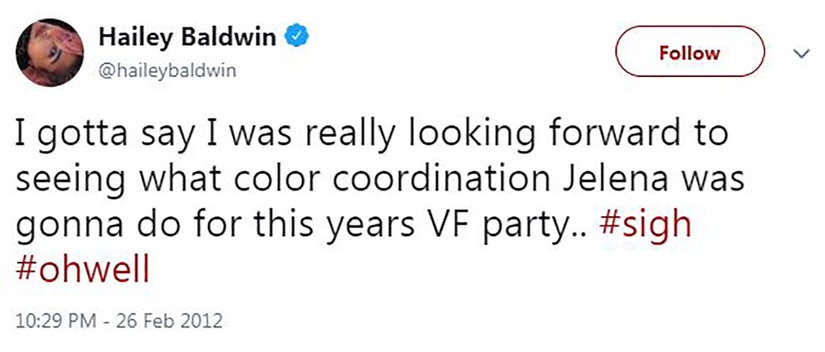 Twitter
Bieber proposed to Baldwin -- after only a few weeks of dating -- at a restaurant in a resort in the Bahamas on Saturday night. Justin shared the news on Instagram Monday afternoon. Hailey shared her excitement on Twitter a few hours later.
Waiting for your permission to load the Instagram Media.
Not sure what I did in life to deserve such happiness but I am so utterly grateful to God for giving me such an incredible person to share my life with! No words could ever express my gratitude. ❤️

@haileybaldwin